Language is classically considered to be a function of the left side of the brain. Now an interference technique, transcranial magnetic stimulation, in healthy subjects shows that the right-side language activity detected in some people is indeed functionally relevant.
Access options
Subscribe to Journal
Get full journal access for 1 year
$225.00
only $18.75 per issue
All prices are NET prices.
VAT will be added later in the checkout.
Rent or Buy article
Get time limited or full article access on ReadCube.
from$8.99
All prices are NET prices.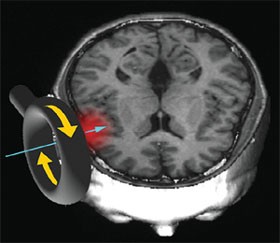 References
1

Broca, P. Bull. Soc. Anat. 6, 330–350 (1861).

2

Wernicke, C. Der Aphasiche Symptomen-komplex (Cohen & Weigert, Breslau, Poland, 1874).

3

Knecht, S. et al. Nat. Neurosci. 5, 695–699 (2002).

4

Code, C. Language, Aphasia and the Right Hemisphere (Wiley, London, 1987).

5

Weiller, C. et al. Ann. Neurol. 37, 723–732 (1995).

6

Warburton, E., Price, C.J., Swinburn, K. & Wise, R.J.S. J. Neurol. Neurosurg. Psychiatry 66, 155–161 (1999).
About this article
Cite this article
Humphreys, G., Praamstra, P. Magnetic stimulation reveals the distribution of language in a normal population. Nat Neurosci 5, 613–614 (2002). https://doi.org/10.1038/nn0702-613
Further reading
Gottfried Schlaug

,

Sarah Marchina

&

Catherine Y. Wan

Neuropsychology Review (2011)

Roy H. Hamilton

,

Evangelia G. Chrysikou

&

Branch Coslett

Brain and Language (2011)

Bianca Drager

,

Caterina Breitenstein

,

Ulf Helmke

,

Sandra Kamping

&

Stefan Knecht

European Journal of Neuroscience (2004)