Abstract
Perspective taking is an essential component in the mechanisms that account for intersubjectivity and agency. Mental simulation of action can be used as a natural protocol to explore the cognitive and neural processing involved in agency. Here we took PET measurements while subjects simulated actions with either a first-person or a third-person perspective. Both conditions were associated with common activation in the SMA, the precentral gyrus, the precuneus and the MT/V5 complex. When compared to the first-person perspective, the third-person perspective recruited right inferior parietal, precuneus, posterior cingulate and frontopolar cortex. The opposite contrast revealed activation in left inferior parietal and somatosensory cortex. We suggest that the right inferior parietal, precuneus and somatosensory cortex are specifically involved in distinguishing self-produced actions from those generated by others.
Relevant articles
Open Access articles citing this article.
Joanna Mencel

,

Jarosław Marusiak

…

Katarzyna Kisiel-Sajewicz

Scientific Reports Open Access 03 November 2022

Nicolas Spatola

&

Thierry Chaminade

Scientific Reports Open Access 30 August 2022

Takahiro Hirao

&

Hiroaki Masaki

Scientific Reports Open Access 03 February 2021
Access options
Subscribe to Journal
Get full journal access for 1 year
$79.00
only $6.58 per issue
All prices are NET prices.
VAT will be added later in the checkout.
Tax calculation will be finalised during checkout.
Buy article
Get time limited or full article access on ReadCube.
$32.00
All prices are NET prices.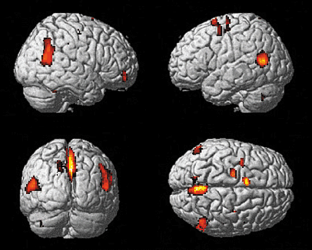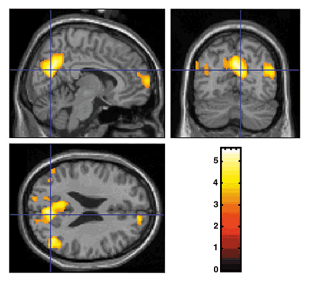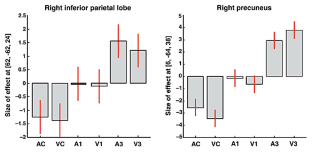 References
Gopnik, A. & Meltzoff, A. N. Words, Thoughts, and Theories (MIT Press, Cambridge, Massachussetts, 1998).

Gallese, V. & Goldman, A. Mirror neurons and the simulation theory of mind-reading. Trends Cogn. Sci. 2, 493–501 (1998).

Goldman, A. in Metarepresentations: A Multidisciplinary Perspective (ed. Sperber, D.) 171–196 (Oxford University Press, New York, 2000).

Daprati, E. et al. Looking for the agent: an investigation into consciousness of action and self-consciousness in schizophrenic patients. Cognition 65, 71–86 (1997).

Gallagher, S. Philosophical conceptions of the self: implications for cognitive science. Trends Cogn. Sci. 4, 14–21 (2000).

Decety, J. in The Imitative Mind: Development, Evolution, and Brain Bases (eds. Meltzoff, A. N. & Prinz, W.) (Cambridge Univ. Press, Cambridge, UK, in press).

Decety, J. et al. Mapping motor representations with positron emission tomography. Nature 371, 600–602 (1994).

Stephan, K. M. et al. Functional anatomy of the mental representation of upper extremity movements in healthy subjects. J. Neurophysiol. 73, 373–386 (1995).

Lotze, M. et al. Activation of cortical and cerebellar motor areas during executed and imagined hand movements: an fMRI study. J. Cogn. Neurosci. 11, 491–501 (1999).

Ochipa, C. et al. Selective deficit of praxis imagery in ideomotor apraxia. Neurology 49, 474–480 (1997).

Sirigu, A. et al. The mental representation of hand movements after parietal cortex damage. Science 273, 1564–1568 (1996).

Grèzes, J. & Decety, J. Functional anatomy of execution, mental simulation, observation and verb generation of actions: a meta-analysis. Hum. Brain Mapp. 12, 1–19 (2001).

Gerardin, E. et al. Partially overlapping neural networks for real and imagined hand movements. Cereb. Cortex 10, 1093–1104 (2000).

Jeannerod, M. Mental imagery in the motor context. Neuropsychologia 33, 1419–1432 (1995).

Iacoboni, M. et al. Cortical mechanisms of human imitation. Science 286, 2526–2528 (1999).

Goebel, R., Khorram-Sefat, D., Muckli, L., Hacker, H. & Singer, W. The constructive nature of vision: direct evidence from functional magnetic resonance imaging studies of apparent motion and motion imagery. Eur. J. Neurosci. 10, 1563–1573 (1998).

Stevens, J. A., Fonlupt, P., Shiffrar, M. & Decety, J. New aspects of motion perception: selective neural encoding of apparent human movements. Neuroreport 11, 109–115 (2000).

Tootell, R. B. et al. Visual motion aftereffect in human cortical area MT revealed by functional magnetic resonance imaging. Nature 375, 139–141 (1995).

O'Craven, K. M., Rosen, B. R., Kwong, K. K., Treisman, A. & Savoy, R. L. Voluntary attention modulates fMRI activity in human MT-MST. Neuron 18, 591–598 (1997).

Kourtzi, Z. & Kanwisher, N. Activation in human MT/MST by static images with implied motion. J. Cogn. Neurosci. 12, 48–55 (2000).

Decety, J. et al. Brain activity during observation of actions. Influence of action content and subject's strategy. Brain 120, 1763–1777 (1997).

Grèzes, J., Costes, N. & Decety, J. Top-down effect of strategy on the perception of human biological motion: PET investigation. Cogn. Neuropsychol. 15, 553–582 (1998).

Mesulam, M. M. Dissociative states with abnormal temporal lobe EEG. Multiple personality and the illusion of possession. Arch. Neurol. 38, 176–181 (1981).

Spence, S. A. et al. A PET study of voluntary movement in schizophrenic patients experiencing passivity phenomena (delusion of alien control). Brain 120, 1997–2011 (1997).

Rainville, P. et al. Cerebral mechanisms of hypnotic induction and suggestion. J. Cogn. Neurosci. 11, 110–125 (1999).

Maquet, P. et al. Functional neuroanatomy of hypnotic state. Biol. Psychiatry 45, 327–333 (1999).

Bisiach, E. & Berti, A. in The Cognitive Neurosciences (ed. Gazzaniga, M. S.) 1331–1340 (MIT Press, Cambridge, Massachusetts, 1995).

Wolpert, D. M., Goodbody, S. J. & Husain, M. Maintaining internal representations: the role of the human superior parietal lobe. Nat. Neurosci. 1, 529–533 (1998).

Hurley, S. L. Non-conceptual self-consciousness and agency: perspective and access. Commun. Cognit. 30, 207–248 (1997).

Kircher, T. T. et al. Towards a functional neuroanatomy of self processing: effects of faces and words. Cogn. Brain Res. 10, 133–144 (2000).

Brunet, E., Sarfati, Y., Hardy-Bayle, M. C. & Decety, J. A PET investigation of the attribution of intentions with a nonverbal task. Neuroimage 11, 157–166 (2000).

Fletcher, P. C. et al. Other minds in the brain: a functional imaging study of "theory of mind" in story comprehension. Cognition 57, 109–128 (1995).

Kalus, P., Muller, T. J., Zuschratter, W. & Senitz, D. The dendritic architecture of prefrontal pyramidal neurons in schizophrenic patients. Neuroreport 11, 3621–3625 (2000).

Selemon, L. D. & Goldman-Rakic, P. S. The reduced neuropil hypothesis: a circuit based model of schizophrenia. Biol. Psychiatry 45, 17–25 (1999).

Lhermitte, F., Pillon, B. & Serdaru, M. Human autonomy and the frontal lobes. Part I: Imitation and utilization behavior: a neuropsychological study of 75 patients. Ann. Neurol. 19, 326–334 (1986).

Friston, K. J. et al. Statistical parametric maps in functional imaging: a general linear approach. Hum. Brain Mapp. 3, 189–210 (1995).

Talairach, P. & Tournoux, J. A. Co-Planar Stereotaxic Atlas of the Human Brain (Thieme, Stuttgart, 1988).

Duvernoy, H. M. The Human Brain. Surface, Three-Dimensional Sectional Anatomy and MRI (Springer, New York, 1991).
Acknowledgements
This research was supported by the Cognitique Programme from the French Ministry of Education. We thank A. Goldman (University of Arizona, Tucson) and A. Meltzoff (University of Washington, Seattle) for their comments during the preparation of the manuscript. D. Cardebat (Inserm unit 455, Toulouse, France) gave us advice on the experimental protocol.
About this article
Cite this article
Ruby, P., Decety, J. Effect of subjective perspective taking during simulation of action: a PET investigation of agency. Nat Neurosci 4, 546–550 (2001). https://doi.org/10.1038/87510
Received:

Accepted:

Issue Date:

DOI: https://doi.org/10.1038/87510