Abstract
Birdsong is a complex vocal behavior learned during early life in a process similar to the learning of human speech1. Like speech, singing is a social behavior—male songbirds often use it in courtship or in territorial defense2. Here we show that, in the adult zebra finch, the pattern of singing-related neural activity in several high-level brain areas specialized for song learning is dependent on whether a bird sings by itself or to another bird; thus, this activity can indicate not only that a bird is singing but also the social context of the song.
This is a preview of subscription content
Access options
Subscribe to Journal
Get full journal access for 1 year
$59.00
only $4.92 per issue
All prices are NET prices.
VAT will be added later in the checkout.
Tax calculation will be finalised during checkout.
Buy article
Get time limited or full article access on ReadCube.
$32.00
All prices are NET prices.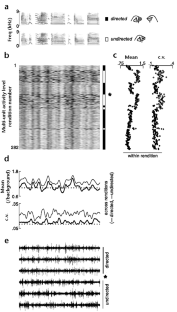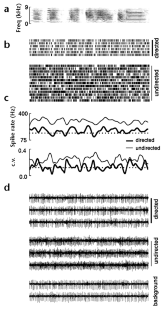 References
Marler, P. J. Comp. Physiol. Psychol. 71, 1–25 (1970).

Catchpole, C. K. & Slater, P. J. B. Bird Song: Biological Themes and Variations (Cambridge Univ. Press, Cambridge, UK, 1995).

Morris, D. Behavior 7, 1–31 (1954).

Dunn, A. M. & Zann, R. A. Ethology 102, 540–548 (1996).

Bottjer, S. W., Miesner, E. A. & Arnold, A. P. Science 224, 901–903 (1984).

Scharff, C. & Nottebohm, F. J. Neurosci. 11, 2896–2913 (1991).

Sohrabji, F., Nordeen, E. J. & Nordeen, K. W. Behav. Neural Biol. 53, 51–63 (1990).

Nottebohm, F., Stokes, T. M. & Leonard, C. M. J. Comp. Neurol. 165, 457–486 (1976).

McCasland, J. S. J. Neurosci. 7, 23–39 (1987).

Yu, A. C. & Margoliash, D. Science 273, 1871–1875 (1996).

Doupe, A. J. & Konishi, M. Proc. Natl. Acad. Sci. USA 88, 11339–11343 (1991).

West, M. J. & King, A. P. Nature 334, 244–246 (1988).

Lewis, J. W. et al. J. Comp. Neurol. 196, 347–354 (1981).

Jarvis, E. D., Scharff, C., Grossman, M. R., Ramos, J. A. & Nottebohm, F. Neuron 21, 775–788 (1998).

Fox, H. E., White, S. A., Kao, M. H. & Fernald, R. D. J. Neurosci. 17 6463–6469 (1997).
Acknowledgements
This work was supported by NIH (MH55987 and NRSA fellowship NS09913), the Merck Fund and the EJLB Foundation. We are grateful for comments on the manuscript by Allan Basbaum, Howard Fields, Mimi Kao, Steve Lisberger and Michele Solis.
About this article
Cite this article
Hessler, N., Doupe, A. Social context modulates singing-related neural activity in the songbird forebrain. Nat Neurosci 2, 209–211 (1999). https://doi.org/10.1038/6306
Received:

Accepted:

Issue Date:

DOI: https://doi.org/10.1038/6306