Abstract
How is human locomotion visually controlled? Fifty years ago, it was proposed that we steer to a goal using optic flow, the pattern of motion at the eye that specifies the direction of locomotion. However, we might also simply walk in the perceived direction of a goal. These two hypotheses normally predict the same behavior, but we tested them in an immersive virtual environment by displacing the optic flow from the direction of walking, violating the laws of optics. We found that people walked in the visual direction of a lone target, but increasingly relied on optic flow as it was added to the display. The visual control law for steering toward a goal is a linear combination of these two variables weighted by the magnitude of flow, thereby allowing humans to have robust locomotor control under varying environmental conditions.
This is a preview of subscription content
Access options
Subscribe to Journal
Get full journal access for 1 year
$59.00
only $4.92 per issue
All prices are NET prices.
VAT will be added later in the checkout.
Tax calculation will be finalised during checkout.
Rent or Buy article
Get time limited or full article access on ReadCube.
from$8.99
All prices are NET prices.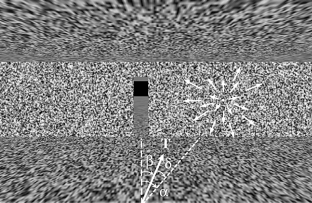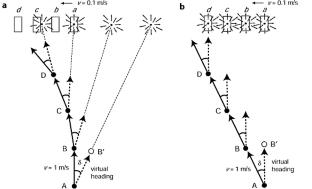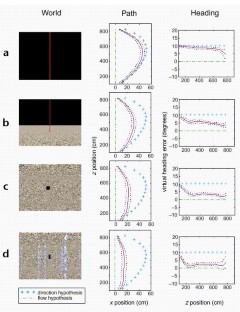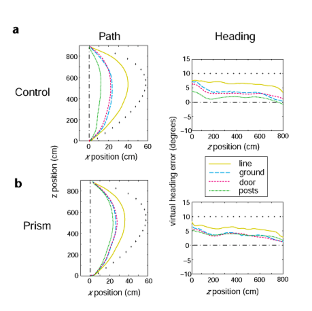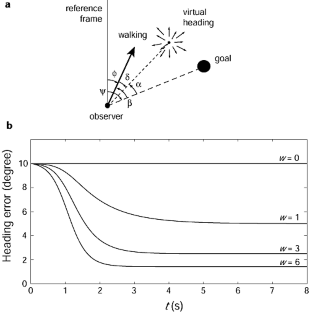 References
1

Gibson, J. J. Perception of the Visual World (Houghton Mifflin, Boston, 1950).

2

Warren, W. H. in High-Level Motion Processing (ed. Watanabe, T.) 315–358 (MIT Press, Cambridge, Massachusetts, 1998).

3

Warren, W. H., Morris, M. W. & Kalish, M. Perception of translational heading from optical flow. J. Exp. Psychol. Hum. Percept. Perform. 14, 646–660 (1988).

4

van den Berg, A. V. Robustness of perception of heading from optic flow. Vision Res. 32, 1285–1296 (1992).

5

Crowell, J. A. & Banks, M. S. Ideal observer for heading judgments. Vision Res. 36, 471–490 (1996).

6

Warren, W. H. & Hannon, D. J. Direction of self-motion is perceived from optical flow. Nature 336, 162–163 (1988).

7

Royden, C. S., Banks, M. S. & Crowell, J. A. The perception of heading during eye movements. Nature 360, 583–585 (1992).

8

Royden, C. S., Crowell, J. A. & Banks, M. S. Estimating heading during eye movements. Vision Res. 34, 3197–3214 (1994).

9

Li, L. & Warren, W. H. Perception of heading during rotation: sufficiency of dense motion parallax and reference objects. Vision Res. 40, 3873–3894 (2000).

10

Saito, H. et al. Integration of direction signals of image motion in the superior temporal sulcus of the macaque monkey. J. Neurosci. 6, 145–157 (1986).

11

Orban, G. A. et al. First-order analysis of optical flow in monkey brain. Proc. Natl. Acad. Sci. USA 89, 2595–2599 (1992).

12

Graziano, M. S. A., Andersen, R. A. & Snowden, R. J. Tuning of MST neurons to spiral motions. J. Neurosci. 14, 54–67 (1994).

13

Duffy, C. J. & Wurtz, R. H. Response of monkey MST neurons to optic flow stimuli with shifted centers of motion. J. Neurosci. 15, 5192–5208 (1995).

14

Siegel, R. M. & Read, H. L. Analysis of optic flow in the monkey parietal area 7a. Cereb. Cortex 7, 327–346 (1997).

15

Anderson, K. C. & Siegel, R. M. Optic flow selectivity in the anterior superior temporal polysensory area, STPa, of the behaving monkey. J. Neurosci. 19, 2681–2692 (1999).

16

DeJongh, B. M., Shipp, S., Skidmore, B., Frackowiak, R. S. J. & Zeki, S. The cerebral activity related to the visual perception of forward motion in depth. Brain 117, 1039–1054 (1994).

17

Vaina, L. Complex motion perception and its deficits. Curr. Opin. Neurobiol. 8, 494–502 (1998).

18

Nakayama, K. James Gibson—an appreciation. Psychol. Rev. 101, 329–335 (1994).

19

Rushton, S. K., Harris, J. M., Lloyd, M. & Wann, J. P. Guidance of locomotion on foot uses perceived target location rather than optic flow. Curr. Biol. 8, 1191–1194 (1998).

20

Harris, J. M. & Rogers, B. J. Going against the flow. Trends Cogn. Sci. 3, 449–450 (1999).

21

Wann, J. & Land, M. Steering with or without the flow: is the retrieval of heading necessary? Trends Cogn. Sci. 4, 319–324 (2000).

22

Collett, T. S. & Land, M. F. Visual control of flight behavior in the hoverfly, Syritta pipiens. J. Comp. Physiol. 99, 1–66 (1975).

23

Wood, R. M., Harvey, M. A., Young, C. E., Beedie, A. & Wilson, T. Weighting to go with the flow? Curr. Biol. 10, R545–R546 (2000).

24

Bridgeman, B., Kirch, M. & Sperling, A. Segregation of cognitive and motor aspects of visual function using induced motion. Percept. Psychophys. 29, 336–342 (1981).

25

Heckmann, T. & Howard, I. P. Induced motion: isolation and dissociation of egocentric and vection-entrained components. Perception 20, 285–305 (1991).

26

Smeets, J. B. J. & Brenner, E. Perception and action are based on the same visual information: distinction between position and velocity. J. Exp. Psychol. Hum. Percept. Perform. 21, 19–31 (1995).

27

Schöner, G., Dose, M. & Engels, C. Dynamics of behavior: theory and applications for autonomous robot architectures. Robot Auton. Syst. 16, 213–245 (1995).

28

Warren, W. H. Visually controlled locomotion: 40 years later. Eco. Psychol. 10, 177–219 (1998).

29

Fajen, B. & Warren, W. H. Go with the flow. Trends Cogn. Sci. 4, 368–369 (2000).
Acknowledgements
The research was supported by the National Eye Institute (EY10923), National Institute of Mental Health (K02 MH01353) and the National Science Foundation (NSF 9720327). We thank A. Forsberg for his assistance, and T. Freeman for suggesting the second experiment.
About this article
Cite this article
Warren, W., Kay, B., Zosh, W. et al. Optic flow is used to control human walking. Nat Neurosci 4, 213–216 (2001). https://doi.org/10.1038/84054
Received:

Accepted:

Issue Date: