Abstract
Calculating prodigies are individuals who are exceptional at quickly and accurately solving complex mental calculations. With positron emission tomography (PET), we investigated the neural bases of the cognitive abilities of an expert calculator and a group of non-experts, contrasting complex mental calculation to memory retrieval of arithmetic facts. We demonstrated that calculation expertise was not due to increased activity of processes that exist in non-experts; rather, the expert and the non-experts used different brain areas for calculation. We found that the expert could switch between short-term effort-requiring storage strategies and highly efficient episodic memory encoding and retrieval, a process that was sustained by right prefrontal and medial temporal areas.
Relevant articles
Open Access articles citing this article.
Giorgio Arcara

,

Rachele Pezzetta

…

C. Semenza

Scientific Reports Open Access 13 October 2021

Beatrix Krause

,

Martin Dresler

…

Roi Cohen Kadosh

Journal of Cognitive Enhancement Open Access 21 February 2019
Access options
Subscribe to Journal
Get full journal access for 1 year
$79.00
only $6.58 per issue
All prices are NET prices.
VAT will be added later in the checkout.
Tax calculation will be finalised during checkout.
Buy article
Get time limited or full article access on ReadCube.
$32.00
All prices are NET prices.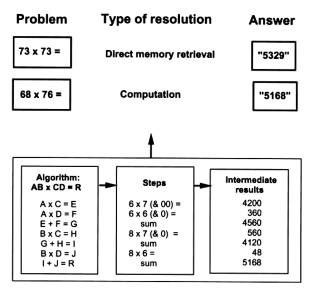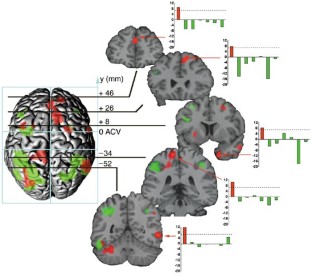 References
Ericsson, K. A. & Kintsch, W. Long-term working memory. Psychol. Rev. 102, 211–245 (1995).

Ericsson, K. A., Krampe, R. T. & Tesh-Romer, C. The role of deliberate practice in the acquisition of expert performance. Psychol. Rev. 100, 363–406 (1993).

Karni, A. et al. Functional MRI evidence for adult motor cortex plasticity during motor skill learning. Nature 377, 155–158 (1995).

Grafton, S. T., Hazeltine, E. & Ivry, R. Functional mapping of sequence learning in normal humans. J. Cogn. Neurosci. 7, 497–510 (1995).

Poldrack, R. A., Desmond, J. E., Glover, G. H. & Gabrieli, J. D. The neural basis of visual skill learning: an fMRI study of mirror reading, Cereb. Cortex 8, 1–10 (1998).

Smith, S. B. The Great Mental Calculators (Columbia Univ. Press, New York, 1983).

Ashcraft, M. H. Cognitive arithmetic: a review of data and theory. Cognition 44, 75–106 (1992).

Campbell, J. I. D. Mechanisms of simple addition and multiplication: a modified network-interference theory and simulation. Math. Cogn. 1, 121–164 (1995).

Baddeley, A. D. Working Memory (Clarendon, Oxford, 1986).

Pesenti, M., Seron, X., Samson, D. & Duroux, B. Basic and exceptional calculation abilities in a calculating prodigy: a case study. Math. Cogn. 5, 97–148 (1999).

Courtney, S. M., Petit, L., Maisog, J. M., Ungerleider, L. G. & Haxby, J. V. An area specialized for spatial working memory in human frontal cortex. Science 279, 1347–1351 (1998).

Kosslyn, S. M. et al. Visual mental imagery activates topographically organized visual cortex: PET investigations. J. Cogn. Neurosci. 5, 263–287 (1993).

Mellet, E., Petit, L., Mazoyer, B., Denis, M. & Tzourio, N. Reopening the mental imagery debate: lessons from functional anatomy. Neuroimage 8, 129–139 (1998).

Dehaene, S. et al. Cerebral activations during number multiplication and comparison: a PET study. Neuropsychologia 34, 1097–1106 (1996).

Pesenti, M., Thioux, M., Seron, X. & De Volder, A. Neuroanatomical substrates of Arabic number processing, numerical comparison and simple addition: a PET study. J. Cogn. Neurosci. 12, 461–479 (2000).

Dehaene, S., Dehaene-Lambertz, G. & Cohen, L. Abstract representations of numbers in the animal and human brain. Trends Neurosci. 21, 355–361 (1998).

Butterworth, B. A head for figures. Science 284, 928–929 (1999).

Simon, T. J. The foundations of numerical thinking in a brain without numbers. Trends Cogn. Sci. 3, 363–364 (1999).

Fuson, K. C. Children's Counting and the Concepts of Number (Springer, New York, 1988).

Fayol, M., Barrouillet, P. & Marinthe, C. Predicting arithmetical achievement from neuropsychological performance: a longitudinal study. Cognition 68, 63–70 (1998).

Butterworth, B. The Mathematical Brain (Macmillan, London, 1999).

Gerstmann, J. Zur Symptomatologie der Hirnläsionen im Übergangsgebiet der unteren Parietal-und mittleren Occipitalwindung. Nervenarzt 3, 691–695 (1930).

Grafton, S. T., Fadiga, L., Arbib, M. A. & Rizzolatti, G. Premotor cortex activation during observation and naming of familiar tools. Neuroimage 6, 231–236 (1997).

Heun, R. et al. Functional MRI of cerebral activation during encoding and retrieval of words. Hum. Brain Mapp. 8, 157–169 (1999).

Krause, B. J. et al. Episodic retrieval activates the precuneus irrespective of the imagery content of word pair associates: a PET study. Brain 122, 255–263 (1999).

Wagner, A. D., Desmond, J. E. & Gabrieli, J. D. E. Prefrontal cortex and recognition memory. Functional-MRI evidence for context-dependent retrieval processes. Brain 121, 1985–2002 (1998).

Cabeza, R. et al. Functional neuroanatomy of recall and recognition: a PET study of episodic memory. J. Cogn. Neurosci. 9, 254–265 (1997).

Carter, C. S. et al. Parsing executive processes: strategic versus evaluative functions of the anterior cingulate cortex. Proc. Natl. Acad. Sci. USA 97, 1944–1948 (2000).

MacDonald, A. W., Cohen, J. D., Stenger, V. A. & Carter, C. S. Dissociating the role of the dorsolateral prefrontal and anterior cingulate cortex in cognitive control. Science 288, 1835–1838 (2000).

Gehring, W. J. & Knight, R. T. Prefrontal–cingulate interactions in action monitoring. Nat. Neurosci. 3, 516–520 (2000).

Bush, G., Luu, P. & Posner, M. I. Cognitive and emotional influences in anterior cingulate cortex. Trends Cogn. Sci. 4, 215–222 (2000).

Young, B. J., Otto, T., Fox, G. D. & Eichenbaum, H. Memory representation within the parahippocampal region. J. Neurosci. 17, 5183–5195 (1997).

Zago, L. et al. Neural correlates of simple and complex mental calculation. Neuroimage (in press).

LeFevre, J. et al. Multiple route to solution of single-digit multiplication problems. J. Exp. Psychol. Gen. 125, 384–306 (1996).

Faust, M. W., Ashcraft, M. H. & Fleck, D. E. Mathematics anxiety effects in simple and complex addition. Math. Cogn. 2, 25–62 (1996).

Woods, R. P., Grafton, S. T., Holmes, C. J., Cherry, S. R. & Maziotta, J. C. Automated image registration: I. General methods and intrasubject validation. J. Comput. Assist. Tomogr. 22, 139–152 (1997).

Price, C. J. & Friston, K. J. Cognitive conjunction: a new approach to brain activation experiments. Neuroimage 5, 261–270 (1997).
Acknowledgements
The authors thank Rüdiger Gamm for his participation in this study. This work has been supported in part by a grant, 'GIS Science de la Cognition,' and the PAI/IUAP Program from the Belgian Government. M.P. is a Research Associate of the National Fund for Scientific Research (Belgium).
About this article
Cite this article
Pesenti, M., Zago, L., Crivello, F. et al. Mental calculation in a prodigy is sustained by right prefrontal and medial temporal areas. Nat Neurosci 4, 103–107 (2001). https://doi.org/10.1038/82831
Received:

Accepted:

Issue Date:

DOI: https://doi.org/10.1038/82831