Abstract
Face perception requires representation of invariant aspects that underlie identity recognition as well as representation of changeable aspects, such as eye gaze and expression, that facilitate social communication. Using functional magnetic resonance imaging (fMRI), we investigated the perception of face identity and eye gaze in the human brain. Perception of face identity was mediated more by regions in the inferior occipital and fusiform gyri, and perception of eye gaze was mediated more by regions in the superior temporal sulci. Eye-gaze perception also seemed to recruit the spatial cognition system in the intraparietal sulcus to encode the direction of another's gaze and to focus attention in that direction.
Relevant articles
Open Access articles citing this article.
Bindiya Lakshmi Raghunath

,

Kelly Hwee Leng Sng

…

Gianluca Esposito

Scientific Reports Open Access 29 June 2022

Caroline Di Bernardi Luft

,

Ioanna Zioga

…

Isabelle Mareschal

Communications Biology Open Access 04 May 2022

Nicole Stuart

,

Andrew Whitehouse

…

Nicholas Badcock

Journal of Autism and Developmental Disorders Open Access 04 February 2022
Access options
Subscribe to Journal
Get full journal access for 1 year
$79.00
only $6.58 per issue
All prices are NET prices.
VAT will be added later in the checkout.
Tax calculation will be finalised during checkout.
Buy article
Get time limited or full article access on ReadCube.
$32.00
All prices are NET prices.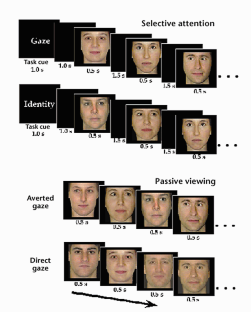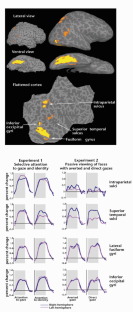 References
Damasio, A., Damasio, H. & Van Hoesen, G. Prosopagnosia: anatomic basis and behavioral mechanisms. Neurology 32, 331–341 (1982).

Farah, M. Is face recognition 'special'? Evidence from neuropsychology. Behav. Brain Res. 76, 181–189 (1996).

Sergent, J. & Signoret, J. Functional and anatomic decomposition of face processing: Evidence from prosopagnosia and PET study of normal subjects. Phil. Trans. R. Soc. Lond. B Biol. Sci. 335, 55–62 (1992).

Haxby, J. et al. The effect of face inversion on activity in human neural systems for face and object perception. Neuron 22, 189–199 (1999).

Kanwisher, N., Tong, F. & Nakayama, K. The effect of face inversion on the human fusiform face area. Cognition 68, 1–11 (1998).

Kanwisher, N., McDermott, J. & Chun, M. The fusiform face area: a module in human extrastriate cortex specialized for face perception. J. Neurosci. 17, 4302–4311 (1997).

McCarthy, G., Puce, A., Gore, J. & Allison, T. Face-specific processing in the human fusiform gyrus. J. Cog. Neurosci. 9, 605–610 (1997).

Halgren, E. et al. Location of human face-selective cortex with respect to retinotopic areas. Hum. Brain Mapp. 7, 29– 37 (1999).

Puce, A., Allison, T., Bentin, S., Gore, J. & McCarthy, G. Temporal cortex activation in humans viewing eye and mouth movements. J. Neurosci. 18, 2188– 2199 (1998).

Wicker, B., Michel, F., Henaff, M.-A. & Decety, J. Brain regions involved in the perception of gaze: A PET study. Neuroimage 8, 221–227 ( 1998).

Hasselmo, M., Rolls, E. & Baylis, G. The role of expression and identity in the face-selective responses of neurons in the temporal visual cortex of the monkey. Behav. Brain Res. 32, 203–218 (1989).

Perrett, D. et al. Neurones responsive to faces in the temporal cortex: studies of functional organization, sensitivity to identity and relation to perception. Hum. Neurobiol. 3, 197– 208 (1984).

Perrett, D. et al. Visual cells in the temporal cortex sensitive to face view and gaze direction. Proc. R. Soc. Lond. 223, 293–317 (1985).

Perrett, D. et al. Social signals analyzed at the single cell level: someone is looking at me, something touched me, something moved. Int. J. Comp. Psychol. 4, 25–55 (1990).

Friesen, C. & Kingstone, A. The eyes have it! Reflexive orienting is triggered by nonpredictive gaze. Psychol. Bull. Rev. 5, 490–495 (1998).

Corbetta, M., Shulman, G., Miezin, F. & Peterson, S. Superior parietal cortex activation during spatial attention shifts and visual feature conjunction. Science 270, 802–805 (1995).

Corbetta, M. Frontoparietal cortical networks for directing attention and the eye to visual locations: Identical, independent, or overlapping neural systems? Proc. Natl. Acad. Sci. USA 95, 831– 838 (1998).

Nobre, A. et al. Functional localization of the system for visuospatial attention using positron emission tomography. Brain 120, 515–533 (1997).

Emery, N., Lorincz, E., Perrett, D., Oram, M. & Baker, C. Gaze following and joint attention in rhesus monkeys (Macaca mulatta). J. Comp. Psychol. 111, 286– 293 (1997).

Hains, S. & Muir, D. Infant sensitivity to adult eye direction. Child Dev. 67, 1940–1951 (1996).

Hood, B., Willen, J. & Driver, J. Adult's eyes trigger shifts of visual attention in human infants. Psychol. Sci. 9, 131– 134 (1998).

Vecera, S. & Johnson, M. Gaze detection and the cortical processing of faces: Evidence from infants and adults. Vis. Cognit. 2, 59–87 (1995 ).

Tomasello, M., Call, J. & Hare, B. Five primate species follow the visual gaze of conspecifics. Anim. Behav. 55, 1063–1069 ( 1998).

Kanwisher, N., Stanley, D. & Harris, A. The fusiform face area is selective for faces not animals. Neuroreport 10, 183–187 (1999).

Haxby, J. et al. The functional organization of human extrastriate cortex: A PET-rCBF study of selective attention to faces and locations. J. Neurosci. 14, 6336–6353 ( 1994).

Tranel, D., Damasio, A. & Damasio, H. Intact recognition of facial expression, gender, and age in patients with impaired recognition of face identity. Neurology 38, 690–696 ( 1988).

Sergent, J., Ohta, S. & MacDonald, B. Functional neuroanatomy of face and object processing. A positron emission tomography study. Brain 115, 15–36 (1992).

Sergent, J., Ohta, S., MacDonald, B. & Zuck, E. Segregated processing of facial identity and emotion in the human brain: a PET study. Vis. Cognit. 1, 349–369 (1994).

Aguirre, G., Singh, R. & D'Esposito, M. Stimulus inversion and the responses of face and object-sensitive cortical areas. Neuroreport 10, 189– 194 (1999).

Puce, A., Smith, A. & Allison, T. ERPs evoked by viewing facial movements. Cognit. Neuropsychol. (in press).

McCarthy, G., Puce, A., Belger, A. & Allison, T. Electrophysiological studies of human face perception. II. Response properties of face-specific potentials generated in occipitotemporal cortex. Cereb. Cortex 9, 431–444 ( 1999).

Campbell, R., Heywood, C., Cowey, A., Regard, M. & Landis, T. Sensitivity to eye gaze in prosopagnosia patients and monkeys with superior temporal sulcus ablation. Neuropsychologia 28, 1123–1142 ( 1990).

Heywood, C. & Cowey, A. The role of the 'face-cell' area in the discrimination and recognition of faces by monkeys. Phil. Trans. R. Soc. Lond. B Biol. Sci. 335, 31– 38 (1992).

Phillips, M. et al. Neural responses to facial and vocal expressions of fear and disgust. Proc. R. Soc. Lond. B Biol. Sci. 265, 1809–1817 (1998).

Calvert, G. et al. Activation of auditory cortex during silent lipreading. Science 276, 593–596 ( 1997).

Breiter, H. et al. Response and habituation of the human amygdala during visual processing of facial expression. Neuron 17, 875–887 (1996).

Morris, J. et al. A differential neural response in the human amygdala to fearful and happy facial expressions. Nature 383, 812–815 (1996).

Harries, M. & Perrett, D. Visual processing of faces in temporal cortex: Physiological evidence for a modular organization and possible anatomical coordinates . J. Cogn. Neurosci. 3, 9– 24 (1991).

Kawashima, R. et al. The human amygdala plays an important role in gaze monitoring: A PET study. Brain 122, 779– 783 (1999).

Gale, A., Kingsley, E., Brookes, S. & Smith, D. Cortical arousal and social intimacy in the human female under different conditions of eye contact. Behav. Proc. 3, 271– 275 (1978).

Van Hooff, J. A. Facial expressions in higher primates. Symp. Zool. Soc. Lond. 8, 97–125 (1962).

Mendelson, M., Haith, M. & Goldman-Rakic, P. Face scanning and responsiveness to social cues in infant rhesus monkeys. Dev. Psychol. 18, 222– 228 (1982).

Perrett, D. & Mistlin, A. in Comparative Perception Vol. 2 (eds. Stebbins, W. & Berkley, M.) 187–215 (Wiley, New York, 1990).

Perrett, D., & Emery, N. Understanding the intentions of others from visual signals: neurophysiological evidence. Curr. Psychol. Cogn. 13, 683–694 ( 1994).

Talairach, J. & Tournoux, P. Co-Planar Stereotaxic Atlas of the Human Brain (Thieme, Stuttgart, 1988).

Friston, K. et al. Statistical parametric mapping in functional imaging: a general linear approach. Hum. Brain Mapp. 2, 189 –210 (1995).
Acknowledgements
We wish to thank Leslie Ungerleider and Alex Martin for their comments on an earlier draft of this manuscript. We also wish to thank Timothy Ellmore and Jennifer Schouten for assistance with data collection, analysis and figure preparation. Finally, we wish to thank Anders Dale and Bruce Fischl for providing the software for displaying results on inflated and flattened cortical surfaces and for their assistance with the use of this software.
About this article
Cite this article
Hoffman, E., Haxby, J. Distinct representations of eye gaze and identity in the distributed human neural system for face perception. Nat Neurosci 3, 80–84 (2000). https://doi.org/10.1038/71152
Received:

Accepted:

Issue Date:

DOI: https://doi.org/10.1038/71152