Abstract
Epigenetic mechanisms regulate the formation, consolidation and reconsolidation of memories. However, the signaling path from neuronal activation to epigenetic modifications within the memory-related brain circuit remains unknown. We report that learning induces long-lasting histone modifications in hippocampal memory-activated neurons to regulate memory stability. Neuronal activity triggers a late-onset shift in Nrxn1 splice isoform choice at splicing site 4 by accumulating a repressive histone marker, H3K9me3, to modulate the splicing process. Activity-dependent phosphorylation of p66α via AMP-activated protein kinase recruits HDAC2 and Suv39h1 to establish repressive histone markers and changes the connectivity of the activated neurons. Removal of Suv39h1 abolished the activity-dependent shift in Nrxn1 splice isoform choice and reduced the stability of established memories. We uncover a cell-autonomous process for memory preservation in which memory-related neurons initiate a late-onset reduction of their rewiring capacities through activity-induced histone modifications.
Access options
Subscribe to Journal
Get full journal access for 1 year
$225.00
only $18.75 per issue
All prices are NET prices.
VAT will be added later in the checkout.
Rent or Buy article
Get time limited or full article access on ReadCube.
from$8.99
All prices are NET prices.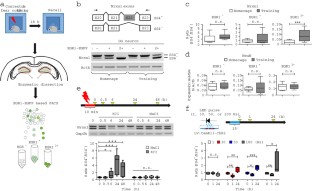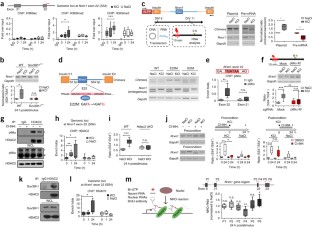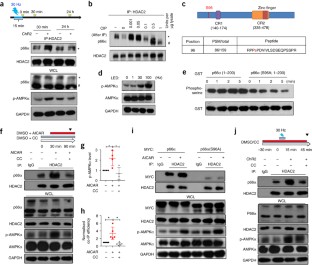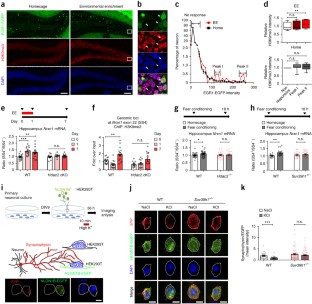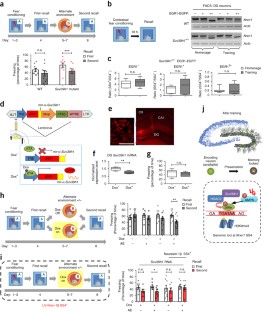 Accession codes
Primary accessions
Gene Expression Omnibus
References
1

Stevens, C.F. A million dollar question: does LTP = memory? Neuron 20, 1–2 (1998).

2

Kandel, E.R., Dudai, Y. & Mayford, M.R. The molecular and systems biology of memory. Cell 157, 163–186 (2014).

3

Martin, S.J., Grimwood, P.D. & Morris, R.G. Synaptic plasticity and memory: an evaluation of the hypothesis. Annu. Rev. Neurosci. 23, 649–711 (2000).

4

Garner, A.R. et al. Generation of a synthetic memory trace. Science 335, 1513–1516 (2012).

5

Liu, X. et al. Optogenetic stimulation of a hippocampal engram activates fear memory recall. Nature 484, 381–385 (2012).

6

Milad, M.R. & Quirk, G.J. Neurons in medial prefrontal cortex signal memory for fear extinction. Nature 420, 70–74 (2002).

7

Gräff, J. et al. Epigenetic priming of memory updating during reconsolidation to attenuate remote fear memories. Cell 156, 261–276 (2014).

8

Guan, J.S., Xie, H. & Ding, X. The role of epigenetic regulation in learning and memory. Exp. Neurol. 268, 30–36 (2015).

9

Guan, J.S. et al. HDAC2 negatively regulates memory formation and synaptic plasticity. Nature 459, 55–60 (2009).

10

Levenson, J.M. et al. Regulation of histone acetylation during memory formation in the hippocampus. J. Biol. Chem. 279, 40545–40559 (2004).

11

Feng, J. et al. Dnmt1 and Dnmt3a maintain DNA methylation and regulate synaptic function in adult forebrain neurons. Nat. Neurosci. 13, 423–430 (2010).

12

Zovkic, I.B., Paulukaitis, B.S., Day, J.J., Etikala, D.M. & Sweatt, J.D. Histone H2A.Z subunit exchange controls consolidation of recent and remote memory. Nature 515, 582–586 (2014).

13

Alarcón, J.M. et al. Chromatin acetylation, memory, and LTP are impaired in CBP+/- mice: a model for the cognitive deficit in Rubinstein-Taybi syndrome and its amelioration. Neuron 42, 947–959 (2004).

14

Gräff, J. et al. An epigenetic blockade of cognitive functions in the neurodegenerating brain. Nature 483, 222–226 (2012).

15

Aoto, J., Martinelli, D.C., Malenka, R.C., Tabuchi, K. & Südhof, T.C. Presynaptic neurexin-3 alternative splicing trans-synaptically controls postsynaptic AMPA receptor trafficking. Cell 154, 75–88 (2013).

16

Dalva, M.B., McClelland, A.C. & Kayser, M.S. Cell adhesion molecules: signalling functions at the synapse. Nat. Rev. Neurosci. 8, 206–220 (2007).

17

Yamagata, M., Sanes, J.R. & Weiner, J.A. Synaptic adhesion molecules. Curr. Opin. Cell Biol. 15, 621–632 (2003).

18

Südhof, T.C. Neuroligins and neurexins link synaptic function to cognitive disease. Nature 455, 903–911 (2008).

19

Kim, H.G. et al. Disruption of neurexin 1 associated with autism spectrum disorder. Am. J. Hum. Genet. 82, 199–207 (2008).

20

Ullrich, B., Ushkaryov, Y.A. & Südhof, T.C. Cartography of neurexins: more than 1000 isoforms generated by alternative splicing and expressed in distinct subsets of neurons. Neuron 14, 497–507 (1995).

21

Iijima, T. et al. SAM68 regulates neuronal activity-dependent alternative splicing of neurexin-1. Cell 147, 1601–1614 (2011).

22

Tonegawa, S., Pignatelli, M., Roy, D.S. & Ryan, T.J. Memory engram storage and retrieval. Curr. Opin. Neurobiol. 35, 101–109 (2015).

23

Ryan, T.J., Roy, D.S., Pignatelli, M., Arons, A. & Tonegawa, S. Memory. Engram cells retain memory under retrograde amnesia. Science 348, 1007–1013 (2015).

24

Luco, R.F., Allo, M., Schor, I.E., Kornblihtt, A.R. & Misteli, T. Epigenetics in alternative pre-mRNA splicing. Cell 144, 16–26 (2011).

25

Xie, H. et al. In vivo imaging of immediate early gene expression reveals layer-specific memory traces in the mammalian brain. Proc. Natl. Acad. Sci. USA 111, 2788–2793 (2014).

26

Zhang, F., Wang, L.P., Boyden, E.S. & Deisseroth, K. Channelrhodopsin-2 and optical control of excitable cells. Nat. Methods 3, 785–792 (2006).

27

Rea, S. et al. Regulation of chromatin structure by site-specific histone H3 methyltransferases. Nature 406, 593–599 (2000).

28

Hathaway, N.A. et al. Dynamics and memory of heterochromatin in living cells. Cell 149, 1447–1460 (2012).

29

Brackertz, M., Gong, Z., Leers, J. & Renkawitz, R. p66alpha and p66beta of the Mi-2/NuRD complex mediate MBD2 and histone interaction. Nucleic Acids Res. 34, 397–406 (2006).

30

Xue, Y. et al. NURD, a novel complex with both ATP-dependent chromatin-remodeling and histone deacetylase activities. Mol. Cell 2, 851–861 (1998).

31

Mairet-Coello, G. et al. The CAMKK2-AMPK kinase pathway mediates the synaptotoxic effects of Aβ oligomers through Tau phosphorylation. Neuron 78, 94–108 (2013).

32

Green, M.F., Anderson, K.A. & Means, A.R. Characterization of the CaMKKβ-AMPK signaling complex. Cell. Signal. 23, 2005–2012 (2011).

33

Reijmers, L.G., Perkins, B.L., Matsuo, N. & Mayford, M. Localization of a stable neural correlate of associative memory. Science 317, 1230–1233 (2007).

34

Jaenisch, R. & Bird, A. Epigenetic regulation of gene expression: how the genome integrates intrinsic and environmental signals. Nat. Genet. 33 (Suppl. 1), 245–254 (2003).

35

Gupta-Agarwal, S. et al. G9a/GLP histone lysine dimethyltransferase complex activity in the hippocampus and the entorhinal cortex is required for gene activation and silencing during memory consolidation. J. Neurosci. 32, 5440–5453 (2012).

36

Chih, B., Gollan, L. & Scheiffele, P. Alternative splicing controls selective trans-synaptic interactions of the neuroligin-neurexin complex. Neuron 51, 171–178 (2006).

37

Schreiner, D. et al. Targeted combinatorial alternative splicing generates brain region-specific repertoires of neurexins. Neuron 84, 386–398 (2014).

38

Vargas, D.Y. et al. Single-molecule imaging of transcriptionally coupled and uncoupled splicing. Cell 147, 1054–1065 (2011).

39

Leutgeb, J.K., Leutgeb, S., Moser, M.B. & Moser, E.I. Pattern separation in the dentate gyrus and CA3 of the hippocampus. Science 315, 961–966 (2007).

40

Yassa, M.A. & Stark, C.E. Pattern separation in the hippocampus. Trends Neurosci. 34, 515–525 (2011).

41

Peleg, S. et al. Altered histone acetylation is associated with age-dependent memory impairment in mice. Science 328, 753–756 (2010).

42

Picelli, S. et al. Full-length RNA-seq from single cells using Smart-seq2. Nat. Protoc. 9, 171–181 (2014).
Acknowledgements
Y. Jun (Tsinghua University) kindly provided advice on CRISPR-Cas9 assays in primary culture. The work is supported by grants from the National Basic Research Program of China (2013CB835100), NSFC (31671104), NSFC (31371059), Brain Inspired Computing Research, Tsinghua University (20141080934) and Beijing Municipal Science & Technology Commission (Z161100000216126) to J.-S.G., and is supported by the Beijing NOVA program (2015B057). The work was partially funded by the National Natural Science Foundation of China and the German Research Foundation (DFG) in project Crossmodal Learning, NSFC (61621136008)/DGF TRR-169 to J.-S.G.
Ethics declarations
Competing interests
The authors declare no competing financial interests.
Integrated supplementary information
Supplementary information
About this article
Cite this article
Ding, X., Liu, S., Tian, M. et al. Activity-induced histone modifications govern Neurexin-1 mRNA splicing and memory preservation. Nat Neurosci 20, 690–699 (2017) doi:10.1038/nn.4536
Received

Accepted

Published

Issue Date