Abstract
Optogenetic interrogation of neural pathways relies on delivery of light-sensitive opsins into tissue and subsequent optical illumination and electrical recording from the regions of interest. Despite the recent development of multifunctional neural probes, integration of these modalities in a single biocompatible platform remains a challenge. We developed a device composed of an optical waveguide, six electrodes and two microfluidic channels produced via fiber drawing. Our probes facilitated injections of viral vectors carrying opsin genes while providing collocated neural recording and optical stimulation. The miniature (<200 μm) footprint and modest weight (<0.5 g) of these probes allowed for multiple implantations into the mouse brain, which enabled opto-electrophysiological investigation of projections from the basolateral amygdala to the medial prefrontal cortex and ventral hippocampus during behavioral experiments. Fabricated solely from polymers and polymer composites, these flexible probes minimized tissue response to achieve chronic multimodal interrogation of brain circuits with high fidelity.
Access options
Subscribe to Journal
Get full journal access for 1 year
$209.00
only $17.42 per issue
All prices are NET prices.
VAT will be added later in the checkout.
Rent or Buy article
Get time limited or full article access on ReadCube.
from$8.99
All prices are NET prices.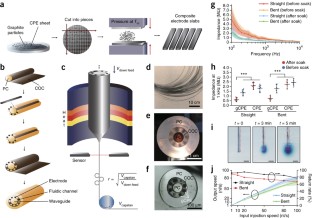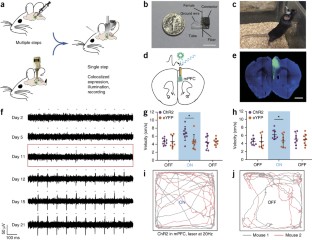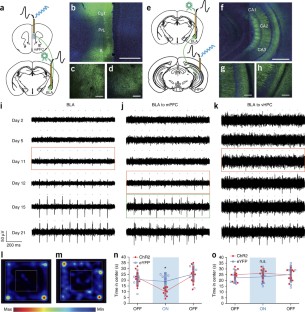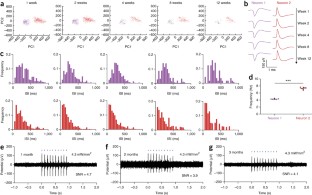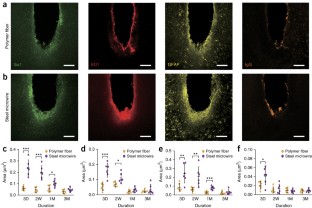 References
1

Boyden, E.S., Zhang, F., Bamberg, E., Nagel, G. & Deisseroth, K. Millisecond-timescale, genetically targeted optical control of neural activity. Nat. Neurosci. 8, 1263–1268 (2005).

2

Tye, K.M. & Deisseroth, K. Optogenetic investigation of neural circuits underlying brain disease in animal models. Nat. Rev. Neurosci. 13, 251–266 (2012).

3

Gradinaru, V., Mogri, M., Thompson, K.R., Henderson, J.M. & Deisseroth, K. Optical deconstruction of parkinsonian neural circuitry. Science 324, 354–359 (2009).

4

Zhang, F., Aravanis, A.M., Adamantidis, A., de Lecea, L. & Deisseroth, K. Circuit-breakers: optical technologies for probing neural signals and systems. Nat. Rev. Neurosci. 8, 577–581 (2007).

5

Aravanis, A.M. et al. An optical neural interface: in vivo control of rodent motor cortex with integrated fiberoptic and optogenetic technology. J. Neural Eng. 4, S143–S156 (2007).

6

Minev, I.R. et al. Biomaterials. Electronic dura mater for long-term multimodal neural interfaces. Science 347, 159–163 (2015).

7

Park, S.I. et al. Soft, stretchable, fully implantable miniaturized optoelectronic systems for wireless optogenetics. Nat. Biotechnol. 33, 1280–1286 (2015).

8

Jeong, J.-W. et al. Wireless optofluidic systems for programmable in vivo pharmacology and optogenetics. Cell 162, 662–674 (2015).

9

Ward, M.P., Rajdev, P., Ellison, C. & Irazoqui, P.P. Toward a comparison of microelectrodes for acute and chronic recordings. Brain Res. 1282, 183–200 (2009).

10

Polikov, V.S., Tresco, P.A. & Reichert, W.M. Response of brain tissue to chronically implanted neural electrodes. J. Neurosci. Methods 148, 1–18 (2005).

11

Lind, G., Linsmeier, C.E. & Schouenborg, J. The density difference between tissue and neural probes is a key factor for glial scarring. Sci. Rep. 3, 2942 (2013).

12

Abouraddy, A.F. et al. Towards multimaterial multifunctional fibres that see, hear, sense and communicate. Nat. Mater. 6, 336–347 (2007).

13

Tao, G., Stolyarov, A.M. & Abouraddy, A.F. Multimaterial fibers. Int. J. Appl. Glass Sci. 3, 349–368 (2012).

14

Canales, A. et al. Multifunctional fibers for simultaneous optical, electrical and chemical interrogation of neural circuits in vivo. Nat. Biotechnol. 33, 277–284 (2015).

15

Guimard, N.K., Gomez, N. & Schmidt, C.E. Conducting polymers in biomedical engineering. Polym. Biomed. Appl. 32, 876–921 (2007).

16

Green, R.A., Lovell, N.H., Wallace, G.G. & Poole-Warren, L.A. Conducting polymers for neural interfaces: challenges in developing an effective long-term implant. Biomaterials 29, 3393–3399 (2008).

17

Kuo, J.T.W. et al. Novel flexible Parylene neural probe with 3D sheath structure for enhancing tissue integration. Lab Chip 13, 554–561 (2013).

18

Kim, B.J. et al. 3D Parylene sheath neural probe for chronic recordings. J. Neural Eng. 10, 045002 (2013).

19

Huang, J.-C. Carbon black filled conducting polymers and polymer blends. Adv. Polym. Technol. 21, 299–313 (2002).

20

Roy, N., Sengupta, R. & Bhowmick, A.K. Modifications of carbon for polymer composites and nanocomposites. Prog. Polym. Sci. 37, 781–819 (2012).

21

Mark, J.E. Polymer Data Handbook (Oxford University Press, 2009).

22

Bäumer, S. Handbook of Plastic Optics, Second Edition (Wiley, 2011).

23

Lee, H., Bellamkonda, R.V., Sun, W. & Levenston, M.E. Biomechanical analysis of silicon microelectrode-induced strain in the brain. J. Neural Eng. 2, 81–89 (2005).

24

Nagel, G. et al. Channelrhodopsin-2, a directly light-gated cation-selective membrane channel. Proc. Natl. Acad. Sci. USA 100, 13940–13945 (2003).

25

Flecknell, P.A. Laboratory Animal Anaesthesia (Elsevier, 2009).

26

Cardin, J.A. et al. Targeted optogenetic stimulation and recording of neurons in vivo using cell-type-specific expression of Channelrhodopsin-2. Nat. Protoc. 5, 247–254 (2010).

27

Anikeeva, P. et al. Optetrode: a multichannel readout for optogenetic control in freely moving mice. Nat. Neurosci. 15, 163–170 (2011).

28

Bacon, S.J., Headlam, A.J.N., Gabbott, P.L.A. & Smith, A.D. Amygdala input to medial prefrontal cortex (mPFC) in the rat: a light and electron microscope study. Brain Res. 720, 211–219 (1996).

29

Lee, B.R. et al. Maturation of silent synapses in amygdala-accumbens projection contributes to incubation of cocaine craving. Nat. Neurosci. 16, 1644–1651 (2013).

30

Felix-Ortiz, A.C. et al. BLA to vHPC inputs modulate anxiety-related behaviors. Neuron 79, 658–664 (2013).

31

Saxena, T. et al. The impact of chronic blood-brain barrier breach on intracortical electrode function. Biomaterials 34, 4703–4713 (2013).

32

Gunaydin, L.A. et al. Natural neural projection dynamics underlying social behavior. Cell 157, 1535–1551 (2014).

33

Desai, M. et al. Mapping brain networks in awake mice using combined optical neural control and fMRI. J. Neurophysiol. 105, 1393–1405 (2011).

34

Farrell, M.S. et al. A Gαs DREADD mouse for selective modulation of cAMP production in striatopallidal neurons. Neuropsychopharmacology 38, 854–862 (2013).

35

Vardy, E. et al. A new DREADD facilitates the multiplexed chemogenetic interrogation of behavior. Neuron 86, 936–946 (2015).

36

Nevian, T., Larkum, M.E., Polsky, A. & Schiller, J. Properties of basal dendrites of layer 5 pyramidal neurons: a direct patch-clamp recording study. Nat. Neurosci. 10, 206–214 (2007).

37

Hunt, R.F., Girskis, K.M., Rubenstein, J.L., Alvarez-Buylla, A. & Baraban, S.C. GABA progenitors grafted into the adult epileptic brain control seizures and abnormal behavior. Nat. Neurosci. 16, 692–697 (2013).

38

Kravitz, A.V., Tye, L.D. & Kreitzer, A.C. Distinct roles for direct and indirect pathway striatal neurons in reinforcement. Nat. Neurosci. 15, 816–818 (2012).

39

Paxinos, G. & Franklin, K.B.J. The Mouse Brain in Stereotaxic Coordinates, 2nd Edition (Academic Press, 2004).

40

Schmitzer-Torbert, N., Jackson, J., Henze, D., Harris, K. & Redish, A.D. Quantitative measures of cluster quality for use in extracellular recordings. Neuroscience 131, 1–11 (2005).

41

Felix-Ortiz, A.C. & Tye, K.M. Amygdala inputs to the ventral hippocampus bidirectionally modulate social behavior. J. Neurosci. 34, 586–595 (2014).

42

Jukkola, P., Guerrero, T., Gray, V. & Gu, C. Astrocytes differentially respond to inflammatory autoimmune insults and imbalances of neural activity. Acta Neuropathol. Commun. 1, 70 (2013).

43

Shi, P. et al. Direct pro-inflammatory effects of prorenin on microglia. PLoS One 9, e92937 (2014).

44

Wes, P.D. et al. Tau overexpression impacts a neuroinflammation gene expression network perturbed in Alzheimer's disease. PLoS One 9, e106050 (2014).

45

Siracusa, R. et al. The association of palmitoylethanolamide with luteolin decreases neuroinflammation and stimulates autophagy in Parkinson's disease model. CNS Neurol. Disord. Drug Targets 14, 1350–1365 (2015).

46

Park, S. et al. Optogenetic control of nerve growth. Sci. Rep. 5, 9669 (2015).
Acknowledgements
The authors are grateful to H. Cho for graphics help during figure preparation. This work was supported in part by the National Institute of Neurological Disorders and Stroke (5R01NS086804, P.A.) National Science Foundation under CAREER award (CBET-1253890, P.A.), Center for Materials Science and Engineering (DMR-1419807, P.A. and Y.F.), Center for Sensorimotor Neural Engineering (EEC-1028725, P.A.) and the McGovern Institute for Brain Research at MIT (P.A. and G.B.C.). S.P. is a recipient of Samsung Scholarship.
Ethics declarations
Competing interests
The authors declare no competing financial interests.
Integrated supplementary information
Supplementary information
About this article
Cite this article
Park, S., Guo, Y., Jia, X. et al. One-step optogenetics with multifunctional flexible polymer fibers. Nat Neurosci 20, 612–619 (2017). https://doi.org/10.1038/nn.4510
Received:

Accepted:

Published:

Issue Date: