Abstract
Stroke produces a limited process of neural repair. Axonal sprouting in cortex adjacent to the infarct is part of this recovery process, but the signal that initiates axonal sprouting is not known. Growth and differentiation factor 10 (GDF10) is induced in peri-infarct neurons in mice, non-human primates and humans. GDF10 promotes axonal outgrowth in vitro in mouse, rat and human neurons through TGFβRI and TGFβRII signaling. Using pharmacogenetic gain- and loss-of-function studies, we found that GDF10 produced axonal sprouting and enhanced functional recovery after stroke; knocking down GDF10 blocked axonal sprouting and reduced recovery. RNA sequencing from peri-infarct cortical neurons revealed that GDF10 downregulated PTEN, upregulated PI3 kinase signaling and induced specific axonal guidance molecules. Using unsupervised genome-wide association analysis of the GDF10 transcriptome, we found that it was not related to neurodevelopment, but may partially overlap with other CNS injury patterns. Thus, GDF10 is a stroke-induced signal for axonal sprouting and functional recovery.
This is a preview of subscription content
Access options
Subscribe to Journal
Get full journal access for 1 year
$59.00
only $4.92 per issue
All prices are NET prices.
VAT will be added later in the checkout.
Tax calculation will be finalised during checkout.
Buy article
Get time limited or full article access on ReadCube.
$32.00
All prices are NET prices.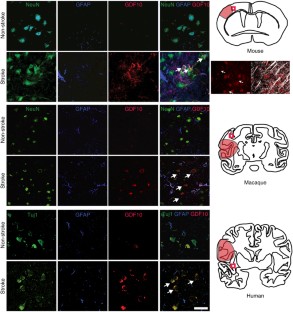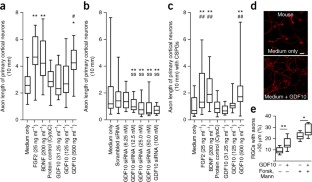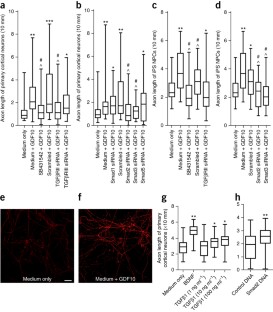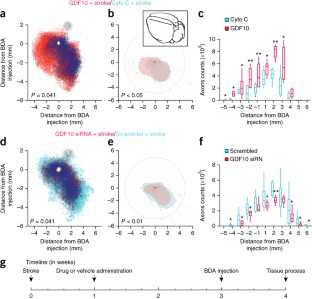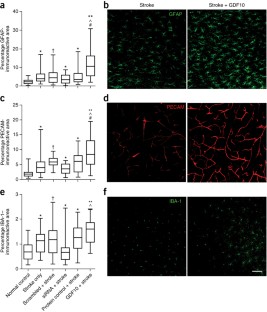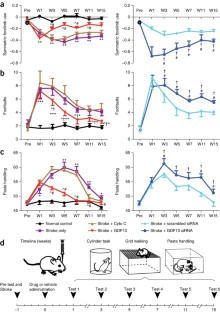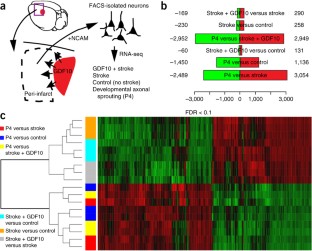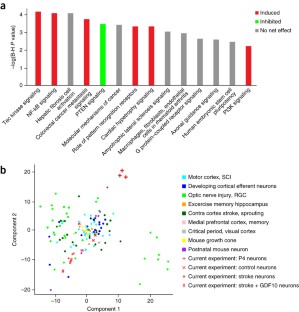 References
Dancause, N. et al. Extensive cortical rewiring after brain injury. J. Neurosci. 25, 10167–10179 (2005).

Brown, C.E., Aminoltejari, K., Erb, H., Winship, I.R. & Murphy, T.H. In vivo voltage-sensitive dye imaging in adult mice reveals that somatosensory maps lost to stroke are replaced over weeks by new structural and functional circuits with prolonged modes of activation within both the peri-infarct zone and distant sites. J. Neurosci. 29, 1719–1734 (2009).

Li, S. et al. An age-related sprouting transcriptome provides molecular control of axonal sprouting after stroke. Nat. Neurosci. 13, 1496–1504 (2010).

Overman, J.J. et al. A role for ephrin-A5 in axonal sprouting, recovery and activity-dependent plasticity after stroke. Proc. Natl. Acad. Sci. USA 109, E2230–E2239 (2012).

Favre, I. et al. Upper limb recovery after stroke is associated with ipsilesional primary motor cortical activity: a meta-analysis. Stroke 45, 1077–1083 (2014).

Kantak, S.S., Stinear, J.W., Buch, E.R. & Cohen, L.G. Rewiring the brain: potential role of the premotor cortex in motor control, learning, and recovery of function following brain injury. Neurorehabil. Neural Repair 26, 282–292 (2012).

Schaechter, J.D., Moore, C.I., Connell, B.D., Rosen, B.R. & Dijkhuizen, R.M. Structural and functional plasticity in the somatosensory cortex of chronic stroke patients. Brain 129, 2722–2733 (2006).

Liu, K., Tedeschi, A., Park, K.K. & He, Z. Neuronal intrinsic mechanisms of axon regeneration. Annu. Rev. Neurosci. 34, 131–152 (2011).

Soleman, S., Filippov, M.A., Dityatev, A. & Fawcett, J.W. Targeting the neural extracellular matrix in neurological disorders. Neuroscience 253, 194–213 (2013).

Wahl, A.S. et al. Neuronal repair. Asynchronous therapy restores motor control by rewiring of the rat corticospinal tract after stroke. Science 344, 1250–1255 (2014).

Cunningham, N.S. et al. Growth/differentiation factor-10: a new member of the transforming growth factor-beta superfamily related to bone morphogenetic protein-3. Growth Factors 12, 99–109 (1995).

Katoh, Y. & Katoh, M. Comparative integromics on BMP/GDF family. Int. J. Mol. Med. 17, 951–955 (2006).

Carreira, A.C. et al. Bone morphogenetic proteins: facts, challenges, and future perspectives. J. Dent. Res. 93, 335–345 (2014).

Akhurst, R.J. & Hata, A. Targeting the TGFβ signalling pathway in disease. Nat. Rev. Drug Discov. 11, 790–811 (2012).

Upadhyay, G. et al. Stem cell antigen-1 enhances tumorigenicity by disruption of growth differentiation factor-10 (GDF10)-dependent TGF-beta signaling. Proc. Natl. Acad. Sci. USA 108, 7820–7825 (2011).

Söderström, S. & Ebendal, T. Localized expression of BMP and GDF mRNA in the rodent brain. J. Neurosci. Res. 56, 482–492 (1999).

Zhao, R., Lawler, A.M. & Lee, S.J. Characterization of GDF-10 expression patterns and null mice. Dev. Biol. 212, 68–79 (1999).

Yin, Y. et al. Macrophage-derived factors stimulate optic nerve regeneration. J. Neurosci. 23, 2284–2293 (2003).

Bar-Klein, G. et al. Losartan prevents acquired epilepsy via TGF-b signaling suppression. Ann. Neurol. 75, 864–875 (2014).

Waghabi, M.C. et al. Pharmacological inhibition of transforming growth factor β signaling decreases infection and prevents heart damage in acute Chagas' Disease. Antimicrob. Agents Chemother. 53, 4694–4701 (2009).

Ishihara, A., Saito, H. & Abe, K. Transforming growth factor-beta 1 and -beta 2 promote neurite sprouting and elongation of cultured rat hippocampal neurons. Brain Res. 639, 21–25 (1994).

Knöferle, J. et al. TGF-beta 1 enhances neurite outgrowth via regulation of proteasome function and EFABP. Neurobiol. Dis. 38, 395–404 (2010).

Hannila, S.S. et al. Secretory leukocyte protease inhibitor reverses inhibition by CNS myelin, promotes regeneration in the optic nerve, and suppresses expression of the transforming growth factor-beta signaling protein Smad2. J. Neurosci. 33, 5138–5151 (2013).

Stegmüller, J., Huynh, M.A., Yuan, Z., Konishi, Y. & Bonni, A. TGFbeta-Smad2 signaling regulates the Cdh1-APC/SnoN pathway of axonal morphogenesis. J. Neurosci. 28, 1961–1969 (2008).

Vallier, L. & Pedersen, R.A. Human embryonic stem cells: an in vitro model to study mechanisms controlling pluripotency in early mammalian development. Stem Cell Rev. 1, 119–130 (2005).

Chin, M.H., Pellegrini, M., Plath, K. & Lowry, W.E. Molecular analyses of human induced pluripotent stem cells and embryonic stem cells. Cell Stem Cell 7, 263–269 (2010).

Paşca, S.P. et al. Using iPSC-derived neurons to uncover cellular phenotypes associated with Timothy syndrome. Nat. Med. 17, 1657–1662 (2011).

Clarkson, A.N. et al. Multimodal examination of structural and functional remapping in the mouse photothrombotic stroke model. J. Cereb. Blood Flow Metab. 33, 716–723 (2013).

Clarkson, A.N. et al. AMPA receptor–induced local brain-derived neurotrophic factor signaling mediates motor recovery after stroke. J. Neurosci. 31, 3766–3775 (2011).

Smith, G.M. & Strunz, C. Growth factor and cytokine regulation of chondroitin sulfate proteoglycans by astrocytes. Glia 52, 209–218 (2005).

Wang, J. et al. Transforming growth factor β-regulated microRNA-29a promotes angiogenesis through targeting the phosphatase and tensin homolog in endothelium. J. Biol. Chem. 288, 10418–10426 (2013).

Tennant, K.A. et al. The vermicelli and capellini handling tests: simple quantitative measures of dexterous forepaw function in rats and mice. J. Vis. Exp. 41, 2076 (2010).

Clarkson, A.N., Huang, B.S., Macisaac, S.E., Mody, I. & Carmichael, S.T. Reducing excessive GABA-mediated tonic inhibition promotes functional recovery after stroke. Nature 468, 305–309 (2010).

Dye, C.A., El Shawa, H. & Huffman, K.J. A lifespan analysis of intraneocortical connections and gene expression in the mouse I. Cereb. Cortex 21, 1311–1330 (2011).

Sun, F. et al. Sustained axon regeneration induced by co-deletion of PTEN and SOCS3. Nature 480, 372–375 (2011).

Carmichael, S.T. Translating the frontiers of brain repair to treatments: starting not to break the rules. Neurobiol. Dis. 37, 237–242 (2010).

Zai, L. et al. Inosine alters gene expression and axonal projections in neurons contralateral to a cortical infarct and improves skilled use of the impaired limb. J. Neurosci. 29, 8187–8197 (2009).

Ng, S.C., de la Monte, S.M., Conboy, G.L., Karns, L.R. & Fishman, M.C. Cloning of human GAP-43: growth association and ischemic resurgence. Neuron 1, 133–139 (1988).

Abe, K., Chu, P.J., Ishihara, A. & Saito, H. Transforming growth factor-beta 1 promotes re-elongation of injured axons of cultured rat hippocampal neurons. Brain Res. 723, 206–209 (1996).

Yi, J.J., Barnes, A.P., Hand, R., Polleux, F. & Ehlers, M.D. TGF-beta signaling specifies axons during brain development. Cell 142, 144–157 (2010).

Walshe, T.E., Leach, L.L. & D′Amore, P.A. TGF-beta signaling is required for maintenance of retinal ganglion cell differentiation and survival. Neuroscience 189, 123–131 (2011).

Lenferink, A.E. et al. Transcriptome profiling of a TGF-beta-induced epithelial-to-mesenchymal transition reveals extracellular clusterin as a target for therapeutic antibodies. Oncogene 29, 831–844 (2010).

Bahjat, F.R. et al. Proof of concept: pharmacological preconditioning with a Toll-like receptor agonist protects against cerebrovascular injury in a primate model of stroke. J. Cereb. Blood Flow Metab. 31, 1229–1242 (2011).

Soontornniyomkij, V. et al. Cerebral microinfarcts associated with severe cerebral beta-amyloid angiopathy. Brain Pathol. 20, 459–467 (2010).

Brewer, G.J. & Torricelli, J.R. Isolation and culture of adult neurons and neurospheres. Nat. Protoc. 2, 1490–1498 (2007).

Karumbayaram, S. et al. From skin biopsy to neurons through a pluripotent intermediate under Good Manufacturing Practice protocols. Stem Cells Transl. Med. 1, 36–43 (2012).

Xu, S.Y., Wu, Y.M., Ji, Z., Gao, X.Y. & Pan, S.Y. A modified technique for culturing primary fetal rat cortical neurons. J. Biomed. Biotechnol. 2012, 803930 (2012).

Patterson, M. et al. Defining the nature of human pluripotent stem cell progeny. Cell Res. 22, 178–193 (2012).

Patterson, M. et al. let-7 miRNAs can act through notch to regulate human gliogenesis. Stem Cell Reports 3, 758–773 (2014).

Andres, R.H. et al. Human neural stem cells enhance structural plasticity and axonal transport in the ischaemic brain. Brain 134, 1777–1789 (2011).

Ozdinler, P.H. & Macklis, J.D. IGF-I specifically enhances axon outgrowth of corticospinal motor neurons. Nat. Neurosci. 9, 1371–1381 (2006).

Paxinos, G. & Watson, C. The Mouse Brain in Stereotaxic Coordinates 2nd edn. (Academic, San Diego, 2001).

Dobin, A. et al. STAR: ultrafast universal RNA-seq aligner. Bioinformatics 29, 15–21 (2013).

Robinson, M.D., McCarthy, D.J. & Smyth, G.K. edgeR: a Bioconductor package for differential expression analysis of digital gene expression data. Bioinformatics 26, 139–140 (2010).
Acknowledgements
We thank W.E. Lowry (University of California at Los Angeles, UCLA) for hiPS neural precursor cells and the National Institute of Neurological Disorders and Stroke Informatics Center for Neurogenetics and Neurogenomics (P30 NS062691) at UCLA for deep sequencing, alignment and RNA-seq analysis. This research was supported by US National Institutes of Health grants NS085019 and NS086431, American Heart Association grant 09SDG2310180, the Richard Merkin Foundation for Neural Repair at UCLA, the Dr. Miriam and Sheldon G. Adelson Medical Research Foundation, and the Edwin W. and Catherine Davis Foundation.
Ethics declarations
Competing interests
The authors declare no competing financial interests.
Integrated supplementary information
Supplementary information
About this article
Cite this article
Li, S., Nie, E., Yin, Y. et al. GDF10 is a signal for axonal sprouting and functional recovery after stroke. Nat Neurosci 18, 1737–1745 (2015). https://doi.org/10.1038/nn.4146
Received:

Accepted:

Published:

Issue Date:

DOI: https://doi.org/10.1038/nn.4146