Abstract
Accumulation of pathological tau protein is a major hallmark of Alzheimer's disease. Tau protein spreads from the entorhinal cortex to the hippocampal region early in the disease. Microglia, the primary phagocytes in the brain, are positively correlated with tau pathology, but their involvement in tau propagation is unknown. We developed an adeno-associated virus–based model exhibiting rapid tau propagation from the entorhinal cortex to the dentate gyrus in 4 weeks. We found that depleting microglia dramatically suppressed the propagation of tau and reduced excitability in the dentate gyrus in this mouse model. Moreover, we demonstrate that microglia spread tau via exosome secretion, and inhibiting exosome synthesis significantly reduced tau propagation in vitro and in vivo. These data suggest that microglia and exosomes contribute to the progression of tauopathy and that the exosome secretion pathway may be a therapeutic target.
Access options
Subscribe to Journal
Get full journal access for 1 year
$225.00
only $18.75 per issue
All prices are NET prices.
VAT will be added later in the checkout.
Rent or Buy article
Get time limited or full article access on ReadCube.
from$8.99
All prices are NET prices.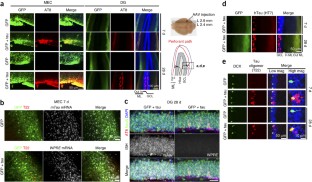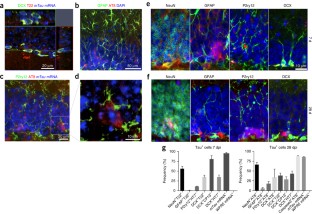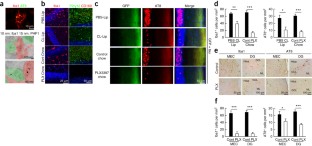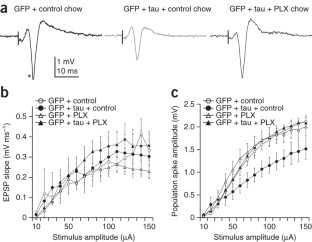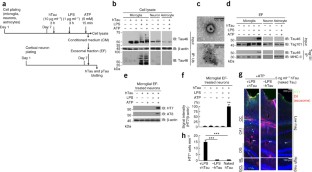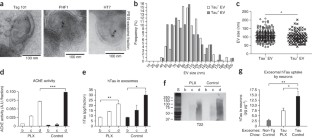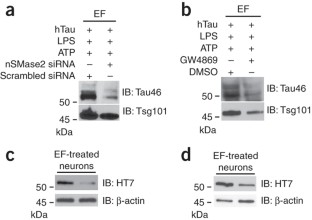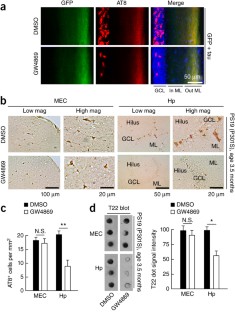 Accession codes
Accessions
NCBI Reference Sequence
References
1

Braak, H. & Braak, E. Neuropathological stageing of Alzheimer-related changes. Acta Neuropathol. 82, 239–259 (1991).

2

Clavaguera, F. et al. Transmission and spreading of tauopathy in transgenic mouse brain. Nat. Cell Biol. 11, 909–913 (2009).

3

Ahmed, Z. et al. A novel in vivo model of tau propagation with rapid and progressive neurofibrillary tangle pathology: the pattern of spread is determined by connectivity, not proximity. Acta Neuropathol. 127, 667–683 (2014).

4

Boluda, S. et al. Differential induction and spread of tau pathology in young PS19 tau transgenic mice following intracerebral injections of pathological tau from Alzheimer's disease or corticobasal degeneration brains. Acta Neuropathol. 129, 221–237 (2015).

5

Iba, M. et al. Synthetic tau fibrils mediate transmission of neurofibrillary tangles in a transgenic mouse model of Alzheimer's-like tauopathy. J. Neurosci. 33, 1024–1037 (2013).

6

Harris, J.A. et al. Human P301L-mutant tau expression in mouse entorhinal-hippocampal network causes tau aggregation and presynaptic pathology but no cognitive deficits. PLoS ONE 7, e45881 (2012).

7

de Calignon, A. et al. Propagation of tau pathology in a model of early Alzheimer's disease. Neuron 73, 685–697 (2012).

8

Liu, L. et al. Trans-synaptic spread of tau pathology in vivo. PLoS ONE 7, e31302 (2012).

9

Peeraer, E. et al. Intracerebral injection of preformed synthetic tau fibrils initiates widespread tauopathy and neuronal loss in the brains of tau transgenic mice. Neurobiol. Dis. 73, 83–95 (2015).

10

Yamada, K. et al. Neuronal activity regulates extracellular tau in vivo. J. Exp. Med. 211, 387–393 (2014).

11

Sanders, D.W. et al. Distinct tau prion strains propagate in cells and mice and define different tauopathies. Neuron 82, 1271–1288 (2014).

12

Vingtdeux, V., Sergeant, N. & Buee, L. Potential contribution of exosomes to the prion-like propagation of lesions in Alzheimer's disease. Front. Physiol. 3, 229 (2012).

13

Saman, S. et al. Exosome-associated tau is secreted in tauopathy models and is selectively phosphorylated in cerebrospinal fluid in early Alzheimer disease. J. Biol. Chem. 287, 3842–3849 (2012).

14

Fiandaca, M.S. et al. Identification of preclinical Alzheimer's disease by a profile of pathogenic proteins in neurally derived blood exosomes: a case-control study. Alzheimers Dement. 11, 600–607 (2015).

15

Neumann, H., Kotter, M.R. & Franklin, R.J. Debris clearance by microglia: an essential link between degeneration and regeneration. Brain 132, 288–295 (2009).

16

Schafer, D.P. et al. Microglia sculpt postnatal neural circuits in an activity and complement-dependent manner. Neuron 74, 691–705 (2012).

17

El Andaloussi, S., Mager, I., Breakefield, X.O. & Wood, M.J. Extracellular vesicles: biology and emerging therapeutic opportunities. Nat. Rev. Drug Discov. 12, 347–357 (2013).

18

Ghoshal, N. et al. Tau-66: evidence for a novel tau conformation in Alzheimer's disease. J. Neurochem. 77, 1372–1385 (2001).

19

Serrano-Pozo, A. et al. Reactive glia not only associates with plaques but also parallels tangles in Alzheimer's disease. Am. J. Pathol. 179, 1373–1384 (2011).

20

Shevtsova, Z., Malik, J.M., Michel, U., Bahr, M. & Kugler, S. Promoters and serotypes: targeting of adeno-associated virus vectors for gene transfer in the rat central nervous system in vitro and in vivo. Exp. Physiol. 90, 53–59 (2005).

21

Schofield, E., Kersaitis, C., Shepherd, C.E., Kril, J.J. & Halliday, G.M. Severity of gliosis in Pick's disease and frontotemporal lobar degeneration: tau-positive glia differentiate these disorders. Brain 126, 827–840 (2003).

22

Fricker, M. et al. MFG-E8 mediates primary phagocytosis of viable neurons during neuroinflammation. J. Neurosci. 32, 2657–2666 (2012).

23

Yoshiyama, Y. et al. Synapse loss and microglial activation precede tangles in a P301S tauopathy mouse model. Neuron 53, 337–351 (2007).

24

Elmore, M.R. et al. Colony-stimulating factor 1 receptor signaling is necessary for microglia viability, unmasking a microglia progenitor cell in the adult brain. Neuron 82, 380–397 (2014).

25

Qu, Y., Franchi, L., Nunez, G. & Dubyak, G.R. Nonclassical IL-1 beta secretion stimulated by P2X7 receptors is dependent on inflammasome activation and correlated with exosome release in murine macrophages. J. Immunol. 179, 1913–1925 (2007).

26

Kadiu, I., Narayanasamy, P., Dash, P.K., Zhang, W. & Gendelman, H.E. Biochemical and biologic characterization of exosomes and microvesicles as facilitators of HIV-1 infection in macrophages. J. Immunol. 189, 744–754 (2012).

27

Perez-Gonzalez, R., Gauthier, S.A., Kumar, A. & Levy, E. The exosome secretory pathway transports amyloid precursor protein carboxyl-terminal fragments from the cell into the brain extracellular space. J. Biol. Chem. 287, 43108–43115 (2012).

28

Thery, C., Amigorena, S., Raposo, G. & Clayton, A. Isolation and characterization of exosomes from cell culture supernatants and biological fluids. Curr. Protoc. Cell Biol. Ch. 3, Unit 3.22 (2006).

29

Trajkovic, K. et al. Ceramide triggers budding of exosome vesicles into multivesicular endosomes. Science 319, 1244–1247 (2008).

30

Brown, G.C. & Neher, J.J. Microglial phagocytosis of live neurons. Nat. Rev. Neurosci. 15, 209–216 (2014).

31

Ittner, L.M. et al. Dendritic function of tau mediates amyloid-beta toxicity in Alzheimer's disease mouse models. Cell 142, 387–397 (2010).

32

Clavaguera, F. et al. Brain homogenates from human tauopathies induce tau inclusions in mouse brain. Proc. Natl. Acad. Sci. USA 110, 9535–9540 (2013).

33

Lasagna-Reeves, C.A. et al. Alzheimer brain-derived tau oligomers propagate pathology from endogenous tau. Sci. Rep. 2, 700 (2012).

34

Agosta, F. et al. Myeloid microvesicles in cerebrospinal fluid are associated with myelin damage and neuronal loss in mild cognitive impairment and Alzheimer disease. Ann. Neurol. 76, 813–825 (2014).

35

Lasagna-Reeves, C.A. et al. Identification of oligomers at early stages of tau aggregation in Alzheimer's disease. FASEB J. 26, 1946–1959 (2012).

36

Théry, C., Ostrowski, M. & Segura, E. Membrane vesicles as conveyors of immune responses. Nat. Rev. Immunol. 9, 581–593 (2009).

37

Lu, Z. et al. Phagocytic activity of neuronal progenitors regulates adult neurogenesis. Nat. Cell Biol. 13, 1076–1083 (2011).

38

Santacruz, K. et al. Tau suppression in a neurodegenerative mouse model improves memory function. Science 309, 476–481 (2005).

39

Castillo-Carranza, D.L. et al. Passive immunization with Tau oligomer monoclonal antibody reverses tauopathy phenotypes without affecting hyperphosphorylated neurofibrillary tangles. J. Neurosci. 34, 4260–4272 (2014).

40

Danzer, K.M. et al. Exosomal cell-to-cell transmission of alpha synuclein oligomers. Mol. Neurodegener. 7, 42 (2012).

41

Alvarez-Erviti, L. et al. Lysosomal dysfunction increases exosome-mediated alpha-synuclein release and transmission. Neurobiol. Dis. 42, 360–367 (2011).

42

Arellano-Anaya, Z.E. et al. Prion strains are differentially released through the exosomal pathway. Cell. Mol. Life Sci. 72, 1185–1196 (2015).

43

Phinney, A.L. et al. Cerebral amyloid induces aberrant axonal sprouting and ectopic terminal formation in amyloid precursor protein transgenic mice. J. Neurosci. 19, 8552–8559 (1999).

44

Yamamoto, M., Kiyota, T., Walsh, S.M. & Ikezu, T. Kinetic analysis of aggregated amyloid-beta peptide clearance in adult bone-marrow-derived macrophages from APP and CCL2 transgenic mice. J. Neuroimmune Pharmacol. 2, 213–221 (2007).

45

Lewis, J. et al. Neurofibrillary tangles, amyotrophy and progressive motor disturbance in mice expressing mutant (P301L) tau protein. Nat. Genet. 25, 402–405 (2000).

46

Jicha, G.A., Bowser, R., Kazam, I.G. & Davies, P. Alz-50 and MC-1, a new monoclonal antibody raised to paired helical filaments, recognize conformational epitopes on recombinant tau. J. Neurosci. Res. 48, 128–132 (1997).

47

Otvos, L. Jr. et al. Monoclonal antibody PHF-1 recognizes tau protein phosphorylated at serine residues 396 and 404. J. Neurosci. Res. 39, 669–673 (1994).

48

Butovsky, O. et al. Targeting miR-155 restores abnormal microglia and attenuates disease in SOD1 mice. Ann. Neurol. 77, 75–99 (2015).

49

Butovsky, O. et al. Identification of a unique TGF-β-dependent molecular and functional signature in microglia. Nat. Neurosci. 17, 131–143 (2014).

50

Vosshall, L.B., Wong, A.M. & Axel, R. An olfactory sensory map in the fly brain. Cell 102, 147–159 (2000).

51

Hama, H. et al. Scale: a chemical approach for fluorescence imaging and reconstruction of transparent mouse brain. Nat. Neurosci. 14, 1481–1488 (2011).

52

Tyler, W.A. & Haydar, T.F. Multiplex genetic fate mapping reveals a novel route of neocortical neurogenesis, which is altered in the Ts65Dn mouse model of Down syndrome. J. Neurosci. 33, 5106–5119 (2013).

53

Kiyota, T. et al. CCL2 accelerates microglia-mediated Aβ oligomer formation and progression of neurocognitive dysfunction. PLoS ONE 4, e6197 (2009).

54

Kiyota, T., Ingraham, K.L., Jacobsen, M.T., Xiong, H. & Ikezu, T. FGF2 gene transfer restores hippocampal functions in mouse models of Alzheimer's disease and has therapeutic implications for neurocognitive disorders. Proc. Natl. Acad. Sci. USA 108, E1339–E1348 (2011).

55

Kiyota, T. et al. AAV serotype 2/1-mediated gene delivery of anti-inflammatory interleukin-10 enhances neurogenesis and cognitive function in APP+PS1 mice. Gene Ther. 19, 724–733 (2012).

56

Beaudoin, G.M. III et al. Culturing pyramidal neurons from the early postnatal mouse hippocampus and cortex. Nat. Protoc. 7, 1741–1754 (2012).

57

Flach, K. et al. Tau oligomers impair artificial membrane integrity and cellular viability. J. Biol. Chem. 287, 43223–43233 (2012).

58

Blasi, E., Barluzzi, R., Bocchini, V., Mazzolla, R. & Bistoni, F. Immortalization of murine microglial cells by a v-raf/v-myc carrying retrovirus. J. Neuroimmunol. 27, 229–237 (1990).

59

Ellman, G.L., Courtney, K.D., Andres, V. Jr. & Feather-Stone, R.M. A new and rapid colorimetric determination of acetylcholinesterase activity. Biochem. Pharmacol. 7, 88–95 (1961).

60

Roccaro, A.M. et al. BM mesenchymal stromal cell-derived exosomes facilitate multiple myeloma progression. J. Clin. Invest. 123, 1542–1555 (2013).

61

Freilich, R.W., Woodbury, M.E. & Ikezu, T. Integrated expression profiles of mRNA and miRNA in polarized primary murine microglia. PLoS ONE 8, e79416 (2013).

62

Tabatadze, N. et al. Inhibition of neutral sphingomyelinase-2 perturbs brain sphingolipid balance and spatial memory in mice. J. Neurosci. Res. 88, 2940–2951 (2010).
Acknowledgements
The authors thank M. Ericsson (Electron Microscopy Facility, Harvard Medical School) for electron microscopic imaging services; P. Davies (Albert Einstein College of Medicine) for providing the MC1, CP13 and PHF1 antibodies; R. Kayed (University of Texas Medical Branch) for providing the T22 polyclonal antibody; Plexxikon, Inc. for providing PLX3397 and control chows; and M. Hasselmo and S. Przedborski for critical reading of the manuscript. This work is supported in part by grants from Alzheimer's Association (T.I.), Alzheimer's Art Quilt Initiative (T.I.), Boston University Alzheimer's Disease Center (P30AG013846, T.I.), BrightFocus Foundation (H.A.) and Coins for Alzheimer's Research Trust (T.I.).
Ethics declarations
Competing interests
The authors declare no competing financial interests.
Integrated supplementary information
Supplementary information
Supplementary Figures 1–10 (PDF 2997 kb)
About this article
Cite this article
Asai, H., Ikezu, S., Tsunoda, S. et al. Depletion of microglia and inhibition of exosome synthesis halt tau propagation. Nat Neurosci 18, 1584–1593 (2015). https://doi.org/10.1038/nn.4132
Received:

Accepted:

Published:

Issue Date: