Abstract
It remains an open question how neural responses in motor cortex relate to movement. We explored the hypothesis that motor cortex reflects dynamics appropriate for generating temporally patterned outgoing commands. To formalize this hypothesis, we trained recurrent neural networks to reproduce the muscle activity of reaching monkeys. Models had to infer dynamics that could transform simple inputs into temporally and spatially complex patterns of muscle activity. Analysis of trained models revealed that the natural dynamical solution was a low-dimensional oscillator that generated the necessary multiphasic commands. This solution closely resembled, at both the single-neuron and population levels, what was observed in neural recordings from the same monkeys. Notably, data and simulations agreed only when models were optimized to find simple solutions. An appealing interpretation is that the empirically observed dynamics of motor cortex may reflect a simple solution to the problem of generating temporally patterned descending commands.
Relevant articles
Open Access articles citing this article.
Itsuki Kanemura

&

Katsunori Kitano

Scientific Reports Open Access 04 January 2023

Rufus Mitchell-Heggs

,

Seigfred Prado

…

Simon R. Schultz

Journal of Computational Neuroscience Open Access 16 December 2022

Rishi Rajalingham

,

Aída Piccato

&

Mehrdad Jazayeri

Nature Communications Open Access 04 October 2022
Access options
Subscribe to this journal
Receive 12 print issues and online access
$189.00 per year
only $15.75 per issue
Rent or buy this article
Get just this article for as long as you need it
$39.95
Prices may be subject to local taxes which are calculated during checkout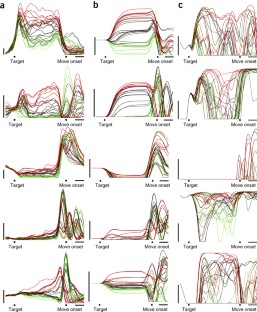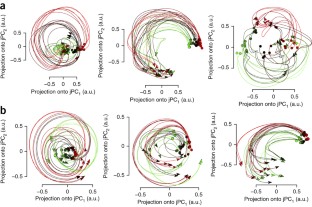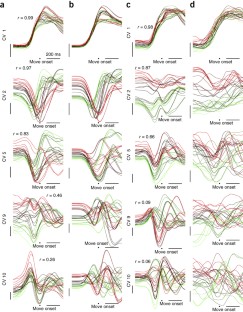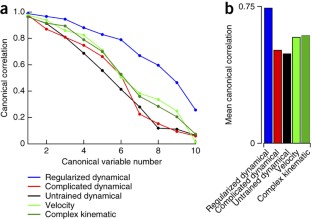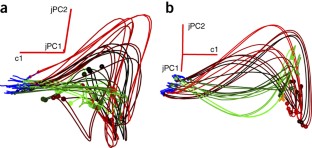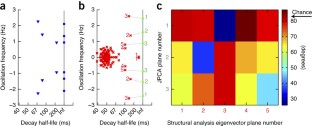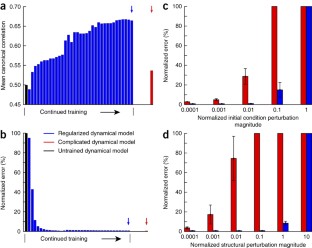 References
Evarts, E.V. Relation of pyramidal tract activity to force exerted during voluntary movement. J. Neurophysiol. 31, 14–27 (1968).

Mussa-Ivaldi, F.A. Do neurons in the motor cortex encode movement direction? An alternative hypothesis. Neurosci. Lett. 91, 106–111 (1988).

Sanger, T.D. Theoretical considerations for the analysis of population coding in motor cortex. Neural Comput. 6, 29–37 (1994).

Todorov, E. Direct cortical control of muscle activation in voluntary arm movements: a model. Nat. Neurosci. 3, 391–398 (2000).

Hatsopoulos, N.G. Encoding in the motor cortex: was evarts right after all? Focus on 'motor cortex neural correlates of output kinematics and kinetics during isometric-force and arm-reaching tasks'. J. Neurophysiol. 94, 2261–2262 (2005).

Scott, S.H. Inconvenient truths about neural processing in primary motor cortex. J. Physiol. (Lond.) 586, 1217–1224 (2008).

Aflalo, T.N. & Graziano, M.S.A. Relationship between unconstrained arm movements and single-neuron firing in the macaque motor cortex. J. Neurosci. 27, 2760–2780 (2007).

Kalaska, J.F. From intention to action: motor cortex and the control of reaching movements. Adv. Exp. Med. Biol. 629, 139–178 (2009).

Georgopoulos, A.P., Schwartz, A.B. & Kettner, R.E. Neuronal population coding of movement direction. Science 233, 1416–1419 (1986).

Shenoy, K.V., Sahani, M. & Churchland, M.M. Cortical control of arm movements: a dynamical systems perspective. Annu. Rev. Neurosci. 36, 337–359 (2013).

Fetz, E. Are movement parameters recognizably coded in the activity of single neurons? Behav. Brain Sci. 15, 679–690 (1992).

Pearce, T.M. & Moran, D.W. Strategy-dependent encoding of planned arm movements in the dorsal premotor cortex. Science 337, 984–988 (2012).

Schwartz, A.B. Direct cortical representation of drawing. Science 265, 540–542 (1994).

Fetz, E.E. Cortical mechanisms controlling limb movement. Curr. Opin. Neurobiol. 3, 932–939 (1993).

Rokni, U. & Sompolinsky, H. How the brain generates movement. Neural Comput. 24, 289–331 (2012).

Lillicrap, T.P. & Scott, S.H. Preference distributions of primary motor cortex neurons reflect control solutions optimized for limb biomechanics. Neuron 77, 168–179 (2013).

Morrow, M.M. & Miller, L.E. Prediction of muscle activity by populations of sequentially recorded primary motor cortex neurons. J. Neurophysiol. 89, 2279–2288 (2003).

Schieber, M.H. & Rivlis, G. Partial reconstruction of muscle activity from a pruned network of diverse motor cortex neurons. J. Neurophysiol. 97, 70–82 (2007).

Ajemian, R. et al. Assessing the function of motor cortex: single-neuron models of how neural response is modulated by limb biomechanics. Neuron 58, 414–428 (2008).

Buys, E.J., Lemon, R.N., Mantel, G.W. & Muir, R.B. Selective facilitation of different hand muscles by single corticospinal neurones in the conscious monkey. J. Physiol. (Lond.) 381, 529–549 (1986).

Churchland, M.M. & Cunningham, J.P. A dynamical basis set for generating reaches. Cold Spring Harb. Symp. Quant. Biol. Published online, doi:10.1101/sqb.2014.79.024703 (7 April 2015).

Churchland, M.M., Cunningham, J.P., Kaufman, M.T., Ryu, S.I. & Shenoy, K.V. Cortical preparatory activity: representation of movement or first cog in a dynamical machine? Neuron 68, 387–400 (2010).

Churchland, M.M. et al. Neural population dynamics during reaching. Nature 487, 51–56 (2012).

Sussillo, D. & Abbott, L.F. Generating coherent patterns of activity from chaotic neural networks. Neuron 63, 544–557 (2009).

Tanji, J. & Evarts, E.V. Anticipatory activity of motor cortex neurons in relation to direction of an intended movement. J. Neurophysiol. 39, 1062–1068 (1976).

Weinrich, M., Wise, S.P. & Mauritz, K.H. A neurophysiological study of the premotor cortex in the rhesus monkey. Brain 107, 385–414 (1984).

Pruszynski, J.A., Omrani, M. & Scott, S.H. Goal-dependent modulation of fast feedback responses in primary motor cortex. J. Neurosci. 34, 4608–4617 (2014).

Todorov, E. & Jordan, M.I. Optimal feedback control as a theory of motor coordination. Nat. Neurosci. 5, 1226–1235 (2002).

Scott, S.H. Optimal feedback control and the neural basis of volitional motor control. Nat. Rev. Neurosci. 5, 532–546 (2004).

Doya, K. Bifurcations in the learning of recurrent neural networks. Proc. IEEE Int. Symp. Circuits Syst. 6, 2777–2780 (1992).

Sussillo, D. & Barak, O. Opening the black box: low-dimensional dynamics in high-dimensional recurrent neural networks. Neural Comput. 25, 626–649 (2013).

Mante, V., Sussillo, D., Shenoy, K.V. & Newsome, W.T. Context-dependent computation by recurrent dynamics in prefrontal cortex. Nature 503, 78–84 (2013).

Fetz, E.E. & Cheney, P.D. Postspike facilitation of forelimb muscle activity by primate corticomotoneuronal cells. J. Neurophysiol. 44, 751–772 (1980).

Rathelot, J.-A. & Strick, P.L. Muscle representation in the macaque motor cortex: an anatomical perspective. Proc. Natl. Acad. Sci. USA 103, 8257–8262 (2006).

Churchland, M.M., Yu, B.M., Ryu, S.I., Santhanam, G. & Shenoy, K.V. Neural variability in premotor cortex provides a signature of motor preparation. J. Neurosci. 26, 3697–3712 (2006).

Churchland, M.M., Afshar, A. & Shenoy, K.V. A central source of movement variability. Neuron 52, 1085–1096 (2006).

Kaufman, M.T., Churchland, M.M., Ryu, S.I. & Shenoy, K.V. Cortical activity in the null space: permitting preparation without movement. Nat. Neurosci. 17, 440–448 (2014).

Olshausen, B.A. & Field, D.J. Emergence of simple-cell receptive field properties by learning a sparse code for natural images. Nature 381, 607–609 (1996).

Tanaka, H. & Sejnowski, T.J. Computing reaching dynamics in motor cortex with Cartesian spatial coordinates. J. Neurophysiol. 109, 1182–1201 (2013).

Todorov, E. Cosine tuning minimizes motor errors. Neural Comput. 14, 1233–1260 (2002).

Maier, M.A., Shupe, L.E. & Fetz, E.E. Dynamic neural network models of the premotoneuronal circuitry controlling wrist movements in primates. J. Comput. Neurosci. 19, 125–146 (2005).

Jaeger, H. & Haas, H. Harnessing nonlinearity: predicting chaotic systems and saving energy in wireless communication. Science 304, 78–80 (2004).

Maass, W., Joshi, P. & Sontag, E.D. Computational aspects of feedback in neural circuits. PLOS Comput. Biol. 3, e165 (2007).

Laje, R. & Buonomano, D.V. Robust timing and motor patterns by taming chaos in recurrent neural networks. Nat. Neurosci. 16, 925–933 (2013).

Hennequin, G., Vogels, T.P. & Gerstner, W. Optimal control of transient dynamics in balanced networks supports generation of complex movements. Neuron 82, 1394–1406 (2014).

Churchland, M.M. & Shenoy, K.V. Temporal complexity and heterogeneity of single-neuron activity in premotor and motor cortex. J. Neurophysiol. 97, 4235–4257 (2007).

Kaufman, M.T. et al. Roles of monkey premotor neuron classes in movement preparation and execution. J. Neurophysiol. 104, 799–810 (2010).

Kaufman, M.T., Churchland, M.M. & Shenoy, K.V. The roles of monkey M1 neuron classes in movement preparation and execution. J. Neurophysiol. 110, 817–825 (2013).

Rifai, S. et al. Learning invariant features through local space contraction. Preprint at http://arxiv.org/abs/1104.4153 (2011).

Martens, J. & Sutskever, I. Learning recurrent neural networks with hessian-free optimization. Proc. 28th Int. Conf. Mach. Learn. (2011).
Acknowledgements
We thank L. Abbott and S. Ganguli for insightful conversations. We thank S.I. Ryu for electrode array implantation surgical assistance, M. Mazariegos and J. Aguayo for surgical assistance and veterinary care, B. Otskotsky for IT support, and S. Eisensee, B. Davis and E. Castaneda for administrative assistance. This work was supported by The Searle Scholars Program (M.M.C.), The Sloan Foundation (M.M.C.), The McKnight Foundation (M.M.C.), The Grossman Charitable Trust (M.M.C.), US National Institutes of Health (NIH) Director's New Innovator Award DP2 NS083037 (M.M.C.), an NIH R01 MH93338-02 grant (M.M.C.), Burroughs Wellcome Fund Career Awards in the Biomedical Sciences (M.M.C., K.V.S.), a National Science Foundation graduate research fellowship (M.T.K.), an NIH T-RO1 Award R01NS076460 (K.V.S.), an NIH Director's Pioneer Award 8DP1HD075623 (K.V.S.) and a DARPA REPAIR Award N66001-10-C-2010 (K.V.S.).
Ethics declarations
Competing interests
The authors declare no competing financial interests.
Integrated supplementary information
Supplementary information
Supplementary Figures 1–11 (PDF 9926 kb)
About this article
Cite this article
Sussillo, D., Churchland, M., Kaufman, M. et al. A neural network that finds a naturalistic solution for the production of muscle activity. Nat Neurosci 18, 1025–1033 (2015). https://doi.org/10.1038/nn.4042
Received:

Accepted:

Published:

Issue Date:

DOI: https://doi.org/10.1038/nn.4042