Abstract
Noncoding variants in the human MIR137 gene locus increase schizophrenia risk with genome-wide significance. However, the functional consequence of these risk alleles is unknown. Here we examined induced human neurons harboring the minor alleles of four disease-associated single nucleotide polymorphisms in MIR137. We observed increased MIR137 levels compared to those in major allele–carrying cells. microRNA-137 gain of function caused downregulation of the presynaptic target genes complexin-1 (Cplx1), Nsf and synaptotagmin-1 (Syt1), leading to impaired vesicle release. In vivo, miR-137 gain of function resulted in changes in synaptic vesicle pool distribution, impaired induction of mossy fiber long-term potentiation and deficits in hippocampus-dependent learning and memory. By sequestering endogenous miR-137, we were able to ameliorate the synaptic phenotypes. Moreover, reinstatement of Syt1 expression partially restored synaptic plasticity, demonstrating the importance of Syt1 as a miR-137 target. Our data provide new insight into the mechanism by which miR-137 dysregulation can impair synaptic plasticity in the hippocampus.
Relevant articles
Open Access articles citing this article.
Baeksun Kim

,

Sung Hyun Tag

…

Heh-In Im

Psychopharmacology Open Access 09 February 2022

Ines Khadimallah

,

Raoul Jenni

…

Kim Q. Do

Molecular Psychiatry Open Access 22 October 2021

Rania H. Mahmoud

,

Enas Mamdouh Hefzy

…

Omayma O. Abdelaleem

Scientific Reports Open Access 08 October 2021
Access options
Subscribe to Journal
Get full journal access for 1 year
$99.00
only $8.25 per issue
All prices are NET prices.
VAT will be added later in the checkout.
Tax calculation will be finalised during checkout.
Buy article
Get time limited or full article access on ReadCube.
$32.00
All prices are NET prices.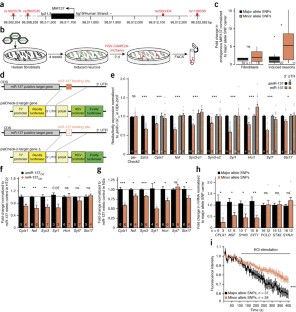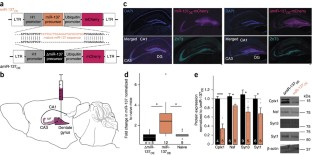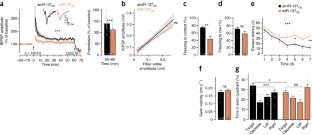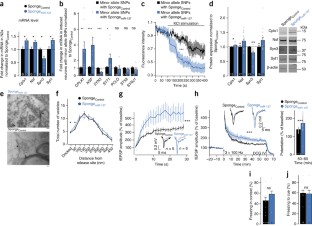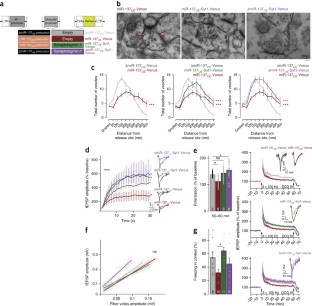 Accession codes
Accessions
NCBI Reference Sequence
References
Cross-Disorder Group of the Psychiatric Genomics Consortium. Identification of risk loci with shared effects on five major psychiatric disorders: a genome-wide analysis. Lancet 381, 1371–1379 (2013).

Ripke, S. et al. Genome-wide association analysis identifies 13 new risk loci for schizophrenia. Nat. Genet. 45, 1150–1159 (2013).

Bartel, D.P. MicroRNAs: target recognition and regulatory functions. Cell 136, 215–233 (2009).

Kosik, K.S. The neuronal microRNA system. Nat. Rev. Neurosci. 7, 911–920 (2006).

Esquela-Kerscher, A. & Slack, F.J. Oncomirs — microRNAs with a role in cancer. Nat. Rev. Cancer 6, 259–269 (2006).

Herzer, S., Silahtaroglu, A. & Meister, B. Locked nucleic acid-based in situ hybridisation reveals miR-7a as a hypothalamus-enriched microRNA with a distinct expression pattern. J. Neuroendocrinol. 24, 1492–1504 (2012).

Smrt, R.D. et al. MicroRNA miR-137 regulates neuronal maturation by targeting ubiquitin ligase Mind Bomb-1. Stem Cells 28, 1060–1070 (2010).

Kesner, R.P., Lee, I. & Gilbert, P. A behavioral assessment of hippocampal function based on a subregional analysis. Rev. Neurosci. 15, 333–351 (2004).

Szulwach, K.E. et al. Cross talk between microRNA and epigenetic regulation in adult neurogenesis. J. Cell Biol. 189, 127–141 (2010).

Heckers, S. et al. Impaired recruitment of the hippocampus during conscious recollection in schizophrenia. Nat. Neurosci. 1, 318–323 (1998).

Won, H., Mah, W. & Kim, E. Autism spectrum disorder causes, mechanisms, and treatments: focus on neuronal synapses. Front. Mol. Neurosci. 6, 19 (2013).

Hunt, R., Sauna, Z.E., Ambudkar, S.V., Gottesman, M.M. & Kimchi-Sarfaty, C. Silent (synonymous) SNPs: should we care about them? Single Nucleotide Polymorphisms: Methods and Protocols 2nd edn. 578, 23–39 (2009).

Vierbuchen, T. et al. Direct conversion of fibroblasts to functional neurons by defined factors. Nature 463, 1035–1041 (2010).

Busskamp, V. et al. Rapid neurogenesis through transcriptional activation in human stem cells. Mol. Syst. Biol. 10, 760 (2014).

Kwon, E., Wang, W. & Tsai, L.H. Validation of schizophrenia-associated genes CSMD1, C10orf26, CACNA1C and TCF4 as miR-137 targets. Mol. Psychiatry 18, 11–12 (2013).

Weinberger, D.R. Cell biology of the hippocampal formation in schizophrenia. Biol. Psychiatry 45, 395–402 (1999).

Wenzel, H.J., Cole, T.B., Born, D.E., Schwartzkroin, P.A. & Palmiter, R.D. Ultrastructural localization of zinc transporter-3 (ZnT-3) to synaptic vesicle membranes within mossy fiber boutons in the hippocampus of mouse and monkey. Proc. Natl. Acad. Sci. USA 94, 12676–12681 (1997).

Kamiya, H., Shinozaki, H. & Yamamoto, C. Activation of metabotropic glutamate receptor type 2/3 suppresses transmission at rat hippocampal mossy fibre synapses. J. Physiol. (Lond.) 493, 447–455 (1996).

Phillips, R.G. & LeDoux, J.E. Differential contribution of amygdala and hippocampus to cued and contextual fear conditioning. Behav. Neurosci. 106, 274–285 (1992).

Devanna, P. & Vernes, S.C. A direct molecular link between the autism candidate gene RORa and the schizophrenia candidate MIR137. Sci. Rep. 4, 3994 (2014).

Ebert, M.S., Neilson, J.R. & Sharp, P.A. MicroRNA sponges: competitive inhibitors of small RNAs in mammalian cells. Nat. Methods 4, 721–726 (2007).

Chapman, E.R. How does synaptotagmin trigger neurotransmitter release? Annu. Rev. Biochem. 77, 615–641 (2008).

Tang, J. et al. A complexin/synaptotagmin 1 switch controls fast synaptic vesicle exocytosis. Cell 126, 1175–1187 (2006).

Xu, J., Pang, Z.P.P., Shin, O.H. & Südhof, T.C. Synaptotagmin-1 functions as a Ca2+ sensor for spontaneous release. Nat. Neurosci. 12, 759–766 (2009).

Südhof, T.C. Calcium control of neurotransmitter release. Cold Spring Harb. Perspect. Biol. 4, a011353 (2012).

Bacaj, T. et al. Synaptotagmin-1 and Synaptotagmin-7 trigger synchronous and asynchronous phases of neurotransmitter release. Neuron 80, 947–959 (2013).

Nicoll, R.A. & Schmitz, D. Synaptic plasticity at hippocampal mossy fibre synapses. Nat. Rev. Neurosci. 6, 863–876 (2005).

Chen, Q. et al. Association and expression study of synapsin III and schizophrenia. Neurosci. Lett. 465, 248–251 (2009).

Sawada, K. et al. Hippocampal complexin proteins and cognitive dysfunction in schizophrenia. Arch. Gen. Psychiatry 62, 263–272 (2005).

Vawter, M.P. et al. Reduction of synapsin in the hippocampus of patients with bipolar disorder and schizophrenia. Mol. Psychiatry 7, 571–578 (2002).

Eastwood, S.L., Cotter, D. & Harrison, P.J. Cerebellar synaptic protein expression in schizophrenia. Neuroscience 105, 219–229 (2001).

Mirnics, K., Middleton, F.A., Marquez, A., Lewis, D.A. & Levitt, P. Molecular characterization of schizophrenia viewed by microarray analysis of gene expression in prefrontal cortex. Neuron 28, 53–67 (2000).

Castillo, P.E. et al. Rab3A is essential for mossy fibre long-term potentiation in the hippocampus. Nature 388, 590–593 (1997).

Lonart, G., Janz, R., Johnson, K.M. & Südhof, T.C. Mechanism of action of rab3A in mossy fiber LTP. Neuron 21, 1141–1150 (1998).

Cao, P., Yang, X.F. & Südhof, T.C. Complexin activates exocytosis of distinct secretory vesicles controlled by different synaptotagmins. J. Neurosci. 33, 1714–1727 (2013).

Martin, J.A., Hu, Z.T., Fenz, K.M., Fernandez, J. & Dittman, J.S. Complexin has opposite effects on two modes of synaptic vesicle fusion. Curr. Biol. 21, 97–105 (2011).

Xu, W. et al. Distinct neuronal coding schemes in memory revealed by selective erasure of fast synchronous synaptic transmission. Neuron 73, 990–1001 (2012).

Jorquera, R.A., Huntwork-Rodriguez, S., Akbergenova, Y., Cho, R.W. & Littleton, J.T. Complexin controls spontaneous and evoked neurotransmitter release by regulating the timing and properties of synaptotagmin activity. J. Neurosci. 32, 18234–18245 (2012).

Geppert, M. et al. Synaptotagmin-1: a major Ca2+ sensor for transmitter release at a central synapse. Cell 79, 717–727 (1994).

Jorgensen, E.M. et al. Defective recycling of synaptic vesicles in Synaptotagmin mutants of Caenorhabditis elegans. Nature 378, 196–199 (1995).

Littleton, J.T. et al. SNARE-complex disassembly by NSF follows synaptic-vesicle fusion. Proc. Natl. Acad. Sci. USA 98, 12233–12238 (2001).

Cesca, F., Baldelli, P., Valtorta, F. & Benfenati, F. The synapsins: key actors of synapse function and plasticity. Prog. Neurobiol. 91, 313–348 (2010).

Pieribone, V.A. et al. Expression of synapsin III in nerve terminals and neurogenic regions of the adult brain. J. Comp. Neurol. 454, 105–114 (2002).

Feng, J. et al. Regulation of neurotransmitter release by synapsin III. J. Neurosci. 22, 4372–4380 (2002).

Kao, H.T. & Porton, B. Synaptic vesicle associated proteins and schizophrenia. in Schizophrenia 3rd edn. (eds. Javitt, D. & Kantrowitz, J.) 267–284 (Springer, 2009).

Gordon Frankle, W., Lerma, J. & Laruelle, M. The synaptic hypothesis of schizophrenia. Neuron 39, 205–216 (2003).

Harrison, P.J. & Weinberger, D.R. Schizophrenia genes, gene expression, and neuropathology: on the matter of their convergence. Mol. Psychiatry 10, 40–68 (2005).

Föcking, M. et al. Proteomic and genomic evidence implicates the postsynaptic density in schizophrenia. Mol. Psychiatry 20, 424–432 (2015).

Wen, Z. et al. Synaptic dysregulation in a human iPS cell model of mental disorders. Nature 515, 414–418 (2014).

Yoshimizu, T. et al. Functional implications of a psychiatric risk variant within CACNA1C in induced human neurons. Mol. Psychiatry 20, 162–169 (2015).

Pfisterer, U. et al. Efficient induction of functional neurons from adult human fibroblasts. Cell Cycle 10, 3311–3316 (2011).

Dittgen, T. et al. Lentivirus-based genetic manipulations of cortical neurons and their optical and electrophysiological monitoring in vivo. Proc. Natl. Acad. Sci. USA 101, 18206–18211 (2004).

van Hooijdonk, L.W.A. et al. Lentivirus-mediated transgene delivery to the hippocampus reveals sub-field specific differences in expression. BMC Neurosci. 10, 2 (2009).

Vicario-Abejón, C. Long-term culture of hippocampal neurons. Curr. Protoc. Neurosci. 3.2.1–3.2.13 (2004).

Cetin, A., Komai, S., Eliava, M., Seeburg, P.H. & Osten, P. Stereotaxic gene delivery in the rodent brain. Nat. Protoc. 1, 3166–3173 (2006).

Morris, R. Developments of a water-maze procedure for studying spatial-learning in the rat. J. Neurosci. Methods 11, 47–60 (1984).

Moy, S.S. et al. Sociability and preference for social novelty in five inbred strains: an approach to assess autistic-like behavior in mice. Genes Brain Behav. 3, 287–302 (2004).

Peça, J. et al. Shank3 mutant mice display autistic-like behaviours and striatal dysfunction. Nature 472, 437–442 (2011).

Reid, C.A. & Clements, J.D. Postsynaptic expression of long-term potentiation in the rat dentate gyrus demonstrated by variance-mean analysis. J. Physiol. (Lond.) 518, 121–130 (1999).

Colino, A. & Malenka, R.C. Mechanisms underlying induction of long-term potentiation in rat medial and lateral perforate paths in vitro. J. Neurophysiol. 69, 1150–1159 (1993).

McNaughton, B.L. Evidence for 2 physiologically distinct perforant pathways to the fascia dentata. Brain Res. 199, 1–19 (1980).

Pasquinelli, A.E. Non-coding RNA microRNAs and their targets: recognition, regulation and an emerging reciprocal relationship. Nat. Rev. Genet. 13, 271–282 (2012).

Griffiths-Jones, S., Saini, H.K., van Dongen, S. & Enright, A.J. miRBase: tools for microRNA genomics. Nucleic Acids Res. 36, D154–D158 (2008).

Krek, A. et al. Combinatorial microRNA target predictions. Nat. Genet. 37, 495–500 (2005).

Lewis, B.P., Burge, C.B. & Bartel, D.P. Conserved seed pairing, often flanked by adenosines, indicates that thousands of human genes are microRNA targets. Cell 120, 15–20 (2005).

Betel, D., Wilson, M., Gabow, A., Marks, D.S. & Sander, C. The microRNA.org resource: targets and expression. Nucleic Acids Res. 36, D149–D153 (2008).

Boyle, E.I. et al. GO:TermFinder – open source software for accessing Gene Ontology information and finding significantly enriched Gene Ontology terms associated with a list of genes. Bioinformatics 20, 3710–3715 (2004).

Livak, K.J. & Schmittgen, T.D. Analysis of relative gene expression data using real-time quantitative PCR and the 2(−ΔΔC(T)) method. Methods 25, 402–408 (2001).

Gaffield, M.A. & Betz, W.J. Imaging synaptic vesicle exocytosis and endocytosis with FM dyes. Nat. Protoc. 1, 2916–2921 (2006).

Cousin, M.A. Use of FM1-43 and other derivatives to investigate neuronal function. Curr. Protoc. Neurosci. Ch. 2, unit 2.6 (2008).
Acknowledgements
We thank B. Cohen (McLean Hospital) and J. Madison (Broad Institute/Stanley Center) for providing the human fibroblasts; N. Nadif Kasri (Radbound University Medical Center Nijmegen) and A. Aschrafi (Radbound University Medical Center Nijmegen) for sharing the SpongeControl and SpongemiR-137 plasmids; T. Südhof (Stanford School of Medicine) for providing us the Syt1-KD and Syt1-KDControl plasmid37; K. Jones for the synaptosomal preparation protocol; W. Xu, J. Penney and M. Benevento for comments on the manuscript; and the members of the Tsai laboratory for their overall comments on the project. S.S. was supported by a Human Frontier Science Program (HFSP) long-term postdoctoral fellowship and a Swiss National Science Foundation fellowship for prospective researchers. E.J.K. was supported by a Simons Foundation Postdoctoral Fellowship. A.R. was supported by a NARSAD Young Investigator Award. This work was supported by a Seed Grant from the Simons Center for the Social Brain and US National Institutes of Health grant RO1 MH 091115 to L.-H.T.
Ethics declarations
Competing interests
The authors declare no competing financial interests.
Integrated supplementary information
Supplementary information
Supplementary Figures 1–9 and Supplementary Table 1 (PDF 1566 kb)
About this article
Cite this article
Siegert, S., Seo, J., Kwon, E. et al. The schizophrenia risk gene product miR-137 alters presynaptic plasticity. Nat Neurosci 18, 1008–1016 (2015). https://doi.org/10.1038/nn.4023
Received:

Accepted:

Published:

Issue Date:

DOI: https://doi.org/10.1038/nn.4023