Abstract
Big data has transformed fields such as physics and genomics. Neuroscience is set to collect its own big data sets, but to exploit its full potential, there need to be ways to standardize, integrate and synthesize diverse types of data from different levels of analysis and across species. This will require a cultural shift in sharing data across labs, as well as to a central role for theorists in neuroscience research.
This is a preview of subscription content
Access options
Subscribe to Journal
Get full journal access for 1 year
$59.00
only $4.92 per issue
All prices are NET prices.
VAT will be added later in the checkout.
Tax calculation will be finalised during checkout.
Rent or Buy article
Get time limited or full article access on ReadCube.
from$8.99
All prices are NET prices.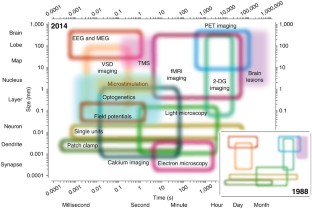 References
1

Bock, D.D. et al. Nature 471, 177–182 (2011).

2

Shepherd, G.M. Neurobiology. 8 (Oxford Univ. Press, 1988).

3

Dankert, H., Wang, L., Hoopfer, E.D., Anderson, D.J. & Perona, P. Nat. Methods 6, 297–303 (2009).

4

Falkner, A.L., Dollar, P., Perona, P., Anderson, D.J. & Lin, D. J. Neurosci. 34, 5971–5984 (2014).

5

Wu, T. et al. IEEE Trans. Syst. Man Cybern. B Cybern. 42, 1027–1038 (2012).

6

National Institutes of Health. BRAIN 2025: a scientific vision. http://www.nih.gov/science/brain/2025/ (2014).

7

Vogelstein, J.T., Park, Y. & Ohyama, T. Science 344, 386–392 (2014).

8

Mountain, M. Phys. Today 67, 8–10 (2014).

9

Churchland, P.S. & Sejnowski, T.J. Science 242, 741–745 (1988).
Ethics declarations
Competing interests
The authors declare no competing financial interests.
About this article
Cite this article
Sejnowski, T., Churchland, P. & Movshon, J. Putting big data to good use in neuroscience. Nat Neurosci 17, 1440–1441 (2014). https://doi.org/10.1038/nn.3839