Spike-based approaches to feature selectivity in sensory pathways can bias toward only the most active neurons. A subthreshold method identifies feature selectivity in the rodent vibrissal system regardless of spiking activity.
Access options
Subscribe to Journal
Get full journal access for 1 year
$79.00
only $6.58 per issue
All prices are NET prices.
VAT will be added later in the checkout.
Tax calculation will be finalised during checkout.
Buy article
Get time limited or full article access on ReadCube.
$32.00
All prices are NET prices.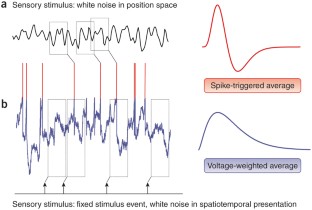 References
Hubel, D.H. & Wiesel, T. J. Physiol. (Lond.) 160, 106–154 (1962).

Ramirez, A. et al. Nat. Neurosci. 17, 866–875 (2014).

Jones, J.P. & Palmer, L.A. J. Neurophysiol. 58, 1187–1211 (1987).

Maravall, M., Petersen, R.S., Fairhall, A.L., Arabzadeh, E. & Diamond, M.E. PLoS Biol. 5, e19 (2007).

Estebanez, L., El Boustani, S., Destexhe, A. & Shulz, D.E. Nat. Neurosci. 15, 1691–1699 (2012).

Bensmaia, S.J., Denchev, P.V., Dammann, J.F., Craig, J.C. & Hsiao, S.S. J. Neurosci. 28, 776–786 (2008).

Barth, A.L. & Poulet, J.F.a. Trends Neurosci. 35, 345–355 (2012).

Wang, Q., Webber, R.M. & Stanley, G.B. Nat. Neurosci. 13, 1534–1541 (2010).

Ollerenshaw, D.R., Zheng, H.J.V.V., Millard, D.C., Wang, Q. & Stanley, G.B. Neuron 81, 1152–1164 (2014).

Niell, C.M. & Stryker, M.P. Neuron 65, 472–479 (2010).

Keller, G.B., Bonhoeffer, T. & Hübener, M. Neuron 74, 809–815 (2012).
Ethics declarations
Competing interests
The authors declare no competing financial interests.
About this article
Cite this article
Shephard, C., Stanley, G. The needle in the haystack. Nat Neurosci 17, 752–753 (2014). https://doi.org/10.1038/nn.3730
Published:

Issue Date:

DOI: https://doi.org/10.1038/nn.3730
This article is cited by
Cognitive Neurodynamics (2015)