Abstract
The hippocampus is thought to have a critical role in episodic memory by incorporating the sensory input of an experience onto a spatial framework embodied by place cells. Although the formation and stability of place fields requires exploration, the interaction between discrete exploratory behaviors and the specific, immediate and persistent modifications of neural representations required by episodic memory has not been established. We recorded place cells in rats and found that increased neural activity during exploratory head-scanning behaviors predicted the formation and potentiation of place fields on the next pass through that location, regardless of environmental familiarity and across multiple testing days. These results strongly suggest that, during the attentive behaviors that punctuate exploration, place cell activity mediates the one-trial encoding of ongoing experiences necessary for episodic memory.
Relevant articles
Open Access articles citing this article.
Dylan Layfield

,

Nathan Sidell

…

Ehren Lee Newman

Scientific Reports Open Access 15 April 2023

Joseph D. Monaco

&

Grace M. Hwang

Cognitive Computation Open Access 27 December 2022

Donovan M. Ashby

,

Stan B. Floresco

…

Yu Tian Wang

Nature Communications Open Access 04 January 2021
Access options
Subscribe to this journal
Receive 12 print issues and online access
$189.00 per year
only $15.75 per issue
Rent or buy this article
Get just this article for as long as you need it
$39.95
Prices may be subject to local taxes which are calculated during checkout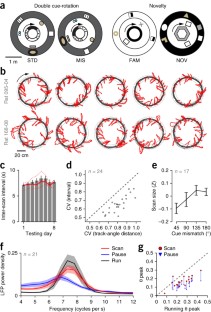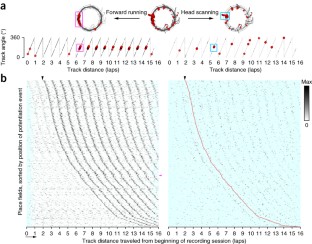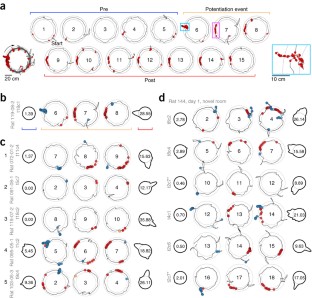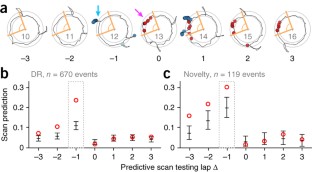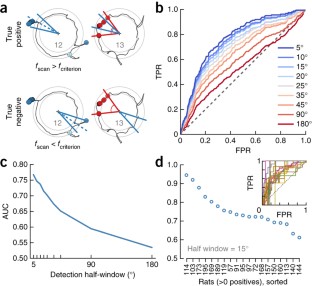 References
O'Keefe, J. & Nadel, L. The Hippocampus as a Cognitive Map (Clarendon Press, 1978).

Wood, E.R., Dudchenko, P.A. & Eichenbaum, H. The global record of memory in hippocampal neuronal activity. Nature 397, 613–616 (1999).

Moita, M.A.P., Rosis, S., Zhou, Y., LeDoux, J.E. & Blair, H.T. Hippocampal place cells acquire location-specific responses to the conditioned stimulus during auditory fear conditioning. Neuron 37, 485–497 (2003).

Squire, L.R., Stark, C.E.L. & Clark, R.E. The medial temporal lobe. Annu. Rev. Neurosci. 27, 279–306 (2004).

Manns, J.R. & Eichenbaum, H. Evolution of declarative memory. Hippocampus 16, 795–808 (2006).

Knierim, J.J., Lee, I. & Hargreaves, E.L. Hippocampal place cells: parallel input streams, subregional processing, and implications for episodic memory. Hippocampus 16, 755–764 (2006).

Kramer, D.L. & McLaughlin, R.L. The behavioral ecology of intermittent locomotion. Am. Zool. 41, 137–153 (2001).

Vanderwolf, C.H. Hippocampal electrical activity and voluntary movement in the rat. Electroencephalogr. Clin. Neurophysiol. 26, 407–418 (1969).

Drai, D., Kafkafi, N., Benjamini, Y., Elmer, G. & Golani, I. Rats and mice share common ethologically relevant parameters of exploratory behavior. Behav. Brain Res. 125, 133–140 (2001).

Golani, I., Benjamini, Y. & Eilam, D. Stopping behavior: constraints on exploration in rats (Rattus norvegicus). Behav. Brain Res. 53, 21–33 (1993).

Eilam, D., Dank, M. & Maurer, R. Voles scale locomotion to the size of the open-field by adjusting the distance between stops: a possible link to path integration. Behav. Brain Res. 141, 73–81 (2003).

Whishaw, I.Q., Cassel, J.C., Majchrzak, M., Cassel, S. & Will, B. "Short-stops" in rats with fimbria-fornix lesions: evidence for change in the mobility gradient. Hippocampus 4, 577–582 (1994).

Nemati, F. & Whishaw, I.Q. The point of entry contributes to the organization of exploratory behavior of rats on an open field: an example of spontaneous episodic memory. Behav. Brain Res. 182, 119–128 (2007).

Benjamini, Y., Fonio, E., Galili, T., Havkin, G.Z. & Golani, I. Quantifying the buildup in extent and complexity of free exploration in mice. Proc. Natl. Acad. Sci. USA 108 (suppl. 3), 15580–15587 (2011).

Muller, R.U. & Kubie, J.L. The effects of changes in the environment on the spatial firing of hippocampal complex-spike cells. J. Neurosci. 7, 1951–1968 (1987).

Lee, I., Yoganarasimha, D., Rao, G. & Knierim, J.J. Comparison of population coherence of place cells in hippocampal subfields CA1 and CA3. Nature 430, 456–459 (2004).

Yoganarasimha, D., Yu, X. & Knierim, J.J. Head direction cell representations maintain internal coherence during conflicting proximal and distal cue rotations: comparison with hippocampal place cells. J. Neurosci. 26, 622–631 (2006).

Roth, E.D., Yu, X., Rao, G. & Knierim, J.J. Functional differences in the backward shifts of CA1 and CA3 place fields in novel and familiar environments. PLoS ONE 7, e36035 (2012).

Teyler, T.J. & DiScenna, P. The hippocampal memory indexing theory. Behav. Neurosci. 100, 147–154 (1986).

Teyler, T.J. & Rudy, J.W. The hippocampal indexing theory and episodic memory: updating the index. Hippocampus 17, 1158–1169 (2007).

Morris, R.G. & Frey, U. Hippocampal synaptic plasticity: role in spatial learning or the automatic recording of attended experience? Phil. Trans. R. Soc. Lond. B 352, 1489–1503 (1997).

McFarland, W.L., Teitelbaum, H. & Hedges, E.K. Relationship between hippocampal theta activity and running speed in the rat. J. Comp. Physiol. Psychol. 88, 324–328 (1975).

Hill, A.J. First occurrence of hippocampal spatial firing in a new environment. Exp. Neurol. 62, 282–297 (1978).

Tanila, H., Shapiro, M., Gallagher, M. & Eichenbaum, H. Brain aging: changes in the nature of information coding by the hippocampus. J. Neurosci. 17, 5155–5166 (1997).

Frank, L.M., Stanley, G.B. & Brown, E.N. Hippocampal plasticity across multiple days of exposure to novel environments. J. Neurosci. 24, 7681–7689 (2004).

Levy, W.B. A sequence predicting CA3 is a flexible associator that learns and uses context to solve hippocampal-like tasks. Hippocampus 6, 579–590 (1996).

Mehta, M.R., Quirk, M.C. & Wilson, M.A. Experience-dependent asymmetric shape of hippocampal receptive fields. Neuron 25, 707–715 (2000).

Lisman, J. & Redish, A.D. Prediction, sequences and the hippocampus. Phil. Trans. R. Soc. Lond. B 364, 1193–1201 (2009).

Wang, S.-H. & Morris, R.G.M. Hippocampal-neocortical interactions in memory formation, consolidation, and reconsolidation. Annu. Rev. Psychol. 61, 49–79 (2010).

Schwindel, C.D. & McNaughton, B.L. Hippocampal-cortical interactions and the dynamics of memory trace reactivation. Prog. Brain Res. 193, 163–177 (2011).

Thompson, L.T. & Best, P.J. Long-term stability of the place-field activity of single units recorded from the dorsal hippocampus of freely behaving rats. Brain Res. 509, 299–308 (1990).

Mehta, M.R., Barnes, C.A. & McNaughton, B.L. Experience-dependent, asymmetric expansion of hippocampal place fields. Proc. Natl. Acad. Sci. USA 94, 8918–8921 (1997).

Lee, I., Rao, G. & Knierim, J.J. A double dissociation between hippocampal subfields: differential time course of CA3 and CA1 place cells for processing changed environments. Neuron 42, 803–815 (2004).

Wilson, M.A. & McNaughton, B.L. Dynamics of the hippocampal ensemble code for space. Science 261, 1055–1058 (1993).

Lever, C., Wills, T., Cacucci, F., Burgess, N. & O'Keefe, J. Long-term plasticity in hippocampal place-cell representation of environmental geometry. Nature 416, 90–94 (2002).

Manns, J.R., Howard, M.W. & Eichenbaum, H. Gradual changes in hippocampal activity support remembering the order of events. Neuron 56, 530–540 (2007).

Mankin, E.A. et al. Neuronal code for extended time in the hippocampus. Proc. Natl. Acad. Sci. USA 109, 19462–19467 (2012).

Leutgeb, S. et al. Independent codes for spatial and episodic memory in hippocampal neuronal ensembles. Science 309, 619–623 (2005).

Wood, E.R., Dudchenko, P.A., Robitsek, R.J. & Eichenbaum, H. Hippocampal neurons encode information about different types of memory episodes occurring in the same location. Neuron 27, 623–633 (2000).

Huxter, J., Burgess, N. & O'Keefe, J. Independent rate and temporal coding in hippocampal pyramidal cells. Nature 425, 828–832 (2003).

Ferbinteanu, J. & Shapiro, M.L. Prospective and retrospective memory coding in the hippocampus. Neuron 40, 1227–1239 (2003).

Manns, J.R. & Eichenbaum, H. A cognitive map for object memory in the hippocampus. Learn. Mem. 16, 616–624 (2009).

Komorowski, R.W., Manns, J.R. & Eichenbaum, H. Robust conjunctive item-place coding by hippocampal neurons parallels learning what happens where. J. Neurosci. 29, 9918–9929 (2009).

Buzsáki, G. Hippocampal sharp waves: their origin and significance. Brain Res. 398, 242–252 (1986).

O'Neill, J., Senior, T. & Csicsvari, J. Place-selective firing of CA1 pyramidal cells during sharp wave/ripple network patterns in exploratory behavior. Neuron 49, 143–155 (2006).

Johnson, A. & Redish, A.D. Neural ensembles in CA3 transiently encode paths forward of the animal at a decision point. J. Neurosci. 27, 12176–12189 (2007).

Deshmukh, S.S. & Knierim, J.J. Representation of non-spatial and spatial information in the lateral entorhinal cortex. Front. Behav. Neurosci. 5, 69 (2011).

Knierim, J.J., Neunuebel, J.P. & Deshmukh, S.S. Functional correlates of the lateral and medial entorhinal cortex: objects, path integration and local-global reference frames. Phil. Trans. R. Soc. Lond. B 369, 20130369 (2014).

Dragoi, G., Harris, K.D. & Buzsáki, G. Place representation within hippocampal networks is modified by long-term potentiation. Neuron 39, 843–853 (2003).

Lee, D., Lin, B.-J. & Lee, A.K. Hippocampal place fields emerge upon single-cell manipulation of excitability during behavior. Science 337, 849–853 (2012).

Knierim, J.J. Dynamic interactions between local surface cues, distal landmarks, and intrinsic circuitry in hippocampal place cells. J. Neurosci. 22, 6254–6264 (2002).

Skaggs, W.E., McNaughton, B.L., Gothard, K. & Markus, E. An information theoretic approach to deciphering the hippocampal code. Adv. Neural Inf. Process. Syst. 5, 1030–1037 (1993).

Olypher, A.V., Lánský, P., Muller, R.U. & Fenton, A.A. Quantifying location-specific information in the discharge of rat hippocampal place cells. J. Neurosci. Methods 127, 123–135 (2003).
Acknowledgements
We thank I. Lee, D. Yoganarasimha, J. Neunuebel and X. Yu for use of their experimental data, N. Cowan, D. Foster, F. Savelli, S. Deshmukh and C. Wang for comments on the manuscript, and K. Zhang for discussions about the analysis. This work was supported by US National Institutes of Health grants R01 MH094146, R01 NS039456 and P01 NS038310 to J.J.K.
Ethics declarations
Competing interests
The authors declare no competing financial interests.
Integrated supplementary information
Supplementary information
About this article
Cite this article
Monaco, J., Rao, G., Roth, E. et al. Attentive scanning behavior drives one-trial potentiation of hippocampal place fields. Nat Neurosci 17, 725–731 (2014). https://doi.org/10.1038/nn.3687
Received:

Accepted:

Published:

Issue Date:

DOI: https://doi.org/10.1038/nn.3687