Abstract
Sensory stimuli evoke neural activity that evolves over time. What features of these spatiotemporal responses allow the robust encoding of stimulus identity in a multistimulus environment? Here we examined this issue in the locust (Schistocerca americana) olfactory system. We found that sensory responses evoked by an odorant (foreground) varied when presented atop or after an ongoing stimulus (background). These inconsistent sensory inputs triggered dynamic reorganization of ensemble activity in the downstream antennal lobe. As a result, partial pattern matches between neural representations encoding the same foreground stimulus across conditions were achieved. The degree and segments of response overlaps varied; however, any overlap observed was sufficient to drive background-independent responses in the downstream neural population. Notably, recognition performance of locusts in behavioral assays correlated well with our physiological findings. Hence, our results reveal how background-independent recognition of odors can be achieved using spatiotemporal patterns of neural activity.
Relevant articles
Open Access articles citing this article.
Stefanie Neupert

,

Graham A. McCulloch

…

Paul Szyszka

BMC Ecology and Evolution Open Access 16 April 2022

Srinath Nizampatnam

,

Debajit Saha

…

Baranidharan Raman

Nature Communications Open Access 03 August 2018

Nao Utashiro

,

Claire R. Williams

…

Kazuo Emoto

Scientific Reports Open Access 05 June 2018
Access options
Subscribe to this journal
Receive 12 print issues and online access
$189.00 per year
only $15.75 per issue
Rent or buy this article
Get just this article for as long as you need it
$39.95
Prices may be subject to local taxes which are calculated during checkout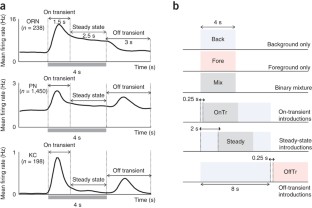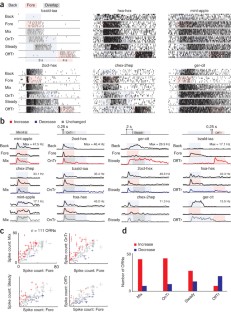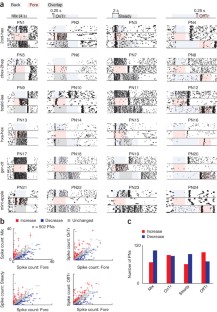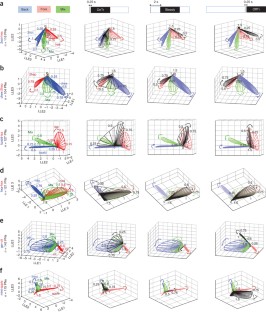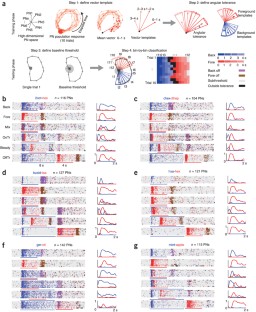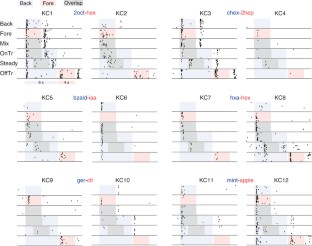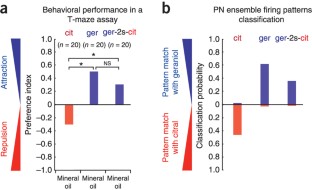 References
Laurent, G., Wehr, M. & Davidowitz, H. Temporal representations of odors in an olfactory network. J. Neurosci. 16, 3837–3847 (1996).

Meredith, M. & Moulton, D.G. Patterned response to odor in single neurons of goldfish olfactory bulb: influence of odor quality and other stimulus parameters. J. Gen. Physiol. 71, 615–643 (1978).

Di Lorenzo, P.M., Chen, J.Y. & Victor, J.D. Quality time: representation of a multidimensional sensory domain through temporal coding. J. Neurosci. 29, 9227–9238 (2009).

Jones, L.M., Fontanini, A., Sadacca, B.F., Miller, P. & Katz, D.B. Natural stimuli evoke dynamic sequence of states in sensory cortical ensembles. Proc. Natl. Acad. Sci. USA 104, 18772–18777 (2007).

Seifritz, E. et al. Spatiotemporal pattern of neural processing in the human auditory cortex. Science 297, 1706–1708 (2002).

Smear, M., Shusterman, R., O'Conor, R., Bozza, T. & Rinberg, D. Perception of sniff phase in mouse olfaction. Nature 479, 397–400 (2011).

Griffiths, T.D., Uppenkamp, S., Johnsrude, I., Josephs, O. & Patterson, R.D. Encoding of the temporal regularity of sound in the human brainstem. Nat. Neurosci. 4, 633–637 (2001).

Ahissar, E., Haidarliu, S. & Zacksenhouse, M. Decoding temporally encoded sensory input by cortical oscillations and thalamic phase comparators. Proc. Natl. Acad. Sci. USA 94, 11633–11638 (1997).

Carlson, B.A. Temporal-pattern recognition by single neurons in a sensory pathway devoted to social communication behavior. J. Neurosci. 29, 9417–9428 (2009).

Machens, C.K. et al. Representation of acoustic communication signals by insect auditory receptor neurons. J. Neurosci. 21, 3215–3227 (2001).

Schnitzer, M.J. & Meister, M. Multineuronal firing patterns in the signal from eye to brain. Neuron 37, 499–511 (2003).

Friedrich, R.W. & Laurent, G. Dynamic optimization of odor representations by slow temporal patterning of mitral cell activity. Science 291, 889–894 (2001).

Dayan, P. & Abbott, L.F. Theoretical Neuroscience: Computational and Mathematical Modeling of Neural Systems (The MIT Press, 2001).

Stopfer, M., Bhagavan, S., Smith, B.H. & Laurent, G. Impaired odour discrimination on desynchronization of odour-encoding neural assemblies. Nature 390, 70–74 (1997).

Vickers, N.J., Christensen, T.A., Baker, T.C. & Hildebrand, J.G. Odour-plume dynamics influence the brain′s olfactory code. Nature 410, 466–470 (2001).

Ito, I., Ong, R.C., Raman, B. & Stopfer, M. Sparse odor representation and olfactory learning. Nat. Neurosci. 11, 1177–1184 (2008).

Simões, P., Ott, S.R. & Niven, J.E. Associative olfactory learning in the desert locust, Schistocerca gregaria. J. Exp. Biol. 214, 2495–2503 (2011).

Kreher, S.A., Matthew, D., Kim, J. & Carlson, J.R. Translation of sensory input into behavioral output via an olfactory system. Neuron 59, 110–124 (2008).

Galán, R.F., Sachse, S., Galizia, C.G. & Herz, A.V.M. Odor-driven attractor dynamics in the antennal lobe allow for simple and rapid olfactory pattern classification. Neural Comput. 16, 999–1012 (2004).

Mazor, O. & Laurent, G. Transient dynamics versus fixed points in odor representations by locust antennal lobe projection neurons. Neuron 48, 661–673 (2005).

Raman, B., Joseph, J., Tang, J. & Stopfer, M. Temporally diverse firing patterns in olfactory receptor neurons underlie spatiotemporal neural codes for odors. J. Neurosci. 30, 1994–2006 (2010).

Stopfer, M., Jayaraman, V. & Laurent, G. Odor identity vs. intensity coding in an olfactory system. Neuron 39, 991–1004 (2003).

Bathellier, B., Buhl, D.L., Accolla, R. & Carleton, A. Dynamic ensemble coding in the mamallian olfactory bulb: sensory information at different timesales. Neuron 57, 586–598 (2008).

Brown, S.L., Joseph, J. & Stopfer, M. Encoding a temporally structured stimulus with a temporally structured neural representation. Nat. Neurosci. 8, 1568–1576 (2005).

Rinberg, D., Koulakov, A. & Gelperin, A. Speed-accuracy tradeoff in olfaction. Neuron 51, 351–358 (2006).

Uchida, N. & Mainen, Z. Speed and accuracy of olfactory discrimination in the rat. Nat. Neurosci. 6, 1224–1229 (2003).

Abraham, N.M. et al. Maintaining accuracy at the expense of speed: stimulus similarity defines odor discrimination time in mice. Neuron 44, 865–876 (2004).

Ditzen, M., Evers, J. & Galizia, C.G. Odor similarity does not influence the time needed for odor processing. Chem. Senses 28, 781–789 (2003).

Broome, B.M., Jayaraman, V. & Laurent, G. Encoding and decoding of overlapping odor sequences. Neuron 51, 467–482 (2006).

Spors, H., Wachowiak, M., Cohen, L.B. & Friedrich, R.W. Temporal dynamics and latency patterns of receptor neuron input to the olfactory bulb. J. Neurosci. 26, 1247–1259 (2006).

Spors, H. & Grisvald, A. Spatio-temporal dynamics of odor representations in the mammalian olfactory bulb. Neuron 34, 301–315 (2002).

Ito, I., Bazhenov, M., Ong, R.C., Raman, B. & Stopfer, M. Frequency transitions in odor-evoked neural oscillations. Neuron 64, 692–706 (2009).

Roweis, S.T. & Saul, L.K. Nonlinear dimensionality reduction by locally linear embedding. Science 290, 2323–2326 (2000).

Perez-Orive, J. et al. Oscillations and sparsening of odor representations in the mushroom body. Science 297, 359–365 (2002).

De Palo, G. et al. Common dynamical features of sensory adaptation in photoreceptors and olfactory sensory neurons. Sci. Rep. 3, 1251 (2013).

Nagel, K.I. & Wilson, R.I. Biophysical mechanisms underlying olfactory receptor neuron dynamics. Nat. Neurosci. 14, 208–216 (2011).

Baker, T.C. & Haynes, K.F. Field and laboratory electroantennographic measurements of pheromone plume structure correlated with oriental fruit moth behaviour. Physiol. Entomol. 14, 1–12 (1989).

Laing, D.G., Eddy, A., Francis, G.W. & Stephens, L. Evidence for the temporal processing of odor mixtures in humans. Brain Res. 651, 317–324 (1994).

Martelli, C., Carlson, J.R. & Emonet, T. Intensity invariant dynamics and odor-specific latencies in olfactory receptor neuron response. J. Neurosci. 33, 6285–6297 (2013).

Pouzat, C., Mazor, O. & Laurent, G. Using noise signature to optimize spike-sorting and to assess neuronal classification quality. J. Neurosci. Methods 122, 43–57 (2002).

Saha, D., Leong, K., Katta, N. & Raman, B. Multi-unit recording methods to characterize neural activity in the locust (Schistocerca americana) olfactory circuits. J. Vis. Exp. 71, pii: e50139 (2013).
Acknowledgements
We thank N. Katta for performing double-blind behavior evaluation studies and D. Yang for help with behavioral experiments. We thank F. Gabbiani (Baylor College of Medicine), M. Stopfer and S. Reiter (Eunice Kennedy Shriver National Institute of Child Health and Human Development, US National Institutes of Health), D. Barbour, R. Wessel and members of Raman Lab (Washington University, St. Louis) for comments on previous versions of the manuscript. This research was supported by a McDonnell Center for Systems Neuroscience grant, an Office of Naval Research grant (N00014-12-1-0089) and startup funds from the Department of Biomedical Engineering at Washington University, St. Louis to B.R.
Ethics declarations
Competing interests
The authors declare no competing financial interests.
Integrated supplementary information
Supplementary information
About this article
Cite this article
Saha, D., Leong, K., Li, C. et al. A spatiotemporal coding mechanism for background-invariant odor recognition. Nat Neurosci 16, 1830–1839 (2013). https://doi.org/10.1038/nn.3570
Received:

Accepted:

Published:

Issue Date:

DOI: https://doi.org/10.1038/nn.3570