Chaotic networks produce rich temporal dynamics that could be useful for timing, but are extremely sensitive to perturbations. Work now shows that a learning rule for the weights of a chaotic recurrent network can stabilize time-varying activity patterns. This result can be used to train output units to produce generic timed responses.
Access options
Subscribe to Journal
Get full journal access for 1 year
$79.00
only $6.58 per issue
All prices are NET prices.
VAT will be added later in the checkout.
Tax calculation will be finalised during checkout.
Buy article
Get time limited or full article access on ReadCube.
$32.00
All prices are NET prices.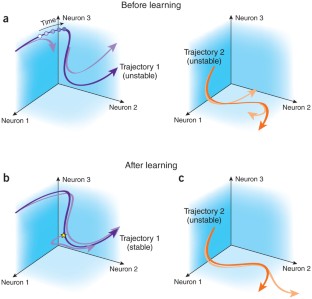 References
Gallistel, C.R. The Organization of Learning (Bradford Book, 1993).

Laje, R. and Buonomano, D.V. Nat. Neurosci. 16, 925–933 (2013).

Durstewitz, D. J. Neurosci. 23, 5342–5353 (2003).

Komura, Y. et al. Nature 412, 546–549 (2001).

Matell, M.S. & Meck, W. Brain Res. Cogn. Brain Res. 21, 139–170 (2004).

Mauk, M.D. & Donegan, N. Learn. Mem. 4, 130–158 (1997).

Rabinovich, M., Huerta, R. & Laurent, G. Science 321, 48–50 (2008).

Maass, W., Natschläger, T. & Markram, H. Neural Comput. 14, 2531–2560 (2002).

Goldman, M.S. Neuron 61, 621–634 (2009).

Sompolinsky, H., Crisanti, A. & Sommers, H. Phys. Rev. Lett. 61, 259–262 (1988).

Sussillo, D. & Abbott, L.F. Neuron 63, 544–557 (2009).

Haykin, S. Adaptive Filter Theory 4th edn. (Prentice Hall, 2001).

van Vreeswijk, C. & Sompolinsky, H. Science 274, 1724–1726 (1996).

Monteforte, M. & Wolf, F. Phys. Rev. X 2, 041007 (2012).

Fujisawa, S., Amarasingham, A., Harrison, M. & Buzsáki, G. Nat. Neurosci. 11, 823–833 (2008).
Ethics declarations
Competing interests
The author declares no competing financial interests.
About this article
Cite this article
Renart, A. Recurrent networks learn to tell time. Nat Neurosci 16, 772–774 (2013). https://doi.org/10.1038/nn.3441
Published:

Issue Date:

DOI: https://doi.org/10.1038/nn.3441
This article is cited by
Wireless Personal Communications (2022)

P. Caamaño
R. Salgado
R. J. Duro

Neural Processing Letters (2016)

Said Jadid Abdulkadir
Suet-Peng Yong

Soft Computing (2015)