Abstract
How animals maintain proper amounts of sleep yet remain flexible to changes in environmental conditions remains unknown. We found that environmental light suppressed the wake-promoting effects of dopamine in fly brains. The ten large lateral-ventral neurons (l-LNvs), a subset of clock neurons, are wake-promoting and respond to dopamine, octopamine and light. Behavioral and imaging analyses suggested that dopamine is a stronger arousal signal than octopamine. Notably, light exposure not only suppressed l-LNv responses, but also synchronized responses of neighboring l-LNvs. This regulation occurred by distinct mechanisms: light-mediated suppression of octopamine responses was regulated by the circadian clock, whereas light regulation of dopamine responses occurred by upregulation of inhibitory dopamine receptors. Plasticity therefore alters the relative importance of diverse cues on the basis of the environmental mix of stimuli. The regulatory mechanisms described here may contribute to the control of sleep stability while still allowing behavioral flexibility.
Relevant articles
Open Access articles citing this article.
Taishi Yoshii

,

Aika Saito

&

Tatsuya Yokosako

Journal of Comparative Physiology A Open Access 23 May 2023

Margaret Driscoll

,

Steven N Buchert

…

Divya Sitaraman

Scientific Reports Open Access 08 October 2021

Naoto Shimada

,

Show Inami

…

Takaomi Sakai

Scientific Reports Open Access 17 November 2016
Access options
Subscribe to this journal
Receive 12 print issues and online access
$189.00 per year
only $15.75 per issue
Rent or buy this article
Get just this article for as long as you need it
$39.95
Prices may be subject to local taxes which are calculated during checkout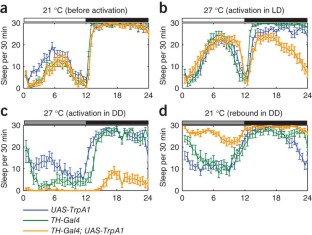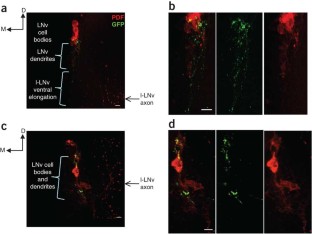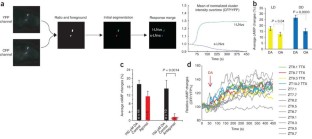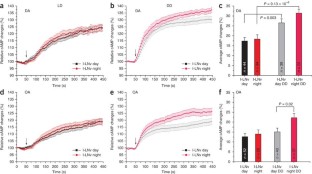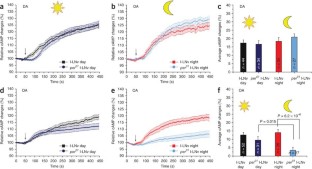 References
Ganguly-Fitzgerald, I., Donlea, J. & Shaw, P.J. Waking experience affects sleep need in Drosophila. Science 313, 1775–1781 (2006).

Ho, K.S. & Sehgal, A. Drosophila melanogaster: an insect model for fundamental studies of sleep. Methods Enzymol. 393, 772–793 (2005).

Keene, A.C. et al. Clock and cycle limit starvation-induced sleep loss in Drosophila. Curr. Biol. 20, 1209–1215 (2010).

Shang, Y., Griffith, L.C. & Rosbash, M. Light-arousal and circadian photoreception circuits intersect at the large PDF cells of the Drosophila brain. Proc. Natl. Acad. Sci. USA 105, 19587–19594 (2008).

Andretic, R., van Swinderen, B. & Greenspan, R.J. Dopaminergic modulation of arousal in Drosophila. Curr. Biol. 15, 1165–1175 (2005).

Crocker, A. & Sehgal, A. Octopamine regulates sleep in Drosophila through protein kinase A–dependent mechanisms. J. Neurosci. 28, 9377–9385 (2008).

Crocker, A., Shahidullah, M., Levitan, I.B. & Sehgal, A. Identification of a neural circuit that underlies the effects of octopamine on sleep:wake behavior. Neuron 65, 670–681 (2010).

Parisky, K.M. et al. PDF cells are a GABA-responsive wake-promoting component of the Drosophila sleep circuit. Neuron 60, 672–682 (2008).

Hendricks, J.C. et al. Rest in Drosophila is a sleep-like state. Neuron 25, 129–138 (2000).

Shaw, P.J., Cirelli, C., Greenspan, R.J. & Tononi, G. Correlates of sleep and waking in Drosophila melanogaster. Science 287, 1834–1837 (2000).

Sheeba, V. et al. Large ventral lateral neurons modulate arousal and sleep in Drosophila. Curr. Biol. 18, 1537–1545 (2008).

Donlea, J.M., Ramanan, N. & Shaw, P.J. Use-dependent plasticity in clock neurons regulates sleep need in Drosophila. Science 324, 105–108 (2009).

Sheeba, V., Gu, H., Sharma, V.K., O'Dowd, D.K. & Holmes, T.C. Circadian- and light-dependent regulation of resting membrane potential and spontaneous action potential firing of Drosophila circadian pacemaker neurons. J. Neurophysiol. 99, 976–988 (2008).

Renn, S.C., Park, J.H., Rosbash, M., Hall, J.C. & Taghert, P.H. A pdf neuropeptide gene mutation and ablation of PDF neurons each cause severe abnormalities of behavioral circadian rhythms in Drosophila. Cell 99, 791–802 (1999).

Shafer, O.T. et al. Widespread receptivity to neuropeptide PDF throughout the neuronal circadian clock network of Drosophila revealed by real-time cyclic AMP imaging. Neuron 58, 223–237 (2008).

Kula-Eversole, E. et al. Surprising gene expression patterns within and between PDF-containing circadian neurons in Drosophila. Proc. Natl. Acad. Sci. USA 107, 13497–13502 (2010).

Shakiryanova, D. & Levitan, E.S. Prolonged presynaptic posttetanic cyclic GMP signaling in Drosophila motoneurons. Proc. Natl. Acad. Sci. USA 105, 13610–13613 (2008).

Feinberg, E.H. et al. GFP reconstitution across synaptic partners (GRASP) defines cell contacts and synapses in living nervous systems. Neuron 57, 353–363 (2008).

Gordon, M.D. & Scott, K. Motor control in a Drosophila taste circuit. Neuron 61, 373–384 (2009).

Crocker, A. & Sehgal, A. Genetic analysis of sleep. Genes Dev. 24, 1220–1235 (2010).

Hamada, F.N. et al. An internal thermal sensor controlling temperature preference in Drosophila. Nature 454, 217–220 (2008).

Chiang, A.S. et al. Three-dimensional reconstruction of brain-wide wiring networks in Drosophila at single-cell resolution. Curr. Biol. 21, 1–11 (2011).

Mao, Z. & Davis, R.L. Eight different types of dopaminergic neurons innervate the Drosophila mushroom body neuropil: anatomical and physiological heterogeneity. Front. Neural. Circuits 3, 5 (2009).

Sugamori, K.S., Demchyshyn, L.L., McConkey, F., Forte, M.A. & Niznik, H.B. A primordial dopamine D1-like adenylyl cyclase–linked receptor from Drosophila melanogaster displaying poor affinity for benzazepines. FEBS Lett. 362, 131–138 (1995).

Hall, J.C. Systems approaches to biological rhythms in Drosophila. Methods Enzymol. 393, 61–185 (2005).

Bonci, A. & Hopf, F.W. The dopamine D2 receptor: new surprises from an old friend. Neuron 47, 335–338 (2005).

Han, K.A., Millar, N.S., Grotewiel, M.S. & Davis, R.L. DAMB, a novel dopamine receptor expressed specifically in Drosophila mushroom bodies. Neuron 16, 1127–1135 (1996).

Hearn, M.G. et al. A Drosophila dopamine 2–like receptor: molecular characterization and identification of multiple alternatively spliced variants. Proc. Natl. Acad. Sci. USA 99, 14554–14559 (2002).

Nitabach, M.N., Sheeba, V., Vera, D.A., Blau, J. & Holmes, T.C. Membrane electrical excitability is necessary for the free-running larval Drosophila circadian clock. J. Neurobiol. 62, 1–13 (2005).

Wijnen, H., Naef, F., Boothroyd, C., Claridge-Chang, A. & Young, M.W. Control of daily transcript oscillations in Drosophila by light and the circadian clock. PLoS Genet. 2, e39 (2006).

Helfrich-Förster, C. et al. Development and morphology of the clock-gene-expressing lateral neurons of Drosophila melanogaster. J. Comp. Neurol. 500, 47–70 (2007).

Wang, J.W., Wong, A.M., Flores, J., Vosshall, L.B. & Axel, R. Two-photon calcium imaging reveals an odor-evoked map of activity in the fly brain. Cell 112, 271–282 (2003).

Cayre, M., Buckingham, S.D., Yagodin, S. & Sattelle, D.B. Cultured insect mushroom body neurons express functional receptors for acetylcholine, GABA, glutamate, octopamine and dopamine. J. Neurophysiol. 81, 1–14 (1999).

Gervasi, N., Tchenio, P. & Preat, T. PKA dynamics in a Drosophila learning center: coincidence detection by rutabaga adenylyl cyclase and spatial regulation by dunce phosphodiesterase. Neuron 65, 516–529 (2010).

Soille, P. Morphological Image Analysis: Principles and Applications (Springer-Verlag, Secaucus, New Jersey, USA, 2003).

Meyer, F. Topographic distance and watershed lines. Signal Processing 38, 113–125 (1994).
Acknowledgements
We thank P. Taghert for kindly providing pdfGal4 (X) and UAS-EPAC flies. We obtained UAS-D2R-RNAi lines from the Vienna Drosophila RNAi center. We are grateful to O. Shafer for technical help with cAMP imaging. We also thank E. Dougherty for assistance in confocal microscopy, K. Palm and S. Pescatore for administrative assistance and C. Vecsey for comments on the manuscript. The work was supported in part by grants from the US National Institutes of Health (PO1 NS044232-06 to M.R., R01 MH067284 to L.C.G. and NIH R01 EB007042 to P. Hong).
Ethics declarations
Competing interests
The authors declare no competing financial interests.
Supplementary information
About this article
Cite this article
Shang, Y., Haynes, P., Pírez, N. et al. Imaging analysis of clock neurons reveals light buffers the wake-promoting effect of dopamine. Nat Neurosci 14, 889–895 (2011). https://doi.org/10.1038/nn.2860
Received:

Accepted:

Published:

Issue Date:

DOI: https://doi.org/10.1038/nn.2860