Abstract
Visual resolution decreases rapidly outside of the foveal center. The anatomical and physiological basis for this reduction is unclear. We used simultaneous adaptive optics imaging and psychophysical testing to measure cone spacing and resolution across the fovea, and found that resolution was limited by cone spacing only at the foveal center. Immediately outside of the center, resolution was worse than cone spacing predicted and better matched the sampling limit of midget retinal ganglion cells.
Access options
Subscribe to Journal
Get full journal access for 1 year
$59.00
only $4.92 per issue
All prices are NET prices.
VAT will be added later in the checkout.
Tax calculation will be finalised during checkout.
Rent or Buy article
Get time limited or full article access on ReadCube.
from$8.99
All prices are NET prices.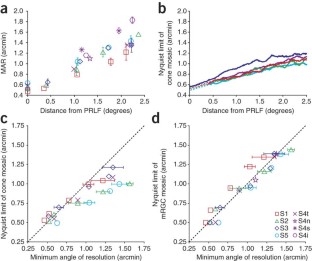 References
1

Green, D.G. J. Physiol. (Lond.) 207, 351–356 (1970).

2

Enoch, J.M. & Hope, G.M. Doc. Ophthalmol. 34, 143–156 (1973).

3

Williams, D.R. & Coletta, N.J. J. Opt. Soc. Am. A 4, 1514–1523 (1987).

4

Thibos, L.N., Cheney, F.E. & Walsh, D.J. J. Opt. Soc. Am. A 4, 1524–1529 (1987).

5

Marcos, S. & Navarro, R. J. Opt. Soc. Am. A Opt. Image Sci. Vis. 14, 731–740 (1997).

6

Curcio, C.A. & Allen, K.A. J. Comp. Neurol. 300, 5–25 (1990).

7

Dacey, D.M. J. Neurosci. 13, 5334–5355 (1993).

8

Polyak, S.L. The Retina (University of Chicago Press, Chicago, 1941).

9

Curcio, C.A., Sloan, K.R., Kalina, R.E. & Hendrickson, A.E. J. Comp. Neurol. 292, 497–523 (1990).

10

Roorda, A. et al. Opt. Express 10, 405–412 (2002).

11

Liang, J., Williams, D.R. & Miller, D.T. J. Opt. Soc. Am. A Opt. Image Sci. Vis. 14, 2884–2892 (1997).

12

Rossi, E.A., Weiser, P., Tarrant, J. & Roorda, A. J. Vis. 7, 1–14 (2007).

13

Bland, J.M. & Altman, D.G. Lancet 1, 307–310 (1986).

14

Anderson, R.S. & Thibos, L.N. J. Opt. Soc. Am. A Opt. Image Sci. Vis. 16, 2334–2342 (1999).

15

Drasdo, N., Millican, C.L., Katholi, C.R. & Curcio, C.A. Vision Res. 47, 2901–2911 (2007).
Acknowledgements
We thank K. Grieve for her assistance with data collection and P. Tiruveedhula for his help on software development. This work was supported by the National Science Foundation Science and Technology Center for Adaptive Optics under cooperative agreement AST-9876783 managed by the University of California, Santa Cruz and by National Institutes of Health grant EY014375.
Ethics declarations
Competing interests
Austin Roorda holds the patent Method and Apparatus for Using Adaptive Optics in a Scanning Laser Ophthalmoscope, which has been assigned to the University of Houston and the University of Rochester. The patent covers both the imaging and stimulus delivery applications of the technology described in this paper.
Supplementary information
About this article
Cite this article
Rossi, E., Roorda, A. The relationship between visual resolution and cone spacing in the human fovea. Nat Neurosci 13, 156–157 (2010). https://doi.org/10.1038/nn.2465
Received:

Accepted:

Published:

Issue Date: