Abstract
The contrast sensitivity function (CSF) is routinely assessed in clinical evaluation of vision and is the primary limiting factor in how well one sees. CSF improvements are typically brought about by correction of the optics of the eye with eyeglasses, contact lenses or surgery. We found that the very act of action video game playing also enhanced contrast sensitivity, providing a complementary route to eyesight improvement.
Access options
Subscribe to Journal
Get full journal access for 1 year
$209.00
only $17.42 per issue
All prices are NET prices.
VAT will be added later in the checkout.
Rent or Buy article
Get time limited or full article access on ReadCube.
from$8.99
All prices are NET prices.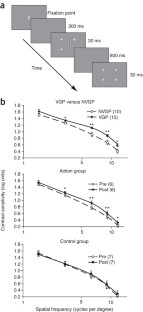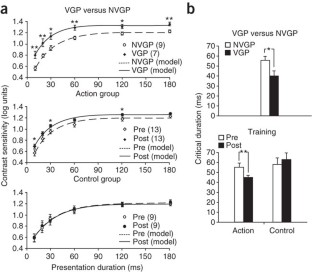 References
1

Campbell, F.W. Behav. Brain Res. 10, 87–97 (1983).

2

Sekuler, R. & Sekuler, A.B. Visual perception and cognition. in Oxford Textbook of Geriatric Medicine (eds. Evans, J.G., Williams, T.F., Beattie, B.L., Michel, J.-P. & Wilcock, G.K.) 874–880 (Oxford University Press, New York, 2000).

3

Weale, R.A. The Senescence of Human Vision (Oxford University Press, Oxford, 1992).

4

Fahle, M. & Poggio, T. Perceptual Learning (MIT Press, Cambridge, Massachusetts, USA, 2002).

5

Yu, C., Klein, S.A. & Levi, D.M. J. Vis. 4, 169–182 (2004).

6

Adini, Y., Sagi, D. & Tsodyks, M Nature 415, 790–793 (2002).

7

Maehara, G. & Goryo, K. Percept. Psychophys. 69, 1009–1021 (2007).

8

Sowden, P.T., Davies, I.R. & Roling, P. J. Exp. Psychol. Hum. Percept. Perform. 26, 379–390 (2000).

9

Sowden, P.T., Rose, D. & Davies, I.R. Vision Res. 42, 1249–1258 (2002).

10

Mayer, M.J. Vision Res. 23, 547–550 (1983).

11

Polat, U. & Sagi, D. Vision Res. 33, 993–999 (1993).

12

Fiser, J., Bex, P.J. & Makous, W. Vision Res. 43, 2637–2648 (2003).

13

Patching, G.R. & Jordan, T.R. Invest. Ophthalmol. Vis. Sci. 46, 2219–2224 (2005).

14

Gilbert, C.D., Sigman, M. & Crist, R.E. Neuron 31, 681–697 (2001).

15

Achtman, R.L., Green, C.S. & Bavelier, D. Restor. Neurol. Neurosci. 26, 435–446 (2008).
Acknowledgements
We thank C.S. Green for his invaluable help and advice throughout this project, and A. Anderson, S. Bailey, A. Katz, M. Maciejewski, A. States, P. Santos and B. Hubert-Wallander for their help in running the training studies. This work was supported in part by grants from the US National Institutes of Health (EY016880), the James S. McDonnell Foundation and the Office of Naval Research to D.B. and the Israel Science Foundation to U.P.
Supplementary information
About this article
Cite this article
Li, R., Polat, U., Makous, W. et al. Enhancing the contrast sensitivity function through action video game training. Nat Neurosci 12, 549–551 (2009). https://doi.org/10.1038/nn.2296
Received:

Accepted:

Published:

Issue Date: