Abstract
The nature of the host that acquired the mitochondrion at the eukaryote origin is an important microbial evolutionary issue. Modern phylogenetics indicates that the host was an archaeon. The metagenome sequence of Candidatus Lokiarchaeon has identified it as being the closest relative of the host yet known. Here, we report comparative genomic evidence indicating that Lokiarchaeon is hydrogen dependent, as one theory for the eukaryote origin—the hydrogen hypothesis—predicts for the host lineage.
Relevant articles
Open Access articles citing this article.
Fabai Wu

,

Daan R. Speth

…

Victoria J. Orphan

Nature Microbiology Open Access 13 January 2022

Hon Lun Wong

,

Fraser I. MacLeod

…

Brendan P. Burns

Microbiome Open Access 16 September 2020

Wenxiu Wang

,

Jianchang Tao

…

Chuanlun Zhang

AMB Express Open Access 22 January 2020
Access options
Subscribe to Journal
Get full journal access for 1 year
$119.00
only $9.92 per issue
All prices are NET prices.
VAT will be added later in the checkout.
Tax calculation will be finalised during checkout.
Buy article
Get time limited or full article access on ReadCube.
$32.00
All prices are NET prices.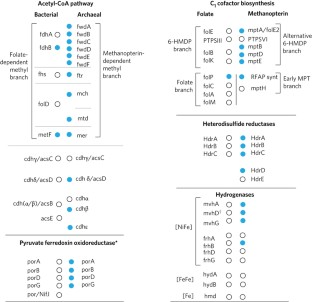 References
Williams, T. A., Foster, P. G., Cox, C. J. & Embley, T. M. Nature 504, 231–236 (2013).

Spang, A. et al. Nature 521, 173–179 (2015).

Koonin, E. V. Phil. Trans. R. Soc. B 370, 20140333 (2015).

Martin, W. & Müller, M. Nature 392, 37–41 (1998).

Samson, R. Y. & Bell, S. D. Trends Microbiol. 17, 507–513 (2009).

Fuchs, G. Annu. Rev. Microbiol. 65, 631–658 (2011).

Buckel, W. & Thauer, R. K. Biochim. Biophys. Acta 1827, 94–113 (2013).

Hippler, B. & Thauer, R. K. FEBS Lett. 449, 165–168 (1999).

Evans, P. N. et al. Science 350, 434–438 (2015).

Flannagan, R. S., Jaumouillé, V. & Grinstein, S. Annu. Rev. Pathol. 7, 61–98 (2012).

Rabus, R., Venceslau, S. S., Wöhlbrand, L., Wall, J. D. & Pereira, I. A. C. Adv. Microb. Physiol. 66, 55–321 (2015).

Lang, K. et al. Appl. Environ. Microbiol. 81, 1338–1352 (2015).

Embley, T. M. & Martin, W. Nature 440, 623–630 (2006).

Archibald, J. M. Curr. Biol. 25, R911–RR21 (2015).

Lane, N. & Martin, W. Nature 467, 929–934 (2010).

Allen, J. F. Proc. Natl Acad. Sci. USA 112, 10231–10238 (2015).

Lynch, M. & Marinov, G. K. Proc. Natl Acad. Sci. USA 112, 15690–15695 (2015).

Lane, N. & Martin, W. F. Proc. Natl Acad. Sci. USA 113, E666 (2016).

Schönheit, P., Buckel, W. & Martin, W. F. Trends Microbiol. 24, 12–24 (2016).

Altschul, S. F., Gish, W., Miller, W., Myers, E. W. & Lipman, D. J. J. Mol. Biol. 215, 403–410 (1990).
Acknowledgements
W.F.M. is grateful to the European Research Council (ERC AdG 666053) for funding. J.F.A. holds a Leverhulme Trust Emeritus Research Fellowship. N.L. is grateful to the Leverhulme Trust and UCL Research Frontiers Origins of Life Programme for funding.
Ethics declarations
Competing interests
The authors declare no competing financial interests.
Supplementary information
Supplementary Table captions and References (PDF 198 kb)
List of the pathways/enzymes (Pathway/enzyme) and genes (Gene) used to BLAST the Lokiarchaeon genome as well as their taxonomic source (Organism), reference (Reference), sequence identifier (Identifier) and accession (Accession) of the queries used. (XLSX 139 kb)
Ten best BLAST results including their taxonomic classification obtained from RefSeq (version 72, November 2015) using as queries the Lokiarchaeon genes previously identified. A cut-off for similarity of at least 25% and E-value lower than 10-10 was used. (XLSX 301 kb)
About this article
Cite this article
Sousa, F., Neukirchen, S., Allen, J. et al. Lokiarchaeon is hydrogen dependent. Nat Microbiol 1, 16034 (2016). https://doi.org/10.1038/nmicrobiol.2016.34
Received:

Accepted:

Published:

DOI: https://doi.org/10.1038/nmicrobiol.2016.34