Abstract
New methods to quantify protein kinase activities directly from complex cellular mixtures are critical for understanding biological regulatory pathways. Herein, a fluorescence-based chemosensor strategy for the direct measurement of kinase activities in crude mammalian cell lysates is described. We first designed a new fluorescent peptide reporter substrate for each target kinase. These kinase chemosensors were readily phosphorylated by recombinant target enzyme and underwent a several-fold fluorescence increase upon phosphorylation. Then, using unfractionated cell lysates, a homogeneous kinase assay was developed that was reproducible, linear and highly preferential for monitoring changes in cellular activity of the target kinase. The general protocol was developed for the kinase Akt and then easily extended to measure protein kinase A (PKA) and mitogen-activated protein kinase–associated protein kinase 2 (MK2) activities. This assay platform is immediately useful for studying protein kinase signaling in crude cellular extracts.
Access options
Subscribe to Journal
Get full journal access for 1 year
$242.00
only $20.17 per issue
All prices are NET prices.
VAT will be added later in the checkout.
Rent or Buy article
Get time limited or full article access on ReadCube.
from$8.99
All prices are NET prices.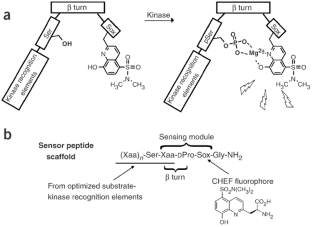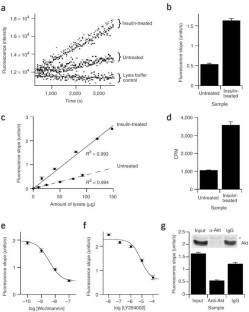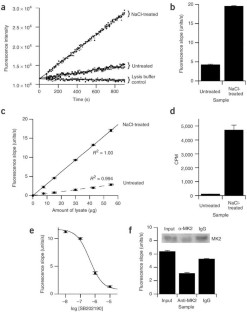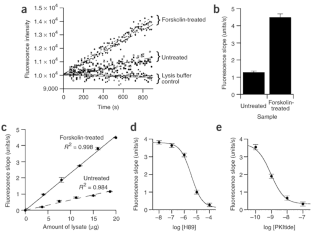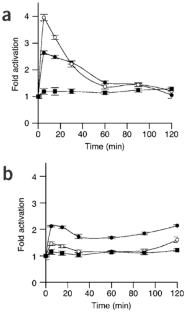 References
1

Hunter, T. Signaling–2000 and beyond. Cell 100, 113–127 (2000).

2

Janes, K.A. et al. A high-throughput quantitative multiplex kinase assay for monitoring information flow in signaling networks: application to sepsis-apoptosis. Mol. Cell. Proteomics 2, 463–473 (2003).

3

Hill, M.M. & Hemmings, B.A. Analysis of protein kinase B/Akt. Methods Enzymol. 345, 448–463 (2002).

4

Hall, J.P. & Davis, R.J. Analysis of c-Jun N-terminal kinase regulation and function. Methods Enzymol. 345, 413–425 (2002).

5

Whitmarsh, A.J. & Davis, R.J. Analyzing JNK and p38 mitogen-activated protein kinase activity. Methods Enzymol. 332, 319–336 (2001).

6

Li, H., Sims, C.E., Kaluzova, M., Stanbridge, E.J. & Allbritton, N.L. A quantitative single-cell assay for protein kinase B reveals important insights into the biochemical behavior of an intracellular substrate peptide. Biochemistry 43, 1599–1608 (2004).

7

Kawai, Y., Sato, M. & Umezawa, Y. Single color fluorescent indicators of protein phosphorylation for multicolor imaging of intracellular signal flow dynamics. Anal. Chem. 76, 6144–6149 (2004).

8

Schleifenbaum, A., Stier, G., Gasch, A., Sattler, M. & Schultz, C. Genetically encoded FRET probe for PKC activity based on pleckstrin. J. Am. Chem. Soc. 126, 11786–11787 (2004).

9

Sasaki, K., Sato, M. & Umezawa, Y. Fluorescence indicators for Akt/protein kinase B and dynamics of Akt activity visualized in living cells. J. Biol. Chem. 278, 30945–30951 (2003).

10

Violin, J.D., Zhang, J., Tsien, R.Y. & Newton, A.C. A genetically encoded fluorescent reporter reveals oscillatory phosphorylation by protein kinase C. J. Cell Biol. 161, 899–909 (2003).

11

Kunkel, M.T., Ni, Q., Tsien, R.Y., Zhang, J. & Newton, A.C. Spatio-temporal dynamics of protein kinase B/Akt signaling revealed by a genetically encoded fluorescent reporter. J. Biol. Chem. 280, 5581–5587 (2005).

12

Sato, M., Ozawa, T., Inukai, K., Asano, T. & Umezawa, Y. Fluorescent indicators for imaging protein phosphorylation in single living cells. Nat. Biotechnol. 20, 287–294 (2002).

13

Ting, A.Y., Kain, K.H., Klemke, R.L. & Tsien, R.Y. Genetically encoded fluorescent reporters of protein tyrosine kinase activities in living cells. Proc. Natl. Acad. Sci. USA 98, 15003–15008 (2001).

14

Zhang, J., Ma, Y., Taylor, S.S. & Tsien, R.Y. Genetically encoded reporters of protein kinase A activity reveal impact of substrate tethering. Proc. Natl. Acad. Sci. USA 98, 14997–15002 (2001).

15

Kurokawa, K. et al. A pair of fluorescent resonance energy transfer-based probes for tyrosine phosphorylation of the CrkII adaptor protein in vivo. J. Biol. Chem. 276, 31305–31310 (2001).

16

Nagai, Y. et al. A fluorescent indicator for visualizing cAMP-induced phosphorylation in vivo. Nat. Biotechnol. 18, 313–316 (2000).

17

Higashi, H. et al. Imagining of cAMP-dependent protein kinase activity in living neural cells using a novel fluorescent substrate. FEBS Lett. 414, 55–60 (1997).

18

Yeh, R.-H., Yan, X., Cammer, M., Bresnick, A.R. & Lawrence, D.S. Real time visualization of protein kinase activity in living cells. J. Biol. Chem. 277, 11527–11532 (2002).

19

Shults, M.D. & Imperiali, B. Versatile fluorescence probes of protein kinase activity. J. Am. Chem. Soc. 125, 14248–14249 (2003).

20

Shults, M.D., Pearce, D.A. & Imperiali, B. Modular and tunable chemosensor scaffold for divalent zinc. J. Am. Chem. Soc. 125, 10591–10597 (2003).

21

Brazil, D.P., Yang, Z.-Z. & Hemmings, B.A. Advances in protein kinase B signalling: AKTion on multiple fronts. Trends Biochem. Sci. 29, 233–242 (2004).

22

Downward, J. PI 3-kinase, Akt and cell survival. Semin. Cell Dev. Biol. 15, 177–182 (2004).

23

Roux, P.P. & Blenis, J. ERK and p38 MAPK-activated protein kinases: a family of protein kinases with diverse biological functions. Microbiol. Mol. Biol. Rev. 68, 320–344 (2004).

24

Kotlyarov, A. et al. Distinct cellular functions of MK2. Mol. Cell. Biol. 22, 4827–4835 (2002).

25

Shabb, J.B. Physiological substrates of cAMP-dependent protein kinase. Chem. Rev. 101, 2381–2411 (2001).

26

Taylor, S.S. et al. PKA: a portrait of protein kinase dynamics. Biochim. Biophys. Acta 1697, 259–269 (2004).

27

Obata, T. et al. Peptide and protein library screening defines optimal substrate motifs for Akt/PKB. J. Biol. Chem. 275, 36108–36115 (2000).

28

Manke, I.A. et al. MAPKAP Kinase-2 is a cell cycle checkpoint kinase that regulates the G2/M transition and S-phase progression in response to UV irradiation. Mol. Cell 17, 37–48 (2005).

29

Kemp, B.E., Graves, D.J., Benjamini, E. & Krebs, E.G. Role of multiple basic residues in determining the substrate specificity of cyclic AMP-dependent protein kinase. J. Biol. Chem. 252, 4888–4894 (1977).

30

Davies, S.P., Reddy, H., Caivano, M. & Cohen, P. Specificity and mechanism of action of some commonly used protein kinase inhibitors. Biochem. J. 351, 95–105 (2000).

31

Andjelkovic, M. et al. Role of translocation in the activation and function of protein kinase B. J. Biol. Chem. 272, 31515–31524 (1997).

32

Coffer, P.J. Phosphatidylinositol 3-kinase signalling: a tale of two kinase activities. in Protein Kinase Functions (ed. Woodgett, J.R.) 1–39 (Oxford Univ. Press, Oxford, 2000).

33

Glass, D.B., Cheng, H.-C., Mende-Mueller, L., Reed, J. & Walsh, D.A. Primary structural determinants essential for potent inhibition of cAMP-dependent protein kinase by inhibitory peptides corresponding to the active portion of the heat-stable inhibitor protein. J. Biol. Chem. 264, 8802–8810 (1989).

34

Cross, D.A.E., Alessi, D.R., Cohen, P., Andjelkovic, M. & Hemmings, B.A. Inhibition of glycogen synthase kinase-3 by insulin mediated by protein kinase B. Nature 378, 785–789 (1995).

35

Cross, D.A.E. et al. Insulin activates protein kinase B, inhibits glycogen synthase kinase-3 and activates glycogen synthase by rapamycin-insensitive pathways in skeletal muscle and adipose tissue. FEBS Lett. 406, 211–215 (1997).

36

Hazzalin, C.A., Cuenda, A., Cano, E., Cohen, P. & Mahadevan, L.C. Effects of the inhibition of p38/RK MAP kinase on induction of five fos and jun genes by diverse stimuli. Oncogene 15, 2321–2331 (1997).

37

Neve, R.M., Holbro, T. & Hynes, N.E. Distinct roles for phosphoinositide 3-dinase, mitogen-activated protein kinase and p38 MAPK in mediating cell cycle progression of breast cancer cells. Oncogene 21, 4567–4576 (2002).

38

Smith, R.E., Bissell, E.R., Mitchell, A.R. & Pearson, K.W. Direct photometric or fluorometric assay of proteinases using substrates containing 7-amino-4-trifluoromethylcoumarin. Thromb. Res. 17, 393–402 (1980).

39

Gurtu, V., Kain, S.R. & Zhang, G. Fluorometric and colorimetric detection of caspase activity associated with apoptosis. Anal. Biochem. 251, 98–102 (1997).
Acknowledgements
This research was supported by the US National Institutes of Health (GM64346 Cell Migration Consortium, P50-068762 Cell Decision Processes Center), the National Science Foundation (CHE-9996335), the Whitaker Foundation and the Department of Defense Institute for Collaborative Biotechnologies. We thank I.A. Manke and M.B. Yaffe for providing the MK2tide sequence ahead of publication.
Ethics declarations
Competing interests
B.I. and M.D.S. are among the filers of a US patent application (see below) that describes the assay for measuring kinase activity using the fluorescent amino acid Sox. Imperiali, B. and Shults, M.D. "Versatile and continuous fluorescence assay for kinase activity utilizing the fluorescent amino acid Sox," US Patent Application filed 8 October, 2003.
Supplementary information
About this article
Cite this article
Shults, M., Janes, K., Lauffenburger, D. et al. A multiplexed homogeneous fluorescence-based assay for protein kinase activity in cell lysates. Nat Methods 2, 277–284 (2005). https://doi.org/10.1038/nmeth747
Received:

Accepted:

Published:

Issue Date: