Abstract
We developed a strategy to introduce epitope tag–encoding DNA into endogenous loci by homologous recombination–mediated 'knock-in'. The tagging method is straightforward, can be applied to many loci and several human somatic cell lines, and can facilitate many functional analyses including western blot, immunoprecipitation, immunofluorescence and chromatin immunoprecipitation–microarray (ChIP-chip). The knock-in approach provides a general solution for the study of proteins to which antibodies are substandard or not available.
Access options
Access options
Subscribe to Journal
Get full journal access for 1 year
$278.00
only $23.17 per issue
All prices are NET prices.
VAT will be added later in the checkout.
Rent or Buy article
Get time limited or full article access on ReadCube.
from$8.99
All prices are NET prices.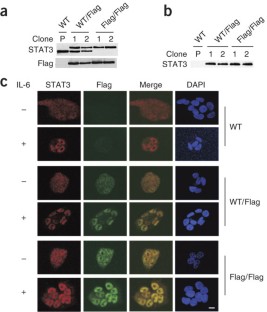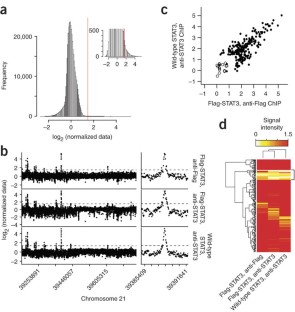 References
1

Zhang, X. et al. Proc. Natl. Acad. Sci. USA 104, 4060–4064 (2007).

2

Cherry, S.M. et al. Curr. Biol. 17, 373–378 (2007).

3

The ENCODE Project Consortium. Science 306, 636–640 (2004).

4

Scacheri, P.C., Crawford, G.E. & Davis, S. Methods Enzymol. 411, 270–282 (2006).

5

Scacheri, P.C. et al. PLoS Genet. 2, e51 (2006).

6

Frith, M.C. et al. Nucleic Acids Res. 32, 1372–1381 (2004).

7

Wingender, E., Dietze, P., Karas, H. & Knuppel, R. Nucleic Acids Res. 24, 238–241 (1996).

8

Ginsberg, M. et al. Mol. Cell. Biol. 27, 6300–6308 (2007).

9

Waris, G. & Siddiqui, A. J. Virol. 76, 2721–2729 (2002).

10

Bitinaite, J. et al. Nucleic Acids Res. 35, 1992–2002 (2007).

11

Johnson, D.S., Mortazavi, A., Myers, R.M. & Wold, B. Science 316, 1497–1502 (2007).

12

Lee, T.I. et al. Science 298, 799–804 (2002).
Acknowledgements
We thank D. Sedwick for helpful discussions, J. Yu for technical assistance, and P. Harte and G. Crawford for critically reading this manuscript. This work was supported by grants from US National Institutes of Health (CA127590, U54CA116867), Concern Foundation and V foundation to Z. Wang, and National Institutes of Health grants KCA103843A and RHD056369A to P.C.S.
Supplementary information
Supplementary Figures 1–5, Supplementary Tables 1–2, Supplementary Methods (PDF 611 kb)