Abstract
Understanding circuit computation in the nervous system requires sampling activity over large neural populations and maximizing the number of features that can be extracted. By combining planar arrays of extracellular electrodes with the three-layered cortex of turtles, we show that synaptic signals induced along individual axons as well as action potentials can be easily captured. Two types of information can be extracted from these signals, the neuronal subtype (inhibitory or excitatory)—whose identification is more reliable than with traditional measures such as action potential width—and a (partial) spatial map of functional axonal projections from individual neurons. Because our approach is algorithmic, it can be carried out in parallel on hundreds of simultaneously recorded neurons. Combining our approach with soma triangulation, we reveal an axonal projection bias among a population of pyramidal neurons in turtle cortex and confirm this bias through anatomical reconstructions.
Access options
Subscribe to Journal
Get full journal access for 1 year
$259.00
only $21.58 per issue
All prices are NET prices.
VAT will be added later in the checkout.
Rent or Buy article
Get time limited or full article access on ReadCube.
from$8.99
All prices are NET prices.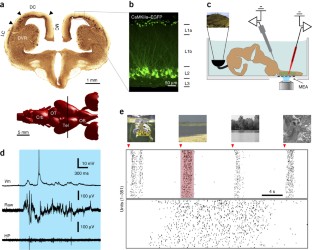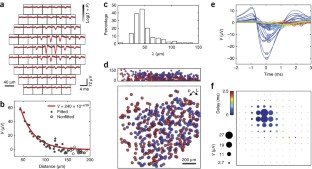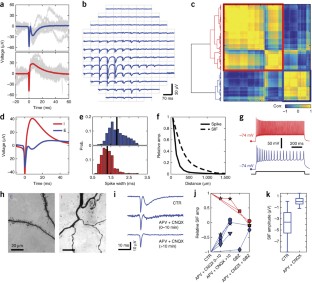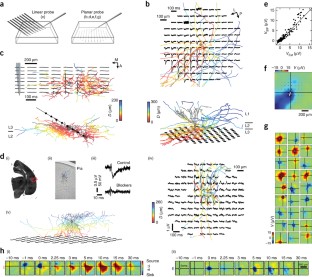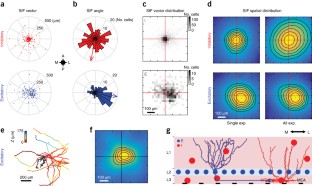 References
1

Lewis, C.M., Bosman, C.A. & Fries, P. Recording of brain activity across spatial scales. Curr. Opin. Neurobiol. 32, 68–77 (2015).

2

Ahrens, M.B. et al. Brain-wide neuronal dynamics during motor adaptation in zebrafish. Nature 485, 471–477 (2012).

3

Hell, S.W. & Wichmann, J. Breaking the diffraction resolution limit by stimulated emission: stimulated-emission-depletion fluorescence microscopy. Opt. Lett. 19, 780–782 (1994).

4

Gong, Y. et al. High-speed recording of neural spikes in awake mice and flies with a fluorescent voltage sensor. Science 350, 1361–1366 (2015).

5

Hubel, D.H. & Wiesel, T.N. Receptive fields of single neurones in the cat's striate cortex. J. Physiol. 148, 574–591 (1959).

6

Fiscella, M. et al. Recording from defined populations of retinal ganglion cells using a high-density CMOS-integrated microelectrode array with real-time switchable electrode selection. J. Neurosci. Methods 211, 103–113 (2012).

7

Rios, G., Lubenov, E.V., Chi, D., Roukes, M.L. & Siapas, A.G. Nanofabricated neural probes for dense 3-D recordings of brain activity. Nano Lett. 16, 6857–6862 (2016).

8

Agarwal, G. et al. Spatially distributed local fields in the hippocampus encode rat position. Science 344, 626–630 (2014).

9

Pillow, J.W. et al. Spatio-temporal correlations and visual signalling in a complete neuronal population. Nature 454, 995–999 (2008).

10

Li, P.H. et al. Anatomical identification of extracellularly recorded cells in large-scale multielectrode recordings. J. Neurosci. 35, 4663–4675 (2015).

11

Khodagholy, D. et al. NeuroGrid: recording action potentials from the surface of the brain. Nat. Neurosci. 18, 310–315 (2014).

12

Belkin, D.A. Anoxia: tolerance in reptiles. Science 139, 492–493 (1963).

13

Connors, B.W. & Kriegstein, A.R. Cellular physiology of the turtle visual cortex: distinctive properties of pyramidal and stellate neurons. J. Neurosci. 6, 164–177 (1986).

14

Kriegstein, A.R. & Connors, B.W. Cellular physiology of the turtle visual cortex: synaptic properties and intrinsic circuitry. J. Neurosci. 6, 178–191 (1986).

15

Kriegstein, A.R. Synaptic responses of cortical pyramidal neurons to light stimulation in the isolated turtle visual system. J. Neurosci. 7, 2488–2492 (1987).

16

Hemberger, M., Pammer, L. & Laurent, G. Comparative approaches to cortical microcircuits. Curr. Opin. Neurobiol. 41, 24–30 (2016).

17

Shein-Idelson, M., Ondracek, J.M., Liaw, H.-P., Reiter, S. & Laurent, G. Slow waves, sharp waves, ripples, and REM in sleeping dragons. Science 352, 590–595 (2016).

18

Mulligan, K.A. & Ulinski, P.S. Organization of geniculocortical projections in turtles: isoazimuth lamellae in the visual cortex. J. Comp. Neurol. 296, 531–547 (1990).

19

Gold, C., Henze, D.A. & Koch, C. Using extracellular action potential recordings to constrain compartmental models. J. Comput. Neurosci. 23, 39–58 (2007).

20

Budd, J. & Kisvárday, Z.F. (Eds.) Wiring Principles of Cerebral Cortex (Frontiers Media SA, 2015).

21

Lucas, K. The temperature-coefficient of the rate of conduction in nerve. J. Physiol. 37, 112–121 (1908).

22

Meeks, J.P. & Mennerick, S. Action potential initiation and propagation in CA3 pyramidal axons. J. Neurophysiol. 97, 3460–3472 (2007).

23

Pettersen, K.H. & Einevoll, G.T. Amplitude variability and extracellular low-pass filtering of neuronal spikes. Biophys. J. 94, 784–802 (2008).

24

Henze, D.A. et al. Intracellular features predicted by extracellular recordings in the hippocampus in vivo. J. Neurophysiol. 84, 390–400 (2000).

25

Prechtl, J.C., Cohen, L.B., Pesaran, B., Mitra, P.P. & Kleinfeld, D. Visual stimuli induce waves of electrical activity in turtle cortex. Proc. Natl. Acad. Sci. USA 94, 7621–7626 (1997).

26

Senseman, D.M. & Robbins, K.A. High-speed VSD imaging of visually evoked cortical waves: decomposition into intra- and intercortical wave motions. J. Neurophysiol. 87, 1499–1514 (2002).

27

Clawson, W.P., Wright, N.C., Wessel, R. & Shew, W.L. Adaptation towards scale-free dynamics improves cortical stimulus discrimination at the cost of reduced detection. PLoS Comput. Biol. 13, e1005574 (2017).

28

Berger, H. Über das Elektrenkephalogramm des Menschen. Arch. Psychiatr. Nervenkr. 87, 527–570 (1929).

29

Buzsáki, G., Anastassiou, C.A. & Koch, C. The origin of extracellular fields and currents—EEG, ECoG, LFP and spikes. Nat. Rev. Neurosci. 13, 407–420 (2012).

30

Bédard, C., Rodrigues, S., Roy, N., Contreras, D. & Destexhe, A. Evidence for frequency-dependent extracellular impedance from the transfer function between extracellular and intracellular potentials: intracellular-LFP transfer function. J. Comput. Neurosci. 29, 389–403 (2010).

31

Lindén, H., Pettersen, K.H. & Einevoll, G.T. Intrinsic dendritic filtering gives low-pass power spectra of local field potentials. J. Comput. Neurosci. 29, 423–444 (2010).

32

Lindén, H. et al. Modeling the spatial reach of the LFP. Neuron 72, 859–872 (2011).

33

Glickfeld, L.L., Roberts, J.D., Somogyi, P. & Scanziani, M. Interneurons hyperpolarize pyramidal cells along their entire somatodendritic axis. Nat. Neurosci. 12, 21–23 (2009).

34

Bazelot, M., Dinocourt, C., Cohen, I. & Miles, R. Unitary inhibitory field potentials in the CA3 region of rat hippocampus. J. Physiol. 588, 2077–2090 (2010).

35

Swadlow, H.A., Gusev, A.G. & Bezdudnaya, T. Activation of a cortical column by a thalamocortical impulse. J. Neurosci. 22, 7766–7773 (2002).

36

Stoelzel, C.R., Bereshpolova, Y., Gusev, A.G. & Swadlow, H.A. The impact of an LGNd impulse on the awake visual cortex: synaptic dynamics and the sustained/transient distinction. J. Neurosci. 28, 5018–5028 (2008).

37

Creutzfeldt, O.D., Watanabe, S. & Lux, H.D. Relations between EEG phenomena and potentials of single cortical cells. I. Evoked responses after thalamic and erpicortical stimulation. Electroencephalogr. Clin. Neurophysiol. 20, 1–18 (1966).

38

Kreiman, G. et al. Object selectivity of local field potentials and spikes in the macaque inferior temporal cortex. Neuron 49, 433–445 (2006).

39

Engel, A.K., Fries, P. & Singer, W. Dynamic predictions: oscillations and synchrony in top-down processing. Nat. Rev. Neurosci. 2, 704–716 (2001).

40

Kang, H. & Schuman, E.M. Long-lasting neurotrophin-induced enhancement of synaptic transmission in the adult hippocampus. Science 267, 1658–1662 (1995).

41

Barthó, P. et al. Characterization of neocortical principal cells and interneurons by network interactions and extracellular features. J. Neurophysiol. 92, 600–608 (2004).

42

Berényi, A. et al. Large-scale, high-density (up to 512 channels) recording of local circuits in behaving animals. J. Neurophysiol. 111, 1132–1149 (2014).

43

Rossant, C. et al. Spike sorting for large, dense electrode arrays. Nat. Neurosci. 19, 634–641 (2016).

44

Hilgen, G. et al. Unsupervised spike sorting for large-scale, high-density multielectrode arrays. Cell Rep. 18, 2521–2532 (2017).

45

Marín, G., Mpodozis, J., Sentis, E., Ossandón, T. & Letelier, J.C. Oscillatory bursts in the optic tectum of birds represent re-entrant signals from the nucleus isthmi pars parvocellularis. J. Neurosci. 25, 7081–7089 (2005).

46

Taxidis, J., Anastassiou, C.A., Diba, K. & Koch, C. Local field potentials encode place cell ensemble activation during hippocampal sharp wave ripples. Neuron 87, 590–604 (2015).

47

Hagen, E. et al. Focal local field potential signature of the single-axon monosynaptic thalamocortical connection. J. Neurosci. 37, 5123–5143 (2017).

48

Ermentrout, G.B. & Kleinfeld, D. Traveling electrical waves in cortex: insights from phase dynamics and speculation on a computational role. Neuron 29, 33–44 (2001).

49

Blanton, M.G., Lo Turco, J.J. & Kriegstein A.R. Whole cell recording from neurons in slices of reptilian and mammalian cerebral cortex. J. Neurosci. Methods 30, 203–210 (1989).

50

Stuart, G.J., Dodt, H.U. & Sakmann, B. Patch-clamp recordings from the soma and dendrites of neurons in brain slices using infrared video microscopy. Pflugers Arch. 423, 511–518 (1993).

51

Tateno, T., Jimbo, Y. & Robinson, H.P.C. Spatio-temporal cholinergic modulation in cultured networks of rat cortical neurons: spontaneous activity. Neuroscience 134, 425–437 (2005).

52

Reinhard, K. et al. Step-by-step instructions for retina recordings with perforated multi electrode arrays. PLoS One 9, e106148 (2014).

53

Konopacki, J., MacIver, M.B., Bland, B.H. & Roth, S.H. Carbachol-induced EEG 'theta' activity in hippocampal brain slices. Brain Res. 405, 196–198 (1987).

54

Ernst, C. & Christie, B.R. Isolectin-IB 4 as a vascular stain for the study of adult neurogenesis. J. Neurosci. Methods 150, 138–142 (2006).

55

Dodt, H.-U. et al. Ultramicroscopy: three-dimensional visualization of neuronal networks in the whole mouse brain. Nat. Methods 4, 331–336 (2007).

56

Torr, P.H.S. & Zisserman, A. MLESAC: a new robust estimator with application to estimating image geometry. Comput. Vis. Image Underst. 78, 138–156 (2000).

57

Brainard, D.H. The psychophysics toolbox. Spat. Vis. 10, 433–436 (1997).

58

Quiroga, R.Q., Nadasdy, Z. & Ben-Shaul, Y. Unsupervised spike detection and sorting with wavelets and superparamagnetic clustering. Neural Comput. 16, 1661–1687 (2004).

59

Marre, O. et al. Mapping a complete neural population in the retina. J. Neurosci. 32, 14859–14873 (2012).

60

Lagarias, J.C., Reeds, J.A., Wright, M.H. & Wright, P.E. Convergence properties of the Nelder–Mead simplex method in low dimensions. SIAM J. Optim. 9, 112–147 (1998).

61

Potworowski, J., Jakuczun, W., Lski, S. & Wójcik, D. Kernel current source density method. Neural Comput. 24, 541–575 (2012).

62

Ness, T.V. et al. Modelling and analysis of electrical potentials recorded in microelectrode arrays (MEAs). Neuroinformatics 13, 403–426 (2015).
Acknowledgements
This work was funded by the Max Planck Society (G.L.), the European Research Council under the EU's 7th framework agreement (FP7/2007-2013)/grant no. 322705 (G.L.), the Minerva Foundation (MS-I), and the Boehringer Ingelheim Fonds (M.H.). We thank M. Klinkmann for help with surgery; A. Arends, A. Macias, T. Manthey, and C. Thum for technical assistance; H. Norimoto for assistance with mammalian slices; A. Umminger, F. Baier, T. Maurer, and G. Schmalbach for mechanical design and fabrication; M. Helmstaedter and P. Bastians (MPI Brain Research) for the block-face scanning electron microscope data in Supplementary Figure 5c; R. Naumann (MPI Brain Research) for the NeuN stain in Figure 1a; T.V. Ness for discussions; S. Reiter, J. Letzkus, and H. Ito for helpful comments on the manuscript.
Ethics declarations
Competing interests
The authors declare no competing financial interests.
Integrated supplementary information
Supplementary information
Supplementary Figures 1–12. (PDF 2344 kb)
Life Sciences Reporting Summary. (PDF 158 kb)
SIF analysis. Matlab routine for extracting SIFs from multi electrode extracellular recordings. (ZIP 17343 kb)
About this article
Cite this article
Shein-Idelson, M., Pammer, L., Hemberger, M. et al. Large-scale mapping of cortical synaptic projections with extracellular electrode arrays. Nat Methods 14, 882–890 (2017). https://doi.org/10.1038/nmeth.4393
Received:

Accepted:

Published:

Issue Date: