Abstract
A large number of genetic variants have been associated with human diseases. However, the lack of a genetic diversification approach has impeded our ability to interrogate functions of genetic variants in mammalian cells. Current screening methods can only be used to disrupt a gene or alter its expression. Here we report the fusion of activation-induced cytidine deaminase (AID) with nuclease-inactive clustered regularly interspaced short palindromic repeats (CRISPR)-associated protein 9 (dCas9) for efficient genetic diversification, which enabled high-throughput screening of functional variants. Guided by single guide (sg)RNAs, dCas9-AID-P182X (AIDx) directly changed cytidines or guanines to the other three bases independent of AID hotspot motifs, generating a large repertoire of variants at desired loci. Coupled with a uracil-DNA glycosylase inhibitor, dCas9-AIDx converted targeted cytidines specifically to thymines, creating specific point mutations. By targeting BCR-ABL with dCas9-AIDx, we efficiently identified known and new mutations conferring imatinib resistance in chronic myeloid leukemia cells. Thus, targeted AID-mediated mutagenesis (TAM) provides a forward genetic tool to screen for gain-of-function variants at base resolution.
Relevant articles
Open Access articles citing this article.
Miaoxian Guo

,

Hongyu Chen

…

Hongmei Luo

Chinese Medicine Open Access 04 March 2022

Guanying Wang

,

Zhongping Xu

…

Shuangxia Jin

BMC Biology Open Access 15 February 2022
Access options
Subscribe to Journal
Get full journal access for 1 year
$99.00
only $8.25 per issue
All prices are NET prices.
VAT will be added later in the checkout.
Tax calculation will be finalised during checkout.
Buy article
Get time limited or full article access on ReadCube.
$32.00
All prices are NET prices.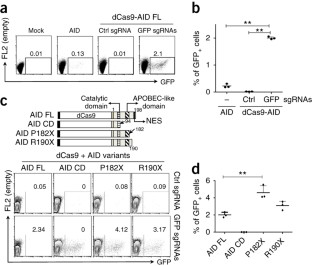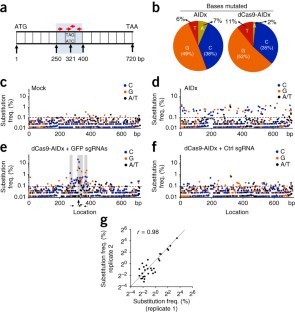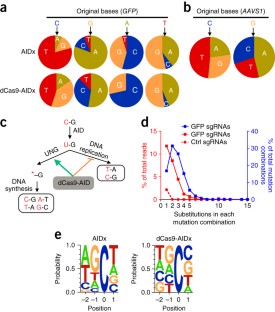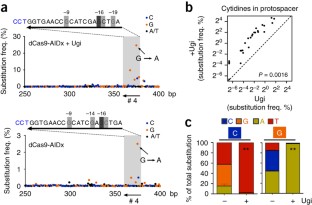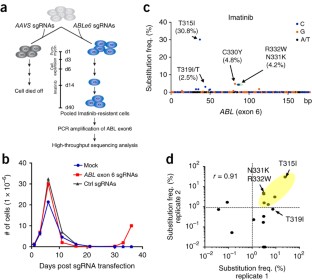 Accession codes
Primary accessions
Sequence Read Archive
References
Bell, R.J. et al. Cancer. The transcription factor GABP selectively binds and activates the mutant TERT promoter in cancer. Science 348, 1036–1039 (2015).

Daub, H., Specht, K. & Ullrich, A. Strategies to overcome resistance to targeted protein kinase inhibitors. Nat. Rev. Drug Discov. 3, 1001–1010 (2004).

Nachman, M.W. & Crowell, S.L. Estimate of the mutation rate per nucleotide in humans. Genetics 156, 297–304 (2000).

Takahasi, K.R., Sakuraba, Y. & Gondo, Y. Mutational pattern and frequency of induced nucleotide changes in mouse ENU mutagenesis. BMC Mol. Biol. 8, 52 (2007).

Di Noia, J.M. & Neuberger, M.S. Molecular mechanisms of antibody somatic hypermutation. Annu. Rev. Biochem. 76, 1–22 (2007).

Peled, J.U. et al. The biochemistry of somatic hypermutation. Annu. Rev. Immunol. 26, 481–511 (2008).

Yoshikawa, K. et al. AID enzyme-induced hypermutation in an actively transcribed gene in fibroblasts. Science 296, 2033–2036 (2002).

Mojica, F.J., Díez-Villaseñor, C., García-Martínez, J. & Soria, E. Intervening sequences of regularly spaced prokaryotic repeats derive from foreign genetic elements. J. Mol. Evol. 60, 174–182 (2005).

Pourcel, C., Salvignol, G. & Vergnaud, G. CRISPR elements in Yersinia pestis acquire new repeats by preferential uptake of bacteriophage DNA, and provide additional tools for evolutionary studies. Microbiology 151, 653–663 (2005).

Sorek, R., Kunin, V. & Hugenholtz, P. CRISPR--a widespread system that provides acquired resistance against phages in bacteria and archaea. Nat. Rev. Microbiol. 6, 181–186 (2008).

Hsu, P.D., Lander, E.S. & Zhang, F. Development and applications of CRISPR-Cas9 for genome engineering. Cell 157, 1262–1278 (2014).

Doudna, J.A. & Charpentier, E. Genome editing. The new frontier of genome engineering with CRISPR-Cas9. Science 346, 1258096 (2014).

Mali, P., Esvelt, K.M. & Church, G.M. Cas9 as a versatile tool for engineering biology. Nat. Methods 10, 957–963 (2013).

Jinek, M. et al. A programmable dual-RNA-guided DNA endonuclease in adaptive bacterial immunity. Science 337, 816–821 (2012).

Barreto, V., Reina-San-Martin, B., Ramiro, A.R., McBride, K.M. & Nussenzweig, M.C. C-terminal deletion of AID uncouples class switch recombination from somatic hypermutation and gene conversion. Mol. Cell 12, 501–508 (2003).

Shinkura, R. et al. Separate domains of AID are required for somatic hypermutation and class-switch recombination. Nat. Immunol. 5, 707–712 (2004).

Martin, A. et al. Activation-induced cytidine deaminase turns on somatic hypermutation in hybridomas. Nature 415, 802–806 (2002).

Qi, L.S. et al. Repurposing CRISPR as an RNA-guided platform for sequence-specific control of gene expression. Cell 152, 1173–1183 (2013).

Zheng, N.Y., Wilson, K., Jared, M. & Wilson, P.C. Intricate targeting of immunoglobulin somatic hypermutation maximizes the efficiency of affinity maturation. J. Exp. Med. 201, 1467–1478 (2005).

Dörner, T., Foster, S.J., Farner, N.L. & Lipsky, P.E. Somatic hypermutation of human immunoglobulin heavy chain genes: targeting of RGYW motifs on both DNA strands. Eur. J. Immunol. 28, 3384–3396 (1998).

Di Noia, J. & Neuberger, M.S. Altering the pathway of immunoglobulin hypermutation by inhibiting uracil-DNA glycosylase. Nature 419, 43–48 (2002).

Mol, C.D. et al. Crystal structure of human uracil-DNA glycosylase in complex with a protein inhibitor: protein mimicry of DNA. Cell 82, 701–708 (1995).

Jore, M.M. et al. Structural basis for CRISPR RNA-guided DNA recognition by Cascade. Nat. Struct. Mol. Biol. 18, 529–536 (2011).

Druker, B.J. & Lydon, N.B. Lessons learned from the development of an abl tyrosine kinase inhibitor for chronic myelogenous leukemia. J. Clin. Invest. 105, 3–7 (2000).

Nardi, V., Azam, M. & Daley, G.Q. Mechanisms and implications of imatinib resistance mutations in BCR-ABL. Curr. Opin. Hematol. 11, 35–43 (2004).

Gambacorti-Passerini, C.B. et al. Molecular mechanisms of resistance to imatinib in Philadelphia-chromosome-positive leukaemias. Lancet Oncol. 4, 75–85 (2003).

Nagar, B. et al. Structural basis for the autoinhibition of c-Abl tyrosine kinase. Cell 112, 859–871 (2003).

Gorre, M.E. et al. Clinical resistance to STI-571 cancer therapy caused by BCR-ABL gene mutation or amplification. Science 293, 876–880 (2001).

Branford, S. et al. High frequency of point mutations clustered within the adenosine triphosphate-binding region of BCR/ABL in patients with chronic myeloid leukemia or Ph-positive acute lymphoblastic leukemia who develop imatinib (STI571) resistance. Blood 99, 3472–3475 (2002).

Fischlechner, M. et al. Evolution of enzyme catalysts caged in biomimetic gel-shell beads. Nat. Chem. 6, 791–796 (2014).

Tawfik, D.S. & Griffiths, A.D. Man-made cell-like compartments for molecular evolution. Nat. Biotechnol. 16, 652–656 (1998).

Yi, L. et al. Engineering of TEV protease variants by yeast ER sequestration screening (YESS) of combinatorial libraries. Proc. Natl. Acad. Sci. USA 110, 7229–7234 (2013).

Romanini, D.W., Peralta-Yahya, P., Mondol, V. & Cornish, V.W. A Heritable Recombination system for synthetic Darwinian evolution in yeast. ACS Synth. Biol. 1, 602–609 (2012).

Esvelt, K.M., Carlson, J.C. & Liu, D.R. A system for the continuous directed evolution of biomolecules. Nature 472, 499–503 (2011).

Yu, K., Roy, D., Bayramyan, M., Haworth, I.S. & Lieber, M.R. Fine-structure analysis of activation-induced deaminase accessibility to class switch region R-loops. Mol. Cell. Biol. 25, 1730–1736 (2005).

Schrader, C.E. et al. Mutations occur in the Ig Smu region but rarely in Sgamma regions prior to class switch recombination. EMBO J. 22, 5893–5903 (2003).

Yu, K., Chedin, F., Hsieh, C.L., Wilson, T.E. & Lieber, M.R. R-loops at immunoglobulin class switch regions in the chromosomes of stimulated B cells. Nat. Immunol. 4, 442–451 (2003).

Komor, A.C., Kim, Y.B., Packer, M.S., Zuris, J.A. & Liu, D.R. Programmable editing of a target base in genomic DNA without double-stranded DNA cleavage. Nature 533, 420–424 (2016).

Tewhey, R. et al. Direct identification of hundreds of expression-modulating variants using a multiplexed reporter assay. Cell 165, 1519–1529 (2016).

Findlay, G.M., Boyle, E.A., Hause, R.J., Klein, J.C. & Shendure, J. Saturation editing of genomic regions by multiplex homology-directed repair. Nature 513, 120–123 (2014).

Wang, T., Wei, J.J., Sabatini, D.M. & Lander, E.S. Genetic screens in human cells using the CRISPR-Cas9 system. Science 343, 80–84 (2014).

Chang, X. & Ma, Y.Q. Using targeted AID-mediated mutagenesis (TAM) to diversify a genomic locus in mammalian cells. Protoc. Exch. http://dx.doi.org/10.1038/protex.2016.062 (2016).

Pinello, L. et al. Analyzing CRISPR genome-editing experiments with CRISPResso. Nat. Biotechnol. 34, 695–697 (2016).
Acknowledgements
We thank B. Li and C. Jiang for suggestions on data analysis; H. Zhang and A. Chen for assistance with high-throughput sequencing. This work was supported by 31370858 from National Natural Science Foundation of China (NSFC), 2014CB943600 from Ministry of Science and Technology (China) (MOST), 13PJ1409300 from Shanghai Municipal Science and Technology Committee (SMSTC), and National Thousand Talents Program for Distinguished Young Scholars (China).
Ethics declarations
Competing interests
X.C. has filed intellectual protection of using dCas9-AIDx for genetic diversification and protein evolution (application no. CN201610423512.8).
Integrated supplementary information
Supplementary information
Supplementary Figures 1–12, Supplementary Protocol and Supplementary Table 1 (PDF 2513 kb)
About this article
Cite this article
Ma, Y., Zhang, J., Yin, W. et al. Targeted AID-mediated mutagenesis (TAM) enables efficient genomic diversification in mammalian cells. Nat Methods 13, 1029–1035 (2016). https://doi.org/10.1038/nmeth.4027
Received:

Accepted:

Published:

Issue Date:

DOI: https://doi.org/10.1038/nmeth.4027