Abstract
Extending three-dimensional (3D) single-molecule localization microscopy away from the coverslip and into thicker specimens will greatly broaden its biological utility. However, because of the limitations of both conventional imaging modalities and conventional labeling techniques, it is a challenge to localize molecules in three dimensions with high precision in such samples while simultaneously achieving the labeling densities required for high resolution of densely crowded structures. Here we combined lattice light-sheet microscopy with newly developed, freely diffusing, cell-permeable chemical probes with targeted affinity for DNA, intracellular membranes or the plasma membrane. We used this combination to perform high–localization precision, ultrahigh–labeling density, multicolor localization microscopy in samples up to 20 μm thick, including dividing cells and the neuromast organ of a zebrafish embryo. We also demonstrate super-resolution correlative imaging with protein-specific photoactivable fluorophores, providing a mutually compatible, single-platform alternative to correlative light-electron microscopy over large volumes.
Access options
Subscribe to Journal
Get full journal access for 1 year
$259.00
only $21.58 per issue
All prices are NET prices.
VAT will be added later in the checkout.
Rent or Buy article
Get time limited or full article access on ReadCube.
from$8.99
All prices are NET prices.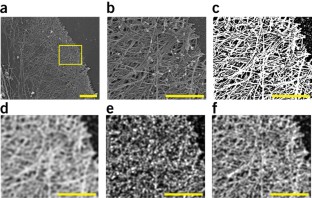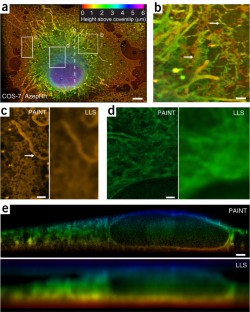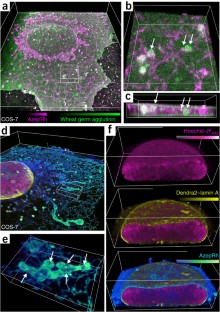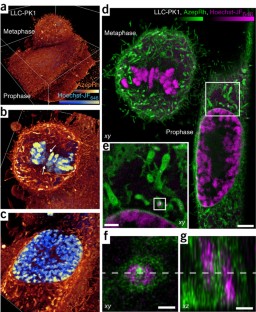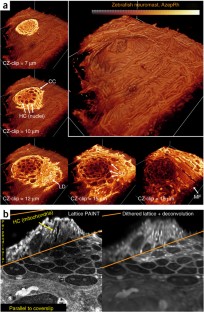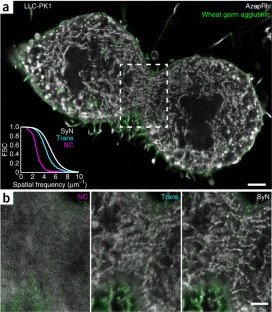 References
1

Sauer, M. Localization microscopy coming of age: from concepts to biological impact. J. Cell Sci. 126, 3505–3513 (2013).

2

Betzig, E. et al. Imaging intracellular fluorescent proteins at nanometer resolution. Science 313, 1642–1645 (2006).

3

Huang, B., Wang, W., Bates, M. & Zhuang, X. Three-dimensional super-resolution imaging by stochastic optical reconstruction microscopy. Science 319, 810–813 (2008).

4

Shtengel, G. et al. Interferometric fluorescent super-resolution microscopy resolves 3D cellular ultrastructure. Proc. Natl. Acad. Sci. USA 106, 3125–3130 (2009).

5

Huang, B., Jones, S.A., Brandenburg, B. & Zhuang, X. Whole-cell 3D STORM reveals interactions between cellular structures with nanometer-scale resolution. Nat. Methods 5, 1047–1052 (2008).

6

Hajj, B. et al. Whole-cell, multicolor superresolution imaging using volumetric multifocus microscopy. Proc. Natl. Acad. Sci. USA 111, 17480–17485 (2014).

7

Vaziri, A., Tang, J., Shroff, H. & Shank, C.V. Multilayer three-dimensional super resolution imaging of thick biological samples. Proc. Natl. Acad. Sci. USA 105, 20221–20226 (2008).

8

York, A.G., Ghitani, A., Vaziri, A., Davidson, M.W. & Shroff, H. Confined activation and subdiffractive localization enables whole-cell PALM with genetically expressed probes. Nat. Methods 8, 327–333 (2011).

9

Cella Zanacchi, F. et al. Live-cell 3D super-resolution imaging in thick biological samples. Nat. Methods 8, 1047–1049 (2011).

10

Chen, B.C. et al. Lattice light-sheet microscopy: imaging molecules to embryos at high spatiotemporal resolution. Science 346, 1257998 (2014).

11

Demmerle, J., Wegel, E., Schermelleh, L. & Dobbie, I.M. Assessing resolution in super-resolution imaging. Methods 88, 3–10 (2015).

12

Deschout, H. et al. Precisely and accurately localizing single emitters in fluorescence microscopy. Nat. Methods 11, 253–266 (2014).

13

Holden, S.J., Uphoff, S. & Kapanidis, A.N. DAOSTORM: an algorithm for high- density super-resolution microscopy. Nat. Methods 8, 279–280 (2011).

14

Huang, F. et al. Video-rate nanoscopy using sCMOS camera-specific single-molecule localization algorithms. Nat. Methods 10, 653–658 (2013).

15

Jones, S.A., Shim, S.H., He, J. & Zhuang, X. Fast, three-dimensional super-resolution imaging of live cells. Nat. Methods 8, 499–508 (2011).

16

Shim, S.H. et al. Super-resolution fluorescence imaging of organelles in live cells with photoswitchable membrane probes. Proc. Natl. Acad. Sci. USA 109, 13978–13983 (2012).

17

Shroff, H. et al. Dual-color superresolution imaging of genetically expressed probes within individual adhesion complexes. Proc. Natl. Acad. Sci. USA 104, 20308–20313 (2007).

18

Xu, K., Babcock, H.P. & Zhuang, X. Dual-objective STORM reveals three-dimensional filament organization in the actin cytoskeleton. Nat. Methods 9, 185–188 (2012).

19

Li, D. et al. Extended-resolution structured illumination imaging of endocytic and cytoskeletal dynamics. Science 349, aab3500 (2015).

20

Sharonov, A. & Hochstrasser, R.M. Wide-field subdiffraction imaging by accumulated binding of diffusing probes. Proc. Natl. Acad. Sci. USA 103, 18911–18916 (2006).

21

Fitzgerald, J.E., Lu, J. & Schnitzer, M.J. Estimation theoretic measure of resolution for stochastic localization microscopy. Phys. Rev. Lett. 109, 048102 (2012).

22

Svitkina, T.M. & Borisy, G.G. Arp2/3 complex and actin depolymerizing factor/cofilin in dendritic organization and treadmilling of actin filament array in lamellipodia. J. Cell Biol. 145, 1009–1026 (1999).

23

Nieuwenhuizen, R.P. et al. Measuring image resolution in optical nanoscopy. Nat. Methods 10, 557–562 (2013).

24

Grimm, J.B. et al. A general method to improve fluorophores for live-cell and single-molecule microscopy. Nat. Methods 12, 244–250 (2015).

25

Fiolka, R., Shao, L., Rego, E.H., Davidson, M.W. & Gustafsson, M.G. Time-lapse two-color 3D imaging of live cells with doubled resolution using structured illumination. Proc. Natl. Acad. Sci. USA 109, 5311–5315 (2012).

26

Shao, L., Kner, P., Rego, E.H. & Gustafsson, M.G. Super-resolution 3D microscopy of live whole cells using structured illumination. Nat. Methods 8, 1044–1046 (2011).

27

Ris, H. Stereoscopic electron microscopy of chromosomes. Methods Cell Biol. 22, 77–96 (1981).

28

Harrison, C.J., Allen, T.D., Britch, M. & Harris, R. High-resolution scanning electron microscopy of human metaphase chromosomes. J. Cell Sci. 56, 409–422 (1982).

29

Lu, L., Ladinsky, M.S. & Kirchhausen, T. Cisternal organization of the endoplasmic reticulum during mitosis. Mol. Biol. Cell 20, 3471–3480 (2009).

30

Owens, K.N. et al. Ultrastructural analysis of aminoglycoside-induced hair cell death in the zebrafish lateral line reveals an early mitochondrial response. J. Comp. Neurol. 502, 522–543 (2007).

31

Jungmann, R. et al. Multiplexed 3D cellular super-resolution imaging with DNA-PAINT and Exchange-PAINT. Nat. Methods 11, 313–318 (2014).

32

Avants, B.B., Epstein, C.L., Grossman, M. & Gee, J.C. Symmetric diffeomorphic image registration with cross-correlation: evaluating automated labeling of elderly and neurodegenerative brain. Med. Image Anal. 12, 26–41 (2008).

33

Martell, J.D. et al. Engineered ascorbate peroxidase as a genetically encoded reporter for electron microscopy. Nat. Biotechnol. 30, 1143–1148 (2012).

34

Shu, X. et al. A genetically encoded tag for correlated light and electron microscopy of intact cells, tissues, and organisms. PLoS Biol. 9, e1001041 (2011).

35

Kao, H.P. & Verkman, A.S. Tracking of single fluorescent particles in three dimensions: use of cylindrical optics to encode particle position. Biophys. J. 67, 1291–1300 (1994).

36

White, R.M. et al. Transparent adult zebrafish as a tool for in vivo transplantation analysis. Cell Stem Cell 2, 183–189 (2008).

37

Schindelin, J. et al. Fiji: an open-source platform for biological-image analysis. Nat. Methods 9, 676–682 (2012).
Acknowledgements
We gratefully acknowledge M. Davidson (National High Magnetic Field Laboratory and Department of Biological Science, Florida State University, Tallahassee, Florida, USA) for the cell line stably expressing calnexin and H2B and for the plasmids used for comparative staining, D. Li for discussion of resolution metrics and localization density, B. Hoeckendorf for assistance in culturing and mounting zebrafish embryos, and H. White and the shared resource teams at Janelia for assistance with cell culture. This work was supported by the Howard Hughes Medical Institute (W.R.L., L.S., J.B.G., T.A.B., L.D.L. and E.B.) and the US National Institutes of Health through the National Institute of Environmental Health Science (grant K01ES025432-01 to B.B.A.).
Ethics declarations
Competing interests
Portions of the technology described herein are covered by one or more pending US patent applications filed by E.B. and W.R.L. (provisional applications 62,088,593 and 62/088,681; utility application 14/961,873) or by L.D.L. and J.B.G. (provisional applications 61/973,795 and 61/991,109; Trademark Intellectual Property application 86386733; Patent Cooperation Treaty application 15/23953) and assigned to Howard Hughes Medical Institute.
Supplementary information
About this article
Cite this article
Legant, W., Shao, L., Grimm, J. et al. High-density three-dimensional localization microscopy across large volumes. Nat Methods 13, 359–365 (2016). https://doi.org/10.1038/nmeth.3797
Received:

Accepted:

Published:

Issue Date: