Abstract
Current measurements of the biomechanical properties of cells require physical contact with cells or lack subcellular resolution. Here we developed a label-free microscopy technique based on Brillouin light scattering that is capable of measuring an intracellular longitudinal modulus with optical resolution. The 3D Brillouin maps we obtained of cells in 2D and 3D microenvironments revealed mechanical changes due to cytoskeletal modulation and cell-volume regulation.
Relevant articles
Open Access articles citing this article.
Guo-Yang Li

,

Artur L. Gower

…

Seok-Hyun Yun

Communications Physics Open Access 17 September 2022

Amira M. Eltony

,

Peng Shao

&

Seok-Hyun Yun

Nature Communications Open Access 15 March 2022

Chii Jou Chan

,

Carlo Bevilacqua

&

Robert Prevedel

Communications Biology Open Access 27 September 2021
Access options
Subscribe to Journal
Get full journal access for 1 year
$99.00
only $8.25 per issue
All prices are NET prices.
VAT will be added later in the checkout.
Tax calculation will be finalised during checkout.
Buy article
Get time limited or full article access on ReadCube.
$32.00
All prices are NET prices.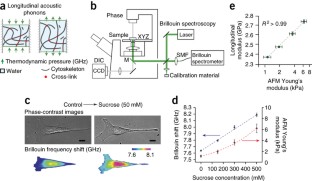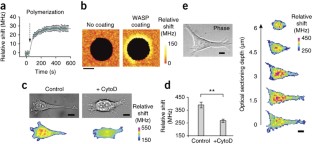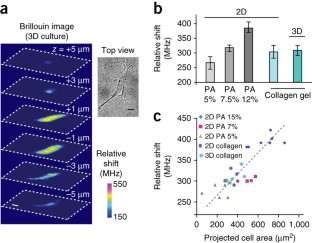 References
Moeendarbary, E. et al. Nat. Mater. 12, 253–261 (2013).

Stroka, K.M. et al. Cell 157, 611–623 (2014).

Stewart, M.P. et al. Nature 469, 226–230 (2011).

Ingber, D. Ann. Med. 35, 564–577 (2003).

Bao, G. & Suresh, S. Nat. Mater. 2, 715–725 (2003).

Mofrad, M.R.K. & Kamm, R.D. Cytoskeletal Mechanics (Cambridge Univ. Press, 2006).

Ng, L. et al. J. Biomech. 40, 1011–1023 (2007).

Lam, W.A., Rosenbluth, M. & Fletcher, D. Blood 109, 3505–3508 (2007).

Guck, J. et al. Biophys. J. 81, 767–784 (2001).

Evans, E. & Yeung, A. Biophys. J. 56, 151–160 (1989).

Otto, O. et al. Nat. Methods 12, 199–202 (2015).

Mason, T.G., Ganesan, K., vanZanten, J.H., Wirtz, D. & Kuo, S.C. Phys. Rev. Lett. 79, 3282–3285 (1997).

Yap, B. & Kamm, R. J. Appl. Phys. 98, 1930–1939 (2005).

Panorchan, P., Lee, J., Kole, T., Tseng, Y. & Wirtz, D. Biophys. J. 91, 3499–3507 (2006).

Dil, J.G. Rep. Prog. Phys. 45, 285–334 (1982).

Scarcelli, G. & Yun, S.H. Nat. Photonics 2, 39–43 (2008).

Eisenberg, S.R. & Grodzinsky, A.J. J. Orthop. Res. 3, 148–159 (1985).

Scarcelli, G. & Yun, S.H. Opt. Express 19, 10913–10922 (2011).

Zhou, E.H. et al. Proc. Natl. Acad. Sci. USA 106, 10632–10637 (2009).

Barer, R. & Joseph, S. Q. J. Microsc. Sci. 95, 399–423 (1954).

Scarcelli, G., Kim, P. & Yun, S.H. Biophys. J. 101, 1539–1545 (2011).

Solon, J., Levental, I., Sengupta, K., Georges, P.C. & Janmey, P.A. Biophys. J. 93, 4453–4461 (2007).

Ali, M.Y., Chuang, C.-Y. & Saif, M.T.A. Soft Matter 10, 8829–8837 (2014).

Winer, J.P., Oake, S. & Janmey, P.A. PLoS One 4, e6382 (2009).

Nijenhuis, N., Zhao, X., Carisey, A., Ballestrem, C. & Derby, B. Biophys. J. 107, 1502–1512 (2014).

Damljanovicć, V., Lagerholm, B. & Jacobson, K. Biotechniques 39, 847–851 (2005).

Hutter, J.L. & Bechhoefer, J. Rev. Sci. Instrum. 64, 1868 (1993).

Pujol, T., du Roure, O., Fermigier, M. & Heuvingh, J. Proc. Natl. Acad. Sci. USA 109, 10364–10369 (2012).
Acknowledgements
We thank A.C. Martin, F.M. Mason, E. Moeendarbary, M.C. Gather and K. Franze for helpful discussions, as well as H. Oda, K. Sawicki and K. Berghaus for help with hydrogel measurements. This work was supported in part by the National Institutes of Health (grants K25-EB015885 and R21-EY023043 to G.S.; grants R01-EY025454 and P41-EB015903 to S.H.Y.; and grant R33 CA174550 to R.D.K.), the National Science Foundation (grant CBET-0853773 to S.H.Y.) and a Human Frontier Science Program Young Investigator Grant (RGY0074/2013 to G.S.).
Ethics declarations
Competing interests
The authors declare no competing financial interests.
Integrated supplementary information
Supplementary information
Supplementary Figures 1–11 and Supplementary Notes 1–8 (PDF 1439 kb)
Matlab code to analyze data. (ZIP 2 kb)
Raw data to run Matlab code. (ZIP 1284 kb)
About this article
Cite this article
Scarcelli, G., Polacheck, W., Nia, H. et al. Noncontact three-dimensional mapping of intracellular hydromechanical properties by Brillouin microscopy. Nat Methods 12, 1132–1134 (2015). https://doi.org/10.1038/nmeth.3616
Received:

Accepted:

Published:

Issue Date:

DOI: https://doi.org/10.1038/nmeth.3616