Abstract
We present the Pareto task inference method (ParTI; http://www.weizmann.ac.il/mcb/UriAlon/download/ParTI) for inferring biological tasks from high-dimensional biological data. Data are described as a polytope, and features maximally enriched closest to the vertices (or archetypes) allow identification of the tasks the vertices represent. We demonstrate that human breast tumors and mouse tissues are well described by tetrahedrons in gene expression space, with specific tumor types and biological functions enriched at each of the vertices, suggesting four key tasks.
This is a preview of subscription content
Access options
Subscribe to Journal
Get full journal access for 1 year
$119.00
only $9.92 per issue
All prices are NET prices.
VAT will be added later in the checkout.
Tax calculation will be finalised during checkout.
Buy article
Get time limited or full article access on ReadCube.
$32.00
All prices are NET prices.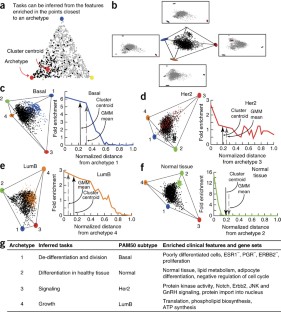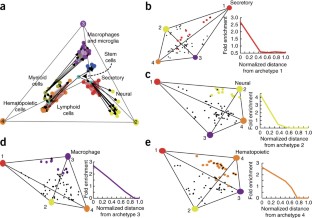 References
Kim, H.D., Shay, T., O'Shea, E.K. & Regev, A. Science 325, 429–432 (2009).

Kalisky, T., Blainey, P. & Quake, S.R. Annu. Rev. Genet. 45, 431–445 (2011).

Curtis, C. et al. Nature 486, 346–352 (2012).

Bendall, S.C. & Nolan, G.P. Nat. Biotechnol. 30, 639–647 (2012).

The Cancer Genome Atlas Network. Nature 490, 61–70 (2012).

Ringnér, M. Nat. Biotechnol. 26, 303–304 (2008).

Van der Maaten, L. & Hinton, G. J. Mach. Learn. Res. 9, 2579–2605 (2008).

Hastie, T., Tibshirani, R. & Friedman, J. in The Elements of Statistical Learning 2nd edn. 520–528 (Springer, 2009).

Shoval, O. et al. Science 336, 1157–1160 (2012).

Sheftel, H., Shoval, O., Mayo, A. & Alon, U. Ecol. Evol. 3, 1471–1483 (2013).

Szekely, P., Sheftel, H., Mayo, A. & Alon, U. PLoS Comput. Biol. 9, e1003163 (2013).

Mørup, M. & Hansen, L.K. Neurocomputing 80, 54–63 (2012).

Li, J. & Bioucas-Dias, J.M. IEEE Int. Geosci. Remote Sens. Symp. 3, 250–253 (2008).

Chan, T.-H., Chi, C.-Y., Huang, Y.-M. & Ma, W.-K. IEEE Trans. Signal Process. 57, 4418–4432 (2009).

Chan, T.-H., Liou, J.-Y., Ambikapathi, A., Ma, W.-K. & Chi, C.-Y. in Proc. IEEE Int. Conf. Acoust. Speech Signal Process. 1237–1240 (IEEE, 2012).

Bioucas-Dias, J.M. et al. IEEE J. Sel. Top. Appl. Earth Obs. Remote Sens. 5, 354–379 (2012).

Schwartz, R. & Shackney, S.E. BMC Bioinformatics 11, 42 (2010).

Tolliver, D., Tsourakakis, C., Subramanian, A., Shackney, S. & Schwartz, R. Bioinformatics 26, i106–i114 (2010).

Thøgersen, J.C., Mørup, M., Damkiær, S., Molin, S. & Jelsbak, L. BMC Bioinformatics 14, 279 (2013).

Subramanian, A. et al. Proc. Natl. Acad. Sci. USA 102, 15545–15550 (2005).

Lehmann, B.D. et al. J. Clin. Invest. 121, 2750–2767 (2011).

Lattin, J.E. et al. Immunome Res. 4, 5 (2008).

Cutler, A. & Breiman, L. Technometrics 36, 338–347 (1994).

Bioucas-Dias, J.M. in Hyperspectral Image Signal Process. Evol. Remote Sens. First Workshop 1–4 (IEEE, 2009).

Mann, H.B. & Whitney, D.R. Ann. Math. Stat. 18, 50–60 (1947).

Benjamini, Y. & Hochberg, Y. J. R. Stat. Soc. Series B Stat. Methodol. 57, 289–300 (1995).

Nishimura, D. Biotech Softw. Internet Rep. 2, 117–120 (2001).

Kanehisa, M. & Goto, S. Nucleic Acids Res. 28, 27–30 (2000).

Croft, D. et al. Nucleic Acids Res. 39 (suppl. 1), D691–D697 (2011).
Acknowledgements
We thank N. Drayman, B. Towbin, M. Botzman, Y. Liron, M. Adler, G. Aidelberg, D. Rothschild, S. Malihi, O. Szekely and members of the Alon lab for discussions. We acknowledge support by the Human Frontier Science Program, project number RGP0020/2012, European Research Council, project number 249919, and Rising Tide Cancer Research Fund, project number 721176. U.A. receives support as the Abisch-Frenkel Professorial Chair. J.H. acknowledges the support of the Swiss National Science Foundation (PBBSP3_14961) and EMBO (ALTF 1160-2012).
Ethics declarations
Competing interests
The authors declare no competing financial interests.
Integrated supplementary information
Supplementary information
About this article
Cite this article
Hart, Y., Sheftel, H., Hausser, J. et al. Inferring biological tasks using Pareto analysis of high-dimensional data. Nat Methods 12, 233–235 (2015). https://doi.org/10.1038/nmeth.3254
Received:

Accepted:

Published:

Issue Date:

DOI: https://doi.org/10.1038/nmeth.3254