Abstract
Targeting visually identified neurons for electrophysiological recording is a fundamental neuroscience technique; however, its potential is hampered by poor visualization of pipette tips in deep brain tissue. We describe quantum dot–coated glass pipettes that provide strong two-photon contrast at deeper penetration depths than those achievable with current methods. We demonstrated the pipettes' utility in targeted patch-clamp recording experiments and single-cell electroporation of identified rat and mouse neurons in vitro and in vivo.
Relevant articles
Open Access articles citing this article.
Daneck Lang-Ouellette

,

Kim M. Gruver

…

Alanna J. Watt

Nature Communications Open Access 05 July 2021

I. Kolb

,

W. A. Stoy

…

C. R. Forest

Scientific Reports Open Access 11 October 2016
Access options
Subscribe to Journal
Get full journal access for 1 year
$99.00
only $8.25 per issue
All prices are NET prices.
VAT will be added later in the checkout.
Tax calculation will be finalised during checkout.
Buy article
Get time limited or full article access on ReadCube.
$32.00
All prices are NET prices.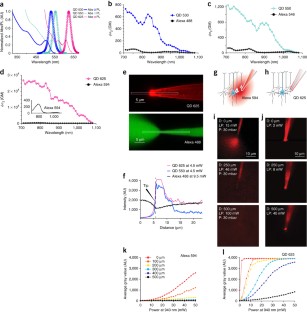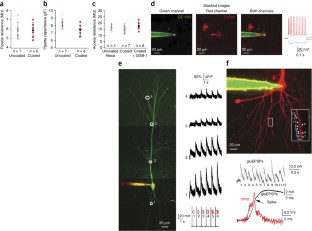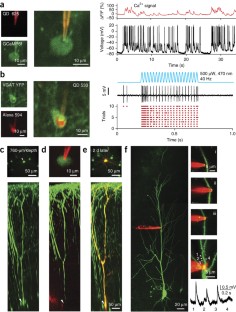 References
Hamill, O.P., Marty, A., Neher, E., Sakmann, B. & Sigworth, F.J. Pflugers Arch. 391, 85–100 (1981).

Margrie, T.W., Brecht, M. & Sakmann, B. Pflugers Arch. 444, 491–498 (2002).

Kandel, E.R., Markram, H., Matthews, P.M., Yuste, R. & Koch, C. Nat. Rev. Neurosci. 14, 659–664 (2013).

Samuel, A., Levine, H. & Blagoev, K.B. Nat. Methods 10, 713–714 (2013).

Margrie, T.W. et al. Neuron 39, 911–918 (2003).

Komai, S., Denk, W., Osten, P., Brecht, M. & Margrie, T.W. Nat. Protoc. 1, 647–652 (2006).

Kitamura, K., Judkewitz, B., Kano, M., Denk, W. & Häusser, M. Nat. Methods 5, 61–67 (2008).

Resch-Genger, U., Grabolle, M., Cavaliere-Jaricot, S., Nitschke, R. & Nann, T. Nat. Methods 5, 763–775 (2008).

Petryayeva, E., Algar, W.R. & Medintz, I.L. Appl. Spectrosc. 67, 215–252 (2013).

Larson, D.R. et al. Science 300, 1434–1436 (2003).

Susumu, K. et al. J. Am. Chem. Soc. 133, 9480–9496 (2011).

Mütze, J. et al. Biophys. J. 102, 934–944 (2012).

Losonczy, A. & Magee, J.C. Neuron 50, 291–307 (2006).

Zhao, S. et al. Nat. Methods 8, 745–752 (2011).

Ishikawa, D. et al. Neural Netw. 23, 669–672 (2010).

Sasaki, T., Matsuki, N. & Ikegaya, Y. Nat. Protoc. 7, 1228–1234 (2012).

Xu, C. & Webb, W.W. J. Opt. Soc. Am. B 13, 481–491 (1996).

Bowman, C.L. & Ruknudin, A.M. Cell Biochem. Biophys. 31, 185–206 (1999).

Makara, J.K., Losonczy, A., Wen, Q. & Magee, J.C. Nat. Neurosci. 12, 1485–1487 (2009).

Máté, Z. et al. Cell Tissue Res. 352, 199–206 (2013).

Gulyás, A.I. et al. J. Neurosci. 30, 15134–15145 (2010).

Makara, J.K. & Magee, J.C. Neuron 80, 1438–1450 (2013).
Acknowledgements
The authors acknowledge the Defense Advanced Research Projects Agency, Naval Research Laboratory Nanosciences Institute, Defense Threat Reduction Agency Joint Science and Technology Office MIPR B112582M and Invitrogen for providing the 625-nm QDs. We thank G. Szabó and Z. Máté (Institute of Experimental Medicine) for providing the CCK/DsReDt3 BAC and PV/GFP BAC transgenic mice. We thank J. Veres, Zs. Kohus, Z. Péterfy, N. Lenkey and E. Papp (Institute of Experimental Medicine) for providing brain slices with fluorescently labeled neurons; A. Holtmaat (University of Geneva) for providing the Thy-1 EGFP-M mice; and J. Weber, A. Ráksai-Maár, M. Prsa and M. Cane for technical assistance. This work was supported in part by the Wellcome Trust (grant 090915/Z/09/Z, J.K.M. and B.K.A.), Hungarian Academy of Sciences (Lendület LP-2011-012, J.K.M.), Howard Hughes Medical Institute and Swiss National Science Foundation (D.H.).
Ethics declarations
Competing interests
B.K.A., M.B., J.J.M., K.S., J.B.D., A.L.H. and I.L.M. have filed a patent application for production of QD-coated probes based on the results reported in this paper.
Integrated supplementary information
Supplementary information
About this article
Cite this article
Andrásfalvy, B., Galiñanes, G., Huber, D. et al. Quantum dot–based multiphoton fluorescent pipettes for targeted neuronal electrophysiology. Nat Methods 11, 1237–1241 (2014). https://doi.org/10.1038/nmeth.3146
Received:

Accepted:

Published:

Issue Date:

DOI: https://doi.org/10.1038/nmeth.3146