Abstract
Next-generation sequencing is limited to short read lengths and by high error rates. We systematically analyzed sources of noise in the Illumina Genome Analyzer that contribute to these high error rates and developed a base caller, Alta-Cyclic, that uses machine learning to compensate for noise factors. Alta-Cyclic substantially improved the number of accurate reads for sequencing runs up to 78 bases and reduced systematic biases, facilitating confident identification of sequence variants.
Access options
Subscribe to Journal
Get full journal access for 1 year
$242.00
only $20.17 per issue
All prices are NET prices.
VAT will be added later in the checkout.
Rent or Buy article
Get time limited or full article access on ReadCube.
from$8.99
All prices are NET prices.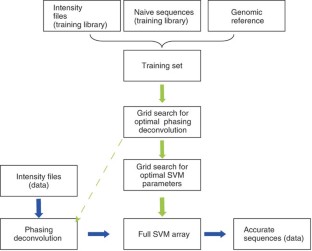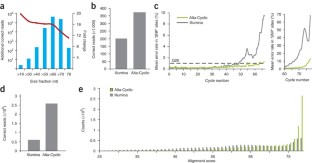 References
1

Pennisi, E. Science 318, 1842–1843 (2007).

2

Chi, K.R. Nat. Methods 5, 11–14 (2008).

3

Korbel, J.O. et al. Science 318, 420–426 (2007).

4

Hillier, L.W. et al. Nat. Methods 5, 183–188 (2008).

5

Cokus, S.J. et al. Nature 452, 215–219 (2008).

6

Whiteford, N. et al. Nucleic Acids Res. 33, e171 (2005).

7

Chaisson, M. & Pevzner, P. Genome Res. 18, 324–330 (2008).

8

Metzker, M. Genome Res. 15, 1767–1776 (2005).

9

Metzker, M., Raghavachari, R., Burgess, K. & Gibbs, R. Biotechniques 25, 814–817 (1998).

10

Eisen, J.A. et al. PLoS Biol. 4, e286 (2006).
Acknowledgements
We thank M. Rooks, E. Hodges, K. Fejes-Toth and C. Malone for help in preparing libraries. We thank M. Regulski, D. Rebolini and L. Cardone for Illumina sequencing, and T. Heywood for assistance with cluster computing. F. Chen, D. Hillman and J. Eisen (Lawrence Berkeley National Lab) provided the Tetrahymena micronuclear library. Y.E. is a Goldberg-Lindsay Fellow of the Watson School of Biological Sciences. P.P.M. is a Crick-Clay Professor. G.J.H. is an investigator of the Howard Hughes Medical Institute. This work was supported by grants from the US National Institute of Health, the National Science Foundation and the Stanley Foundation.
Supplementary information
Supplementary Figures 1–7, Supplementary Table 1, Supplementary Data, Supplementary Methods (PDF 941 kb)