Abstract
Self-assembly offers a promising method to organize functional nanoscale objects into two-dimensional (2D) and 3D superstructures for exploiting their collective effects1,2,3. On the other hand, many unique phenomena emerge after arranging a few nanoscale objects into clusters, the so-called artificial molecules4,5,6,7,8,9,10. The strategy of using biomolecular linkers between nanoparticles has proven especially useful for construction of such nanoclusters4,5,6,11,12,13,14,15,16. However, conventional solution-based reactions typically yield a broad population of multimers or isomers of clusters; furthermore, the efficiency of fabrication is often limited4,5,6,11,12,13,14,15,16. Here, we describe a novel high-throughput method for designing and fabricating clusters using DNA-encoded nanoparticles assembled on a solid support in a stepwise manner. This method efficiently imparts particles with anisotropy during their assembly and disassembly at a surface, generating remarkably high yields of well-defined dimer clusters and Janus (two-faced) nanoparticles. The method is scalable and modular, assuring large quantities of clusters of designated sizes and compositions.
Relevant articles
Open Access articles citing this article.
Maozhong Sun

,

Liguang Xu

…

Chuanlai Xu

Nature Communications Open Access 29 November 2017
Access options
Subscribe to Journal
Get full journal access for 1 year
$119.00
only $9.92 per issue
All prices are NET prices.
VAT will be added later in the checkout.
Tax calculation will be finalised during checkout.
Buy article
Get time limited or full article access on ReadCube.
$32.00
All prices are NET prices.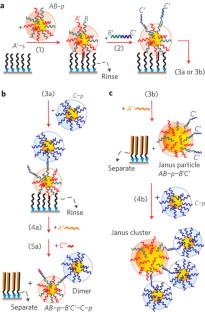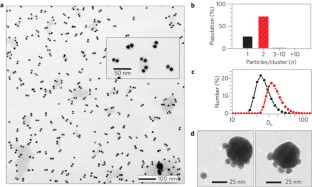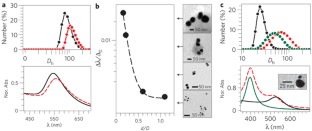 References
Lee, J., Hernandez, P., Govorov, A. O. & Kotov, N. A. Exciton-plasmon interactions in molecular spring assemblies of nanowires and wavelength-based protein detection. Nature Mater. 6, 291–295 (2007).

Redl, F. X., Cho, K. S., Murray, C. B. & O'Brien, S. Three-dimensional binary superlattices of magnetic nanocrystals and semiconductor quantum dots. Nature 423, 968–971 (2003).

Csaki, A. et al. A parallel approach for subwavelength molecular surgery using gene-specific positioned metal nanoparticles as laser light antennas. Nano Lett. 7, 247–253 (2007).

Mirkin, C. A., Letsinger, R. L., Mucic, R. C. & Storhoff, J. J. A DNA-based method for rationally assembling nanoparticles into macroscopic materials. Nature 382, 607–609 (1996).

Alivisatos, A. P. et al. Organization of 'nanocrystal molecules' using DNA. Nature 382, 609–611 (1996).

Bidault, S., de Abajo, F. J. G. & Polman, A. Plasmon-based nanolenses assembled on a well-defined DNA template. J. Am. Chem. Soc. 130, 2750–2751 (2008).

Sardar, R. & Shumaker-Parry, J. S. Asymmetrically functionalized gold nanoparticles organized in one-dimensional chains. Nano Lett. 8, 731–736 (2008).

Sung, K. M., Mosley, D. W., Peelle, B. R., Zhang, S. G. & Jacobson, J. M. Synthesis of monofunctionalized gold nanoparticles by Fmoc solid-phase reactions. J. Am. Chem. Soc. 126, 5064–5065 (2004).

Aldaye, F. A. & Sleiman, H. F. Dynamic DNA templates for discrete gold nanoparticle assemblies: Control of geometry, modularity, write/erase and structural switching. J. Am. Chem. Soc. 129, 4130–4131 (2007).

DeVries, G. A. et al. Divalent metal nanoparticles. Science 315, 358–361 (2007).

Fu, A. et al. Discrete nanostructures of quantum dots/Au with DNA. J. Am. Chem. Soc. 126, 10832–10833 (2004).

Zhang, J. P., Liu, Y., Ke, Y. G. & Yan, H. Periodic square-like gold nanoparticle arrays templated by self-assembled 2D DNA nanogrids on a surface. Nano Lett. 6, 248–251 (2006).

Deng, Z. X., Tian, Y., Lee, S. H., Ribbe, A. E. & Mao, C. D. DNA-encoded self-assembly of gold nanoparticles into one-dimensional arrays. Angew. Chem. Int. Ed. 44, 3582–3585 (2005).

Pinto, Y. Y. et al. Sequence-encoded self-assembly of multiple-nanocomponent arrays by 2D DNA scaffolding. Nano Lett. 5, 2399–2402 (2005).

Claridge, S. A., Liang, H. Y. W., Basu, S. R., Fréchet, J. M. J. & Alivisatos, A. P. Isolation of discrete nanoparticle–DNA conjugates for plasmonic applications. Nano Lett. 8, 1202–1206 (2008).

Katz, E. & Willner, I. Integrated nanoparticle-biomolecule hybrid systems: Synthesis, properties, and applications. Angew. Chem. Int. Ed. 43, 6042–6108 (2004).

Merrifield, R. B. Solid phase peptide synthesis. 1: Synthesis of a tetrapeptide. J. Am. Chem. Soc. 85, 2149–2154 (1963).

Zhang, Y. & Seeman, N. C. Construction of a DNA-truncated octahedron. J. Am. Chem. Soc. 116, 1661–1669 (1994).

Nykypanchuk, D., Maye, M. M., van der Lelie, D. & Gang, O. DNA-guided crystallization of colloidal nanoparticles. Nature 451, 549–552 (2008).

Park, S. Y. et al. DNA-programmable nanoparticle crystallization. Nature 451, 553–556 (2008).

Xiong, H. M., van der Lelie, D. & Gang, O. DNA linker-mediated crystallization of nanocolloids. J. Am. Chem. Soc. 130, 2442–2443 (2008).

Maye, M. M., Nykypanchuk, D., van der Lelie, D. & Gang, O. DNA-regulated micro- and nanoparticle assembly. Small 3, 1678–1682 (2007).

Yurke, B., Turberfield, A. J., Mills, A. P., Simmel, F. C. & Neumann, J. L. Nature 406, 605–608 (2000).

Brenner, H. Rheology of a dilute suspension of axisymmetric Brownian particles. Inter. J. Multiphase Flow 1, 195–341 (1974).

Xu, X. Y., Rosi, N. L., Wang, Y. H., Huo, F. W. & Mirkin, C. A. Asymmetric functionalization of gold nanoparticles with oligonucleotides. J. Am. Chem. Soc. 128, 9286–9287 (2006).

Perro, A., Reculusa, S., Ravaine, S., Bourgeat-Lami, E. B. & Duguet, E. Design and synthesis of Janus micro- and nanoparticles. J. Mater. Chem. 15, 3745–3760 (2005).

Liu, G. L. et al. A nanoplasmonic molecular ruler for measuring nuclease activity and DNA footprinting. Nature Nanotech. 1, 47–52 (2006).

Sonnichsen, C., Reinhard, B. M., Liphardt, J. & Alivisatos, A. P. A molecular ruler based on plasmon coupling of single gold and silver nanoparticles. Nature Biotech. 6, 741–745 (2005).

Jain, P. K., Huang, W. Y. & El-Sayed, M. A. On the universal scaling behavior of the distance decay of plasmon coupling in metal nanoparticle pairs: A plasmon ruler equation. Nano Lett. 7, 2080–2088 (2007).

Gueroui, Z. & Libchaber, A. Single-molecule measurements of gold-quenched quantum dots. Phys. Rev. Lett. 93, 166108 (2004).
Acknowledgements
Research was supported by the US DOE Office of Science and Office of Basic Energy Sciences under contract No. DE-AC-02-98CH10866. M.M.M. acknowledges a Goldhaber Distinguished Fellowship at BNL sponsored by Brookhaven Science Associates.
Supplementary information
About this article
Cite this article
Maye, M., Nykypanchuk, D., Cuisinier, M. et al. Stepwise surface encoding for high-throughput assembly of nanoclusters. Nature Mater 8, 388–391 (2009). https://doi.org/10.1038/nmat2421
Received:

Accepted:

Published:

Issue Date:

DOI: https://doi.org/10.1038/nmat2421