Abstract
Dendritic cells (DCs) are integral to the differentiation of T helper cells into T helper type 1 TH1, TH2 and TH17 subsets. Interleukin-6 (IL-6) plays an important part in regulating these three arms of the immune response by limiting the TH1 response and promoting the TH2 and TH17 responses. In this study, we investigated pathways in DCs that promote IL-6 production. We show that the allergen house dust mite (HDM) or the mucosal adjuvant cholera toxin promotes cell surface expression of c-Kit and its ligand, stem cell factor (SCF), on DCs. This dual upregulation of c-Kit and SCF results in sustained signaling downstream of c-Kit, promoting IL-6 secretion. Intranasal administration of antigen into c-Kit–mutant mice or neutralization of IL-6 in cultures established from the lung-draining lymph nodes of immunized wild-type mice blunted the TH2 and TH17 responses. DCs lacking functional c-Kit or those unable to express membrane-bound SCF secreted lower amounts of IL-6 in response to HDM or cholera toxin. DCs expressing nonfunctional c-Kit were unable to induce a robust TH2 or TH17 response and elicited diminished allergic airway inflammation when adoptively transferred into mice. Expression of the Notch ligand Jagged-2, which has been associated with TH2 differentiation, was blunted in DCs from c-Kit–mutant mice. c-Kit upregulation was specifically induced by TH2- and TH17-skewing stimuli, as the TH1-inducing adjuvant, CpG oligodeoxynucleotide, did not promote either c-Kit or Jagged-2 expression. DCs generated from mice expressing a catalytically inactive form of the p110δ subunit of phosphatidylinositol-3 (PI3) kinase (p110D910A) secreted lower amounts of IL-6 upon stimulation with cholera toxin. Collectively, these results highlight the importance of the c-Kit–PI3 kinase–IL-6 signaling axis in DCs in regulating T cell responses.
Relevant articles
Open Access articles citing this article.
Ze-Hui Liu

,

Zhuo-Fan Deng

…

Fang He

Journal of Nanobiotechnology Open Access 24 November 2022

Miaomiao Han

,

Jingyu Ma

…

Gonghua Huang

Cellular & Molecular Immunology Open Access 12 May 2022

Chia-Hsun Fang

,

Yi-Te Lin

…

Shu-Mei Liang

Journal of Biomedical Science Open Access 13 March 2020
Access options
Subscribe to this journal
Receive 12 print issues and online access
$189.00 per year
only $15.75 per issue
Rent or buy this article
Get just this article for as long as you need it
$39.95
Prices may be subject to local taxes which are calculated during checkout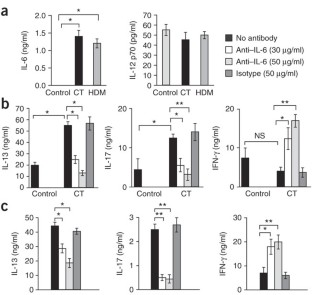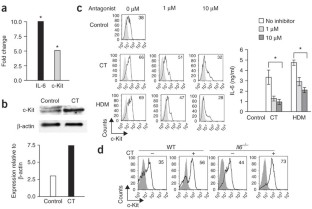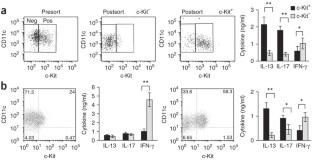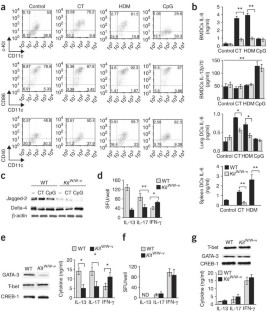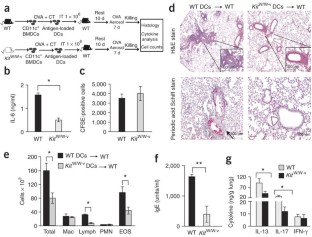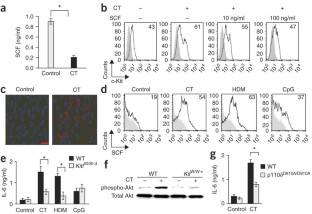 Accession codes
Accessions
Gene Expression Omnibus
References
Kapsenberg, M.L. Dendritic-cell control of pathogen-driven T-cell polarization. Nat. Rev. Immunol. 3, 984–993 (2003).

Park, H. et al. A distinct lineage of CD4 T cells regulates tissue inflammation by producing interleukin 17. Nat. Immunol. 6, 1133–1141 (2005).

Harrington, L.E. et al. Interleukin 17–producing CD4+ effector T cells develop via a lineage distinct from the T helper type 1 and 2 lineages. Nat. Immunol. 6, 1123–1132 (2005).

Zhang, D.H., Cohn, L., Ray, P., Bottomly, K. & Ray, A. Transcription factor GATA-3 is differentially expressed in murine TH1 and TH2 cells and controls TH2-specific expression of the interleukin-5 gene. J. Biol. Chem. 272, 21597–21603 (1997).

Zheng, W. & Flavell, R.A. The transcription factor GATA-3 is necessary and sufficient for TH2 cytokine gene expression in CD4 T cells. Cell 89, 587–596 (1997).

Das, J. et al. A critical role for NFκB in GATA3 expression and TH2 differentiation in allergic airway inflammation. Nat. Immunol. 2, 45–50 (2001).

Zhu, J. et al. Conditional deletion of Gata3 shows its essential function in TH1-TH2 responses. Nat. Immunol. 5, 1157–1165 (2004).

Ivanov, I.I. et al. The orphan nuclear receptor RORγt directs the differentiation program of proinflammatory IL-17+ T helper cells. Cell 126, 1121–1133 (2006).

Szabo, S.J. et al. A novel transcription factor, T-bet, directs TH1 lineage commitment. Cell 100, 655–669 (2000).

Rincon, M., Anguita, J., Nakamura, T., Fikrig, E. & Flavell, R.A. Interleukin (IL)-6 directs the differentiation of IL-4–producing CD4+ T cells. J. Exp. Med. 185, 461–469 (1997).

Dodge, I.L., Carr, M.W., Cernadas, M. & Brenner, M.B. IL-6 production by pulmonary dendritic cells impedes TH1 immune responses. J. Immunol. 170, 4457–4464 (2003).

Bettelli, E. et al. Reciprocal developmental pathways for the generation of pathogenic effector TH17 and regulatory T cells. Nature 441, 235–238 (2006).

Acosta-Rodriguez, E.V., Napolitani, G., Lanzavecchia, A. & Sallusto, F. Interleukins 1β and 6 but not transforming growth factor-β are essential for the differentiation of interleukin 17–producing human T helper cells. Nat. Immunol. 8, 942–949 (2007).

Kolls, J.K. & Linden, A. Interleukin-17 family members and inflammation. Immunity 21, 467–476 (2004).

Borg, C. et al. Novel mode of action of c-Kit tyrosine kinase inhibitors leading to NK cell–dependent antitumor effects. J. Clin. Invest. 114, 379–388 (2004).

Chabot, B., Stephenson, D.A., Chapman, V.M., Besmer, P. & Bernstein, A. The proto-oncogene c-Kit encoding a transmembrane tyrosine kinase receptor maps to the mouse W locus. Nature 335, 88–89 (1988).

Geissler, E.N., Ryan, M.A. & Housman, D.E. The dominant-white spotting (W) locus of the mouse encodes the c-Kit proto-oncogene. Cell 55, 185–192 (1988).

Qiu, F.H. et al. Primary structure of c-Kit: relationship with the CSF-1/PDGF receptor kinase family–oncogenic activation of v-Kit involves deletion of extracellular domain and C terminus. EMBO J. 7, 1003–1011 (1988).

Amsen, D. et al. Instruction of distinct CD4 T helper cell fates by different Notch ligands on antigen-presenting cells. Cell 117, 515–526 (2004).

Braun, M.C., He, J., Wu, C.Y. & Kelsall, B.L. Cholera toxin suppresses interleukin (IL)-12 production and IL-12 receptor β1 and β2 chain expression. J. Exp. Med. 189, 541–552 (1999).

Veldhoen, M., Hocking, R.J., Atkins, C.J., Locksley, R.M. & Stockinger, B. TGF-β in the context of an inflammatory cytokine milieu supports de novo differentiation of IL-17–producing T cells. Immunity 24, 179–189 (2006).

Illi, S. et al. Perennial allergen sensitisation early in life and chronic asthma in children: a birth cohort study. Lancet 368, 763–770 (2006).

Cates, E.C. et al. Intranasal exposure of mice to house dust mite elicits allergic airway inflammation via a GM-CSF–mediated mechanism. J. Immunol. 173, 6384–6392 (2004).

Arora, M. et al. Simvastatin promotes TH2-type responses through the induction of the chitinase family member Ym1 in dendritic cells. Proc. Natl. Acad. Sci. USA 103, 7777–7782 (2006).

Bagley, K.C., Abdelwahab, S.F., Tuskan, R.G., Fouts, T.R. & Lewis, G.K. Cholera toxin and heat-labile enterotoxin activate human monocyte-derived dendritic cells and dominantly inhibit cytokine production through a cyclic AMP–dependent pathway. Infect. Immun. 70, 5533–5539 (2002).

Crackower, M.A. et al. Regulation of myocardial contractility and cell size by distinct PI3K-PTEN signaling pathways. Cell 110, 737–749 (2002).

Schulz, O. et al. CD40 triggering of heterodimeric IL-12 p70 production by dendritic cells in vivo requires a microbial priming signal. Immunity 13, 453–462 (2000).

Oriss, T.B. et al. Dynamics of dendritic cell phenotype and interactions with CD4+ T cells in airway inflammation and tolerance. J. Immunol. 174, 854–863 (2005).

Happel, K.I. et al. Divergent roles of IL-23 and IL-12 in host defense against Klebsiella pneumoniae. J. Exp. Med. 202, 761–769 (2005).

Yee, N.S., Langen, H. & Besmer, P. Mechanism of Kit ligand, phorbol ester, and calcium-induced down-regulation of c-Kit receptors in mast cells. J. Biol. Chem. 268, 14189–14201 (1993).

Flanagan, J.G., Chan, D.C. & Leder, P. Transmembrane form of the Kit ligand growth factor is determined by alternative splicing and is missing in the Sld mutant. Cell 64, 1025–1035 (1991).

Brannan, C.I. et al. Steel-Dickie mutation encodes a c-Kit ligand lacking transmembrane and cytoplasmic domains. Proc. Natl. Acad. Sci. USA 88, 4671–4674 (1991).

Serve, H. et al. Differential roles of PI3-kinase and Kit tyrosine 821 in Kit receptor-mediated proliferation, survival and cell adhesion in mast cells. EMBO J. 14, 473–483 (1995).

Franke, T.F. et al. The protein kinase encoded by the Akt proto-oncogene is a target of the PDGF-activated phosphatidylinositol 3-kinase. Cell 81, 727–736 (1995).

Ali, K. et al. Essential role for the p110δ phosphoinositide 3-kinase in the allergic response. Nature 431, 1007–1011 (2004).

Okkenhaug, K. et al. Impaired B and T cell antigen receptor signaling in p110δ PI 3-kinase mutant mice. Science 297, 1031–1034 (2002).

Kalesnikoff, J. et al. RabGEF1 regulates stem cell factor/c-Kit-mediated signaling events and biological responses in mast cells. Proc. Natl. Acad. Sci. USA 103, 2659–2664 (2006).

Ostroukhova, M. et al. Treg-mediated immunosuppression involves activation of the Notch-HES1 axis by membrane-bound TGF-β. J. Clin. Invest. 116, 996–1004 (2006).

Houde, C. et al. Overexpression of the NOTCH ligand JAG2 in malignant plasma cells from multiple myeloma patients and cell lines. Blood 104, 3697–3704 (2004).

Amsen, D. et al. Direct regulation of Gata3 expression determines the T helper differentiation potential of Notch. Immunity 27, 89–99 (2007).

Fang, T.C. et al. Notch directly regulates Gata3 expression during T helper 2 cell differentiation. Immunity 27, 100–110 (2007).

Luty, W.H., Rodeberg, D., Parness, J. & Vyas, Y.M. Antiparallel segregation of notch components in the immunological synapse directs reciprocal signaling in allogeneic TH:DC conjugates. J. Immunol. 179, 819–829 (2007).

Chatterjea, D. et al. Adoptive transfer of mast cells does not enhance the impaired survival of KitW/KitW-v mice in a model of low dose intraperitoneal infection with bioluminescent Salmonella typhimurium. Immunol. Lett. 99, 122–129 (2005).

Lukacs, N.W. et al. Stem cell factor (c-Kit ligand) influences eosinophil recruitment and histamine levels in allergic airway inflammation. J. Immunol. 156, 3945–3951 (1996).

Fukao, T. et al. PI3K-mediated negative feedback regulation of IL-12 production in DCs. Nat. Immunol. 3, 875–881 (2002).

Miyazawa, K. et al. Membrane-bound Steel factor induces more persistent tyrosine kinase activation and longer life span of c-Kit gene–encoded protein than its soluble form. Blood 85, 641–649 (1995).

Chen, L. et al. Distinct responses of lung and spleen dendritic cells to the TLR9 agonist CpG oligodeoxynucleotide. J. Immunol. 177, 2373–2383 (2006).

Zhang, D.H. et al. Inhibition of allergic inflammation in a murine model of asthma by expression of a dominant-negative mutant of GATA-3. Immunity 11, 473–482 (1999).

Ostroukhova, M. et al. Tolerance induced by inhaled antigen involves CD4+ T cells expressing membrane-bound TGF-β and FOXP3. J. Clin. Invest. 114, 28–38 (2004).
Acknowledgements
We dedicate this study to the memory of Professor Ray Wu, who inspired us to tread the untrodden path. We would like to thank K. Murphy (Washington University, St. Louis) for DO11.10 transgenic mice, A. Henry and B. Dixon-McCarthy for technical assistance with the adoptive transfer experiment and assessment of airway inflammation, M. Zheng and J.K. Kolls for help with the Klebsiella infection model, S. Plevy for providing us with breeding pairs of p110δD910A/D910A mice, and S. Shapiro for critically reading the manuscript. This work was supported by US National Institutes of Health grants HL 060207 and HL 069810 (to P.R.), HL 077430 and AI 048927 (to A.R.) and HL 084932 (to P.R. and A.R.).
Supplementary information
About this article
Cite this article
Krishnamoorthy, N., Oriss, T., Paglia, M. et al. Activation of c-Kit in dendritic cells regulates T helper cell differentiation and allergic asthma. Nat Med 14, 565–573 (2008). https://doi.org/10.1038/nm1766
Received:

Accepted:

Published:

Issue Date:

DOI: https://doi.org/10.1038/nm1766