Abstract
The angiogenic sprout has been compared to the growing axon, and indeed, many proteins direct pathfinding by both structures1. The Roundabout (Robo) proteins are guidance receptors with well-established functions in the nervous system2,3; however, their role in the mammalian vasculature remains ill defined4,5,6,7,8. Here we show that an endothelial-specific Robo, Robo4, maintains vascular integrity. Activation of Robo4 by Slit2 inhibits vascular endothelial growth factor (VEGF)-165–induced migration, tube formation and permeability in vitro and VEGF-165–stimulated vascular leak in vivo by blocking Src family kinase activation. In mouse models of retinal and choroidal vascular disease, Slit2 inhibited angiogenesis and vascular leak, whereas deletion of Robo4 enhanced these pathologic processes. Our results define a previously unknown function for Robo receptors in stabilizing the vasculature and suggest that activating Robo4 may have broad therapeutic application in diseases characterized by excessive angiogenesis and/or vascular leak.
Relevant articles
Open Access articles citing this article.
Wenyuan Xiao

,

Alejandro Pinilla-Baquero

…

Lianchun Wang

Scientific Reports Open Access 14 March 2022

Timothy J. A. Chico

&

Elisabeth C. Kugler

Cellular and Molecular Life Sciences Open Access 10 March 2021

Debmalya Sengupta

,

Gairika Bhattacharya

…

Mainak Sengupta

Scientific Reports Open Access 14 December 2020
Access options
Subscribe to Journal
Get full journal access for 1 year
$79.00
only $6.58 per issue
All prices are NET prices.
VAT will be added later in the checkout.
Tax calculation will be finalised during checkout.
Buy article
Get time limited or full article access on ReadCube.
$32.00
All prices are NET prices.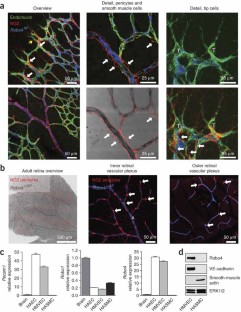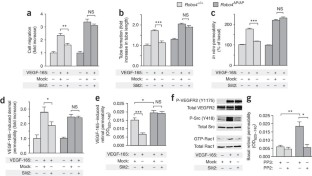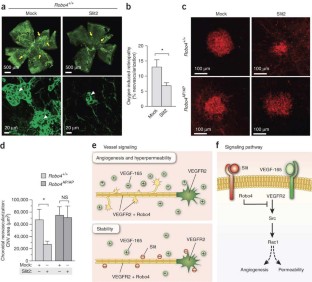 References
Carmeliet, P. & Tessier-Lavigne, M. Common mechanisms of nerve and blood vessel wiring. Nature 436, 193–200 (2005).

Kidd, T. et al. Roundabout controls axon crossing of the CNS midline and defines a novel subfamily of evolutionarily conserved guidance receptors. Cell 92, 205–215 (1998).

Long, H. et al. Conserved roles for Slit and Robo proteins in midline commissural axon guidance. Neuron 42, 213–223 (2004).

Park, K.W. et al. Robo4 is a vascular-specific receptor that inhibits endothelial migration. Dev. Biol. 261, 251–267 (2003).

Wang, B. et al. Induction of tumor angiogenesis by Slit-Robo signaling and inhibition of cancer growth by blocking Robo activity. Cancer Cell 4, 19–29 (2003).

Suchting, S., Heal, P., Tahtis, K., Stewart, L.M. & Bicknell, R. Soluble Robo4 receptor inhibits in vivo angiogenesis and endothelial cell migration. FASEB J. 19, 121–123 (2005).

Seth, P. et al. Magic roundabout, a tumor endothelial marker: expression and signaling. Biochem. Biophys. Res. Commun. 332, 533–541 (2005).

Kaur, S. et al. Robo4 signaling in endothelial cells implies attraction guidance mechanisms. J. Biol. Chem. 281, 11347–11356 (2006).

Battye, R., Stevens, A., Perry, R.L. & Jacobs, J.R. Repellent signaling by Slit requires the leucine-rich repeats. J. Neurosci. 21, 4290–4298 (2001).

Howitt, J.A., Clout, N.J. & Hohenester, E. Binding site for Robo receptors revealed by dissection of the leucine-rich repeat region of Slit. EMBO J. 23, 4406–4412 (2004).

Smith, L.E. et al. Oxygen-induced retinopathy in the mouse. Invest. Ophthalmol. Vis. Sci. 35, 101–111 (1994).

Gerhardt, H. et al. VEGF guides angiogenic sprouting utilizing endothelial tip cell filopodia. J. Cell Biol. 161, 1163–1177 (2003).

Uemura, A., Kusuhara, S., Katsuta, H. & Nishikawa, S. Angiogenesis in the mouse retina: a model system for experimental manipulation. Exp. Cell Res. 312, 676–683 (2006).

Ruhrberg, C. et al. Spatially restricted patterning cues provided by heparin-binding VEGF-A control blood vessel branching morphogenesis. Genes Dev. 16, 2684–2698 (2002).

Cross, M.J., Dixelius, J., Matsumoto, T. & Claesson-Welsh, L. VEGF-receptor signal transduction. Trends Biochem. Sci. 28, 488–494 (2003).

Eliceiri, B.P. et al. Src-mediated coupling of focal adhesion kinase to integrin alpha(v)beta5 in vascular endothelial growth factor signaling. J. Cell Biol. 157, 149–160 (2002).

Eliceiri, B.P. et al. Selective requirement for Src kinases during VEGF-induced angiogenesis and vascular permeability. Mol. Cell 4, 915–924 (1999).

Gavard, J. & Gutkind, J.S. VEGF controls endothelial-cell permeability by promoting the β-arrestin-dependent endocytosis of VE-cadherin. Nat. Cell Biol. 8, 1223–1234 (2006).

Garrett, T.A., Van Buul, J.D. & Burridge, K. VEGF-induced Rac1 activation in endothelial cells is regulated by the guanine nucleotide exchange factor Vav2. Exp. Cell Res. 313, 3285–3297 (2007).

Yuan, W. et al. The mouse SLIT family: secreted ligands for ROBO expressed in patterns that suggest a role in morphogenesis and axon guidance. Dev. Biol. 212, 290–306 (1999).

Morlot, C. et al. Structural insights into the Slit-Robo complex. Proc. Natl. Acad. Sci. USA 104, 14923–14928 (2007).

Patel, K. et al. Slit proteins are not dominant chemorepellents for olfactory tract and spinal motor axons. Development 128, 5031–5037 (2001).

Brown, D.M. et al. Ranibizumab versus verteporfin for neovascular age-related macular degeneration. N. Engl. J. Med. 355, 1432–1444 (2006).

Rosenfeld, P.J. et al. Ranibizumab for neovascular age-related macular degeneration. N. Engl. J. Med. 355, 1419–1431 (2006).

Ozaki, H. et al. Blockade of vascular endothelial cell growth factor receptor signaling is sufficient to completely prevent retinal neovascularization. Am. J. Pathol. 156, 697–707 (2000).

Werdich, X.Q., McCollum, G.W., Rajaratnam, V.S. & Penn, J.S. Variable oxygen and retinal VEGF levels: correlation with incidence and severity of pathology in a rat model of oxygen-induced retinopathy. Exp. Eye Res. 79, 623–630 (2004).

Plump, A.S. et al. Slit1 and Slit2 cooperate to prevent premature midline crossing of retinal axons in the mouse visual system. Neuron 33, 219–232 (2002).

Lima e Silva, R. et al. Suppression and regression of choroidal neovascularization by polyamine analogues. Invest. Ophthalmol. Vis. Sci. 46, 3323–3330 (2005).

Xu, Q., Qaum, T. & Adamis, A.P. Sensitive blood-retinal barrier breakdown quantitation using Evans blue. Invest. Ophthalmol. Vis. Sci. 42, 789–794 (2001).
Acknowledgements
We thank K. Thomas and J. Wythe for critical reading of the manuscript, L. Sorensen-Brunhart and W. Zhu for technical assistance and D. Lim for expert graphical assistance. This work was funded by grants from the US National Cancer Institute Multidisciplinary Cancer Research Training Program (N.R.L.); Cancer Research–UK (H.G.); the National Eye Institute (K.Z.); National Heart, Lung and Blood Institute (M.H.G. and D.Y.L.); and National Institute of Arthritis and Musculoskeletal and Skin Diseases (M.H.G.), the H.A. and Edna Benning Foundation, the Juvenile Diabetes Research Foundation, the American Heart Association, the Burroughs Wellcome Fund and the Flight Attendants Medical Research Institute (D.Y.L.).
Ethics declarations
Competing interests
C.A.J., N.R.L., H.C., K.W.P., J.D.W., W.S., F.L.-L., A.F., K.Z. and D.Y.L. are or were previously employed by the University of Utah, which has filed intellectual property surrounding the therapeutic uses of targeting Robo4 and with the intent to license this body of intellectual property for commercialization.
Supplementary information
About this article
Cite this article
Jones, C., London, N., Chen, H. et al. Robo4 stabilizes the vascular network by inhibiting pathologic angiogenesis and endothelial hyperpermeability. Nat Med 14, 448–453 (2008). https://doi.org/10.1038/nm1742
Received:

Accepted:

Published:

Issue Date:

DOI: https://doi.org/10.1038/nm1742