Companies are unprepared for the work needed to meet requirements.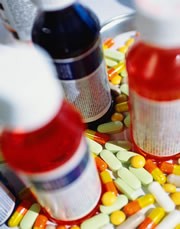 The European Union is set to require extensive testing of nearly every chemical used in manufacturing. The rules could bring many medicines on the market up for reapproval — but few companies are prepared to deal with the fallout.
Known as REACH, or the framework for the Registration, Evaluation and Authorization of Chemicals, the rules, approved by the European Parliament on 13 December, require companies to provide safety and handling information on every chemical they make. That information is not available for about 90% of chemicals.
Although the regulations, which go into effect June 2007, have been eight years in the making, "companies are only waking up," says Steffen Erler, a consultant for REACHReady, a UK-based industry group that gives advice on meeting the requirements.
Companies are only waking up. Steffen Erler, a consultant for REACHReady
The active ingredients in drugs are largely exempt from the rules, but other materials used in drug manufacturing — such as solvents, reagents, cleaners and drug precursors — will need to be registered by 2018.
The reporting requirements and high registration costs may force manufacturers to withdraw their chemicals from the market, says Dirk Frenzel, a spokesman for the Germany-based drugmaker Bayer.
Pharmaceutical companies will then have to find new suppliers, or substitute chemicals for those taken off the market. Any new formulations will need to be resubmitted for approval, which could take months.
"There will be bumps," says Guy Villax, chief executive officer of Hovione, a Portugal-based manufacturer of drug ingredients.
There are no estimates of the rules' potential impact, but pharmaceutical giant AstraZeneca says at least two of its drugs may need reapproval. Other companies say they're preparing for the rules, but decline to specify whether individual drugs could be threatened.
"We're identifying all key raw materials and contacting the suppliers. We need to find out whether all the chemicals we use will still be on the market," says Michael Laub, a communications officer at Denmark-based NovoNordisk.
Though drugs exported to Europe won't need to be registered, approximately 80% of ingredients in US-made drugs are imported — many from Europe. Drug makers in the US appear less prepared than their European counterparts.
"We haven't really thought about this," says Mark Grayson, a spokesman for the Pharmaceutical Manufacturers of America, the industry's trade organization.
Attempts by the US government and the chemical industry to fight the rules have slowed down the preparations even further, says Darryl Ditz, a senior policy advisor at the Center for International Environmental Law, a Washington DC-based think tank. "The government and US trade associations are behind the curve."
Related links
Related links
Related links in Nature Research
Related external links
About this article
Cite this article
Keim, B. Europe's sweeping chemical law puts medicines in peril. Nat Med 13, 4 (2007). https://doi.org/10.1038/nm1537
Published:

Issue Date:

DOI: https://doi.org/10.1038/nm1537