Abstract
In rodents, after spinal lesion, neutralizing the neurite growth inhibitor Nogo-A promotes axonal sprouting and functional recovery. To evaluate this treatment in primates, 12 monkeys were subjected to cervical lesion. Recovery of manual dexterity and sprouting of corticospinal axons were enhanced in monkeys treated with Nogo-A–specific antibody as compared to monkeys treated with control antibody. NOTE: In the version of this article initially published, the cut corticospinal tract (CST) stumps rostral to the lesion site in Figure 2d and Supplementary Fig. 3a online were meant to be represented schematically, a fact not explained in the figure legend. These representations should therefore have been replaced by full camera lucida reconstructions of these rostral cut CST stumps for the corresponding animals, requiring the consideration of additional sections of the spinal cord located more laterally than those drawn here for the reconstruction of the CST axonal arbors caudal to the lesion (sections for which the contours are represented here). The figure has been corrected in the HTML and the PDF versions of the article.
Access options
Subscribe to Journal
Get full journal access for 1 year
$59.00
only $4.92 per issue
All prices are NET prices.
VAT will be added later in the checkout.
Tax calculation will be finalised during checkout.
Rent or Buy article
Get time limited or full article access on ReadCube.
from$8.99
All prices are NET prices.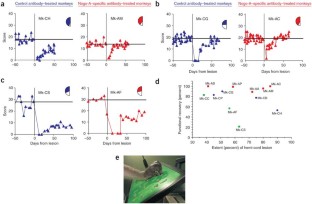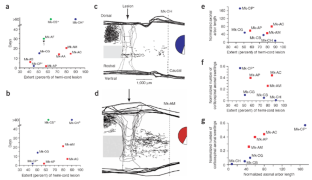 References
1

Filbin, M.T. Nat. Rev. Neurosci. 4, 703–713 (2003).

2

Schwab, M.E. Curr. Opin. Neurobiol. 14, 118–124 (2004).

3

Bregman, B.S. et al. Nature 378, 498–501 (1995).

4

Liebscher, T. et al. Ann. Neurol. 58, 706–719 (2005).

5

Nudo, R.J. & Frost, S.B. in Evolution of Nervous Systems Vol 4 (eds. Krubitzer, L. & Kaas, J.) (Elsevier Science, San Diego, 2006).

6

Lawrence, D.G. & Hopkins, D.A. Brain 99, 235–254 (1976).

7

Porter, R. Electroencephalogr. Clin. Neurophysiol. 76, 282–293 (1990).

8

Lemon, R.N. Exp. Physiol. 78, 263–301 (1993).

9

Fouad, K., Klusman, I. & Schwab, M.E. Eur. J. Neurosci. 20, 2479–2482 (2004).

10

Jenny, A.B. & Inukai, J. J. Neurosci. 3, 567–575 (1983).

11

Galea, M.P. & Darian-Smith, I. J. Comp. Neurol. 381, 282–306 (1997).

12

Galea, M.P. & Darian-Smith, I. J. Comp. Neurol. 381, 307–319 (1997).

13

Sasaki, S. et al. J. Neurophysiol. 92, 3142–3147 (2004).

14

Schmidlin, E., Wannier, T., Bloch, J. & Rouiller, E.M. Brain Res. 1017, 172–183 (2004).

15

Schmidlin, E. et al. BMC Neurosci. 6, 56 (2005).
Acknowledgements
The authors wish to thank the following for their technical assistance: G. Fischer, V. Moret, C. Roulin and F. Tinguely (histology and behavioral evaluations), J. Corpataux, B. Bapst and B. Morandi (animal house keeping), A. Gaillard (mechanics), B. Aebischer (electronics), L. Monney (informatics). This study was supported by the Swiss National Science Foundation grants 31-61857.00 (to E.M.R.), 31-63633.00 (to M.E.S.) and 4038043918/2 (PNR-38); the Novartis Foundation, the National Centre of Competence in Research on "Neural plasticity and repair," and the Christopher Reeves Foundation (Springfield, NJ). Antibodies were provided by Novartis Pharma.
Ethics declarations
Competing interests
Nogo-A–specific antibody treatment enhances sprouting and functional recovery after cervical lesion in adult primates. P Freund, E Schmidlin, T Wannier, J Bloch, A Mir, M E Schwab & E M Rouiller. Novartis Pharma AG provided the antibodies used in this study.
Supplementary information
About this article
Cite this article
Freund, P., Schmidlin, E., Wannier, T. et al. Nogo-A–specific antibody treatment enhances sprouting and functional recovery after cervical lesion in adult primates. Nat Med 12, 790–792 (2006). https://doi.org/10.1038/nm1436
Received:

Accepted:

Published:

Issue Date: