Abstract
Type 1 diabetes mellitus is characterized by the selective destruction of insulin-producing beta cells, which leads to a deficiency in insulin secretion and, as a result, to hyperglycemia. At present, transplantation of pancreatic islets is an emerging and promising clinical modality, which can render individuals with type 1 diabetes insulin independent without increasing the incidence of hypoglycemic events. To monitor transplantation efficiency and graft survival, reliable noninvasive imaging methods are needed. If such methods were introduced into the clinic, essential information could be obtained repeatedly and noninvasively. Here we report on the in vivo detection of transplanted human pancreatic islets using magnetic resonance imaging (MRI) that allowed noninvasive monitoring of islet grafts in diabetic mice in real time. We anticipate that the information obtained in this study would ultimately result in the ability to detect and monitor islet engraftment in humans, which would greatly aid the clinical management of this disease.
Your institute does not have access to this article
Relevant articles
Open Access articles citing this article.
Mehdi Razavi

,

Tanchen Ren

…

Avnesh S. Thakor

Stem Cell Research & Therapy Open Access 18 September 2020

Rita Sofia Garcia Ribeiro

,

Conny Gysemans

…

Uwe Himmelreich

Scientific Reports Open Access 31 July 2018

Wael A. Eter

,

Inge Van der Kroon

…

Martin Gotthardt

Scientific Reports Open Access 03 August 2017
Access options
Subscribe to Journal
Get full journal access for 1 year
$59.00
only $4.92 per issue
All prices are NET prices.
VAT will be added later in the checkout.
Tax calculation will be finalised during checkout.
Buy article
Get time limited or full article access on ReadCube.
$32.00
All prices are NET prices.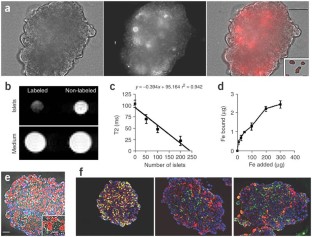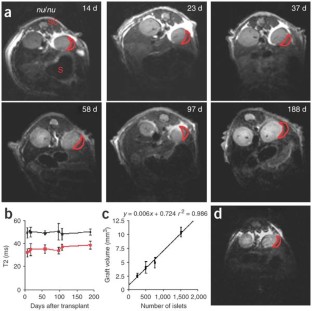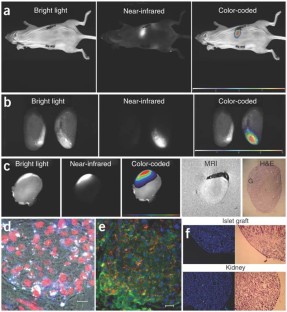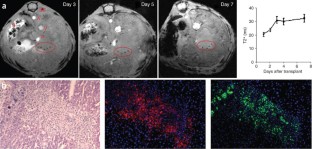 References
Shapiro, A. et al. Islet transplantation in seven patients with type 1 diabetes mellitus using a glucocorticoid-free immunosuppressive regimen. N. Engl. J. Med. 343, 230–238 (2000).

Shapiro, A., Ricordi, C. & Hering, B. Edmonton's islet success has indeed been replicated elsewhere. Lancet 362, 1242 (2003).

Moore, A., Bonner-Weir, S. & Weissleder, R. Non-invasive in vivo measurement of beta-cell mass in mouse model of diabetes. Diabetes 50, 2231–2236 (2001).

Ladriere, L., Leclercq-Meyer, V. & Malaisse, W. Assessment of islet beta-cell mass in isolated rat pancreases perfused with D-[(3)H]mannoheptulose. Am. J. Physiol. Endocrinol. Metab. 281, E298–E303 (2001).

Malaisse, W. & Ladriere, L. Assessment of B-cell mass in isolated islets exposed to D-[3H]mannoheptulose. Int. J. Mol. Med. 7, 405–406 (2001).

Schmitz, A. et al. Synthesis and evaluation of fluorine-18 labeled glyburide analogs as beta-cell imaging agents. Nucl. Med. Biol. 31, 483–491 (2004).

Moore, A. et al. MR imaging of insulitis in autoimmune diabetes. Magn. Reson. Med. 47, 751–758 (2002).

Moore, A., Grimm, J., Han, B. & Santamaria, P. Tracking the recruitment of diabetogenic CD8+ T cells to the pancreas in real time. Diabetes 53, 1459–1466 (2004).

Lu, Y. et al. Bioluminescent monitoring of islet graft survival after transplantation. Mol. Ther. 9, 428–435 (2004).

Fowler, M. et al. Assessment of pancreatis islet mass after islet transplantation using in vivo bioluminescence imaging. Transplantation 79, 768–776 (2005).

Massoud, T. & Gambhir, S. Molecular imaging in living subjects: seeing fundamental biological processes in a new light. Genes Dev. 17, 545–580 (2003).

Moore, A., Medarova, Z., Potthast, A. & Dai, G. In vivo targeting of underglycosylated MUC-1 tumor antigen using a multi-modal imaging probe. Cancer Res. 64, 1821–1827 (2004).

Moore, A., Weissleder, R. & Bogdanov, A., Jr. Uptake of dextran-coated monocrystalline iron oxides in tumor cells and macrophages. J. Magn. Reson. Imaging 7, 1140–1145 (1997).

Bulte, J.W. et al. Magnetodendrimers allow endosomal magnetic labeling and in vivo tracking of stem cells. Nat. Biotechnol. 19, 1141–1147 (2001).

Bulte, J., Duncan, I. & Frank, J. In vivo magnetic resonance tracking of magnetically labeled cells after transplantation. J. Cereb. Blood Flow Metab. 22, 899–907 (2002).

Arbab, A. et al. Efficient magnetic cell labeling with protamine sulfate complexed to ferumoxides for cellular MRI. Blood 104, 1217–1223 (2004).

Jirak, D. et al. MRI of transplanted pancreatic islets. Magn. Reson. Med. 52, 1228–1233 (2004).

Josephson, L., Tung, C., Moore, A. & Weissleder, R. High-efficiency intracellular magnetic labeling with novel superparamagnetic-Tat peptide conjugates. Bioconjug. Chem. 10, 186–191 (1999).

Bulte, J. et al. Neurotransplantation of magnetically labeled oligodendrocyte progenitors: magnetic resonance tracking of cell migration and myelination. Proc. Natl. Acad. Sci. USA 96, 15256–15261 (1999).

Lewin, M. et al. Tat peptide-derivatized magnetic nanoparticles allow in vivo tracking and recovery of progenitor cells. Nat. Biotechnol. 18, 410–414 (2000).

Arbab, A. et al. Characterization of biophysical and metabolic properties of cells labeled with superparamagnetic iron oxide nanoparticles and transfection agent for cellular MR imaging. Radiology 229, 838–846 (2003).

Zhan, Y. et al. Activated macrophages require T cells for xenograft rejection under the kidney capsule. Immunol. Cell Biol. 81, 451–458 (2003).

Davalli, A. et al. Vulnerability of islets in the immediate posttransplantation period. Dynamic changes in structure and function. Diabetes 45, 1161–1167 (1996).
Acknowledgements
Human pancreatic islets were obtained through The Islet Cell Resource Center, Division of Clinical Research, US National Institutes of Health (NIH). This study was supported in part by NIH grant DK071225 to A.M. The authors would like to acknowledge J. Lock and V. Tchipashvili (Joslin Diabetes Center), J. Moore and Pamela Pantazopoulos (Martinos Center for Biomedical Imaging, MGH) for technical support in animal surgery, and J. Pratt for assistance with imaging islet phantoms. Confocal microscopy was performed at the Confocal Microscopy Core at Massachusetts General Hospital with technical assistance from I.A. Bagayev. Electron microscopy was performed at the W.M. Keck Microscope Facility at the Whitehead Institute (Massachusetts Institute of Technology) with technical assistance from N. Watson.
Ethics declarations
Competing interests
The authors declare no competing financial interests.
Supplementary information
About this article
Cite this article
Evgenov, N., Medarova, Z., Dai, G. et al. In vivo imaging of islet transplantation. Nat Med 12, 144–148 (2006). https://doi.org/10.1038/nm1316
Received:

Accepted:

Published:

Issue Date:

DOI: https://doi.org/10.1038/nm1316