Multiple models have been proposed for the mechanism by which mutant superoxide dismutase 1 induces motor neuron death and amyotrophic lateral sclerosis. A combination of cell biology and genetics may soon lead to an answer.
Access options
Access options
Subscribe to Journal
Get full journal access for 1 year
$225.00
only $18.75 per issue
All prices are NET prices.
VAT will be added later in the checkout.
Rent or Buy article
Get time limited or full article access on ReadCube.
from$8.99
All prices are NET prices.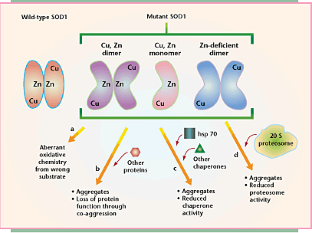 References
1

Rosen, D.R. et al. Mutations in Cu/Zn superoxide dismutase gene are associated with familial amyotrophic lateral sclerosis. Nature 362, 59–62 (1993).

2

Cleveland, D.W. From Charcot to SOD1: mechanisms of selective motor neuron death in ALS. Neuron 24, 515–520 (1999).

3

Bruijn, L.I. et al. Aggregation and motor neuron toxicity of an ALS-linked SOD1 mutant independent from wild-type SOD1. Science 281, 1851–1854 (1998).

4

Estevez, A.G. et al. Induction of nitric oxide-dependent apoptosis in motor neurons by zinc- deficient superoxide dismutase. Science 286, 2498–2500 (1999).

5

Williamson, T.L. et al. Toxicity of ALS-linked SOD1 mutants. Science 288, 399a–400a (2000).

6

Culotta, V.C. et al. The copper chaperone for superoxide dismutase. J. Biol. Chem. 272, 23469–23472 (1997).

7

Wong, P.C. et al. Copper chaperone for superoxide dismutase is essential to activate mammalian Cu/Zn superoxide dismutase. Proc. Natl. Acad. Sci. USA 97, 2886–2891 (2000).

8

Subramaniam, J.R. et al. Motor neuron disease is not ameliorated in mutant SOD1 transgenic mice deficient in copper chaperone for SOD1. (Abstr. 182.14), 30th annual meeting of the Society for Neuroscience, Nov. 4-9, New Orleans, LA. (2000)

9

Bruening, W. et al. Up-regulation of protein chaperones preserves viability of cells expressing toxic Cu/Zn-superoxide dismutase mutants associated with amyotrophic lateral sclerosis. J. Neurochem. 72, 693–699 (1999).

10

Johnston, J.A., Dalton, M.J., Gurney, M.E. & Kopito, R.R. Formation of high molecular weight complexes of mutant Cu,Zn-superoxide dismutase in a mouse model for familial amyotrophic lateral sclerosis. Proc. Natl. Acad. Sci. USA 97, 12571–12576 (2000).

11

Durham, H.D., Roy, J., Dong, L. & Figlewicz, D.A. Aggregation of mutant Cu/Zn superoxide dismutase proteins in a culture model of ALS. J. Neuropathol. Exp. Neurol. 56, 523–530 (1997).