Abstract
A common pathological characteristic of Plasmodium falciparum infection is the cytoadhesion of mature-stage-infected erythrocytes (IE) to host endothelium and syncytiotrophoblasts. Massive accumulation of IE in the brain microvasculature or placenta is strongly correlated with severe forms of malaria1. Extensive binding of IE to placental chondroitin sulfate A (CSA) is associated with physiopathology during pregnancy2,3. The adhesive phenotype of IE correlates with the appearance of Plasmodium falciparum erythrocyte membrane protein 1 (PfEMP1) at the erythrocyte surface (approximately 16 h after merozoite invasion), so that only early blood-stage (ring-stage) IE appear in the peripheral blood. Here, we describe results that challenge the existing view of blood-stage IE biology by demonstrating the specific adhesion of IE, during the early ring-stage, to endothelial cell lines from the brain and lung and to placental syncytiotrophoblasts. Later, during blood-stage development of these IE, trophozoites switch to an exclusively CSA cytoadhesion phenotype. Therefore, adhesion to an individual endothelial cell or syncytiotrophoblast may occur throughout the blood-stage cycle, indicating the presence in malaria patients of noncirculating (cryptic) parasite subpopulations. We detected two previously unknown parasite proteins on the surface of ring-stage IE. These proteins disappear shortly after the start of PfEMP1-mediated adhesion.
Relevant articles
Open Access articles citing this article.
Fauzia K. Musasia

,

Irene N. Nkumama

…

Faith H. A. Osier

Nature Communications Open Access 14 July 2022

Tommaso Ascoli Bartoli

,

Luciana Lepore

…

Emanuele Nicastri

Malaria Journal Open Access 29 April 2021

Rou Zhang

,

Rajesh Chandramohanadas

…

Ming Dao

Scientific Reports Open Access 09 October 2018
Access options
Subscribe to Journal
Get full journal access for 1 year
$79.00
only $6.58 per issue
All prices are NET prices.
VAT will be added later in the checkout.
Tax calculation will be finalised during checkout.
Buy article
Get time limited or full article access on ReadCube.
$32.00
All prices are NET prices.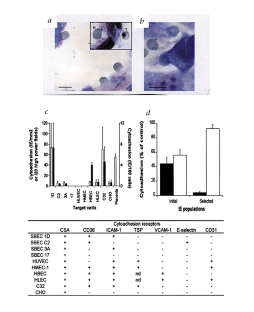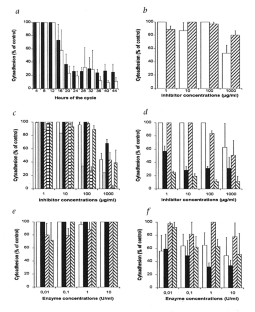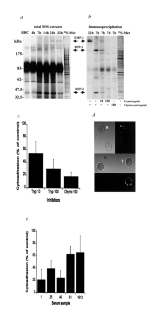 References
Miller, L.H., Good, M.F. & Milon, G. Malaria pathogenesis. Science 264, 1878–1883 (1994).

Fried, M. & Duffy, P.E. Adherence of Plasmodium falciparum to chondroitin sulfate A in the human placenta. Science 272, 1502–1504 ( 1996).

Gysin, J., Pouvelle, B., Fievet, N., Scherf, A. & Lépolard, C. Ex vivo desequestration of Plasmodium falciparum-infected erythrocytes from human placenta by chondroitin sulfate A. Infect. Immun. 67, 6596–6602 (1999).

Watkinson, M. & Rushton, D.I. Plasmodial pigmentation of placenta and outcome of pregnancy in West African mothers. Br. Med. J. 287, 251–254 (1983).

Matteelli, A. et al. Malaria and anaemia in pregnant women in urban Zanzibar, Tanzania . Ann. Trop. Med. Parasitol. 88, 475– 483 (1994).

Beeson, J.G. et al. Plasmodium falciparum isolates from infected pregnant women and children are associated with distinct adhesive and antigenic properties . J. Infect. Dis. 180, 464– 472 (1999).

Fusaï, T. et al. Characterisation of the chondroitin sulphate of Saimiri brain microvascular endothelial cells involved in P. falciparum cytoadhesion. Mol. Biochem. Parasitol., 108, 25–37 (2000).

Buffet, P.A. et al. Plasmodium falciparum domain mediating adhesion to chondroitin sulfate A: A receptor for human placental infection. Proc. Natl. Acad. Sci. USA. 96, 12743– 12748 (1999).

Silamut, K. et al. A quantitative analysis of the microvascular sequestration of malaria parasites in the human brain. Am. J. Pathol. 155, 395–410 (1999).

Boffa, M.C., Jackman, R.W., Peyri, N. & George, B. Thrombomodulin in the central nervous system. Nouv. Rev. Fr. Hematol. 33, 423–429 ( 1991).

Wong, V.L., Hofman, F.M., Ishii, H. & Fisher, M. Regional distribution of thrombomodulin in human brain. Brain Res. 556, 1–5 (1991).

Gysin, J., Pouvelle, B., Le Tonqueze, M., Edelman, L. & Boffa, M.C. Chondroitin sulfate of thrombomodulin is an adhesion receptor for Plasmodium falciparum-infected erythrocytes. Mol. Biochem. Parasitol. 88, 267–271 (1997).

Fernandez, V., Hommel, M., Chen, Q., Hagblom, P. & Wahlgren, M. Small, clonally variant antigens expressed on the surface of the Plasmodium falciparum-infected erythrocyte are encoded by the rif gene family and are the target of human immune responses. J. Exp. Med. 190, 1393–1404 (1999).

Gysin, J. & Fandeur, T. Saimiri sciureus (Karyotype 14-7) an alternative experimental model of Plasmodium falciparum infection. Am. J. Trop. Med. Hyg. 32, 461–467 (1983).

Robert, C. et al. Chondroitin-4-sulphate (proteoglycan), a receptor for Plasmodium falciparum-infected erythrocyte adherence on brain microvascular endothelial cells. Res. Immunol. 146, 383 –393 (1995).

Pouvelle, B., Fusaï, T., Lépolard, C. & Gysin, J. Biological and biochemical characteristics of cytoadhesion of Plasmodium falciparum-infected erythrocytes to chondroitin-4-sulfate. Infect. Immun. 66, 4950–4956 (1998).

Gay, F. et al. Isolation and characterization of brain microvascular endothelial cells from Saimiri monkeys. An in vitro model for sequestration of Plasmodium falciparum-infected erythrocytes. J. Immunol. Methods 184, 15–28 ( 1995).

Lou, J. et al. Modulation of soluble and membrane-bound TNF-induced phenotypic and functional changes of human brain microvascular endothelial cells by recombinant TNF binding protein I. J. Neuroimmunol. 77, 107–115 (1997).

Muanza, K., Gay, F., Behr, C. & Scherf, A. Primary culture of human lung microvessel endothelial cells: a useful in vitro model for studying Plasmodium falciparum-infected erythrocyte cytoadherence . Res. Immunol. 147, 149– 163 (1996).

Ades, E.W. et al. HMEC-1: establishment of an immortalized human microvascular endothelial cell line. J. Invest. Dermatol. 99, 683–690 (1992).

Carter, K.C. et al. A three-dimensional view of precursor messenger RNA metabolism within the mammalian nucleus. Science 259, 1330–1335 (1993).

Scherf, A. et al. Antigenic variation in malaria: in situ switching, relaxed and mutually exclusive transcription of var genes during intra-erythrocytic development in Plasmodium falciparum. EMBO J. 17, 5418–5426 (1998).
Acknowledgements
Acknowledgments We thank C. Roth for critically reading the manuscript, C. Scheidig for technical assistance, G.E. Grau, J. Sampol, and K. Muanza for human endothelial cells, and L. Edelman for the anti-CD36 FA6-152 antibody. This work was supported by grants from the Commission of the European Union for research and technical development (Contract Number CT98-0362 and QLRT-PL1999-30109), groupement de recherche and a French Army grant (Contract Number DSP/STTC-97/070). P. Buffet was supported by Fondation Mérieux and Fond d'Etudes de l'Assistance Publique/Hopitaux de Paris.
About this article
Cite this article
Pouvelle, B., Buffet, P., Lépolard, C. et al. Cytoadhesion of Plasmodium falciparum ring-stage-infected erythrocytes . Nat Med 6, 1264–1268 (2000). https://doi.org/10.1038/81374
Received:

Accepted:

Issue Date:

DOI: https://doi.org/10.1038/81374