Abstract
Thyroxine (T4) is the predominant form of thyroid hormone (TH). Hyperthyroidism, a condition associated with excess TH, is characterized by increases in metabolic rate, core body temperature and cardiac performance. In target tissues, T4 is enzymatically deiodinated to 3,5,3′-triiodothyronine (T3), a high-affinity ligand for the nuclear TH receptors TRα and TRβ, whose activation controls normal vertebrate development and physiology1. T3-modulated transcription of target genes via activation of TRα and TRβ is a slow process, the effects of which manifest over hours and days. Although rapidly occurring effects of TH have been documented, the molecules that mediate these non-genomic effects remain obscure2,3. Here we report the discovery of 3-iodothyronamine (T1AM), a naturally occurring derivative of TH that in vitro is a potent agonist of the G protein–coupled trace amine receptor TAR1. Administering T1AM in vivo induces profound hypothermia and bradycardia within minutes. T1AM treatment also rapidly reduces cardiac output in an ex vivo working heart preparation. These results suggest the existence of a new signaling pathway, stimulation of which leads to rapid physiological and behavioral consequences that are opposite those associated with excess TH.
This is a preview of subscription content
Access options
Subscribe to Journal
Get full journal access for 1 year
$59.00
only $4.92 per issue
All prices are NET prices.
VAT will be added later in the checkout.
Tax calculation will be finalised during checkout.
Buy article
Get time limited or full article access on ReadCube.
$32.00
All prices are NET prices.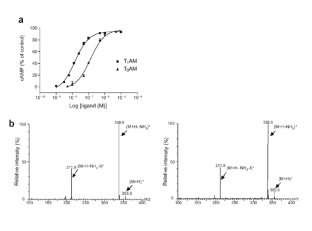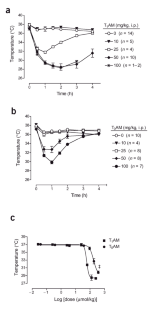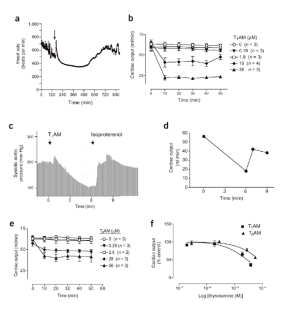 References
Yen, P.M. Physiological and molecular basis of thyroid hormone action. Physiol. Rev. 81, 1097–1142 (2001).

Davis, P.J. & Davis, F.B. Nongenomic actions of thyroid hormone. Thyroid 6, 497–504 (1996).

Falkenstein, E., Tillmann, H.-C., Christ, M., Feuring, M. & Wehling, M. Multiple actions of steroid hormones—a focus on rapid, nongenomic effects. Pharmacol. Rev. 52, 513–555 (2000).

Zhu, M.-Y. & Juorio, A.V. Aromatic L-amino acid decarboxylase: biological characterization and functional role. Gen. Pharmacol. 26, 681–696 (1995).

Borowsky, B. et al. Trace amines: identification of a family of mammalian G protein–coupled receptors. Proc. Natl. Acad. Sci. USA 98, 8966–8971 (2001).

Branchek, T.A. & Blackburn, T.P. Trace amine receptors as targets for novel therapeutics: legend, myth and fact. Curr. Opin. Pharmacol. 3, 90–97 (2003).

Bunzow, J.R. et al. Amphetamine, 3,4-methylenedioxymethamphetamine, lysergic acid diethylamide, and metabolites of catecholamine neurotransmitters are agonists of a rat trace amine receptor. Mol. Pharmacol. 60, 1181–1188 (2001).

Stohr, R. Synthese des thyronamins. Hoppe-Seyler Z. Physiol. Chem. 201, 142–148 (1931).

Tomita, K. & Lardy, H.A. Synthesis and biological activity of some triiodinated analogues of thyroxine. J. Biol. Chem. 219, 595–604 (1956).

Albert, P.R., Neve, K.A., Bunzow, J.R. & Civelli, O. Coupling of a cloned rat dopamine-D2 receptor to inhibition of adenylyl cyclase and prolactin secretion. J. Biol. Chem. 265, 2098–2104 (1990).

Grandy, D.K. et al. Multiple human D5 dopamine receptor genes: a functional receptor and two pseudogenes. Proc. Natl. Acad. Sci. USA 88, 9175–9179 (1991).

Sunahara, R.K. et al. Human dopamine D1 receptor encoded by an intronless gene on chromosome 5. Nature 347, 80–83 (1990).

Tiberi, M. & Caron, M.G. High agonist-independent activity is a distinguishing feature of the dopamine D1B receptor subtype. J. Biol. Chem. 269, 27925–27931 (1994).

Zhou, Q.-Y. et al. Cloning and expression of human and rat D1 dopamine receptors. Nature 347, 76–80 (1990).

Chiellini, G. et al. A high-affinity subtype-selective agonist ligand for the thyroid hormone receptor. Chem. Biol. 5, 299–306 (1998).

Pinna, G. et al. Concentrations of seven iodothyronine metabolites in brain regions and the liver of the adult rat. Endocrinology 143, 1789–1800 (2002).

Clark, W.G. & Clark, Y.L. Changes in body temperature after administration of adrenergic and serotonergic agents and related drugs including antidepressants. Neurosci. Biobehav. Rev. 4, 281–375 (1980).

Clark, W.G. & Clark, Y.L. Changes in body temperature after administration of acetylcholine, histamine, morphine, prostaglandins and related agents. Neurosci. Biobehav. Rev. 4, 175–240 (1980).

Clark, W.G. & Lipton, J.M. Changes in body temperature after administration of amino acids, peptides, dopamine, neuroleptics and related agents. II. Neurosci. Biobehav. Rev. 9, 299–371 (1985).

Neely, J.R., Liebermeister, H., Battersby, E.J. & Morgan, H.E. Effect of pressure development on oxygen consumption by isolated rat heart. Am. J. Physiol. 212, 804–814 (1967).

Zucchi, R. et al. Effect of ischemia and reperfusion on cardiac ryanodine receptors–sarcoplasmic reticulum Ca2+ channels. Circ. Res. 74, 271–280 (1994).

Dratman, M.B. On the mechanism of action of thyroxin, an amino acid analog of tyrosine. J. Theor. Biol. 46, 255–270 (1974).

Butz, G.M. & Davisson, R.L. Long-term telemetric measurement of cardiovascular parameters in awake mice: a physiological genomics tool. Physiol. Genomics 5, 89–97 (2001).
Acknowledgements
We thank S. Arttamangkul, A. Carlsson, L. Davis, D. Dawson, K. Garlid, G. Giraud, B. Habecker, S. Hillman, R. Hohimer, M.J. Kelly, L. Lester, G. Murdoch, P. Paucek, J.B. Roulet, L. Simon, M. Sonders, K. Thornburg and W. Woodward for discussions, encouragement and insight; A. Younkin, S. Forrester, L. Jurvic, Z. Rahman, Q. Yue and H. Xue for technical assistance; and M. von Zastrow for the hβ2AR HEK-293 cell line. This work was supported by the Oregon Health and Sciences University (OHSU) Heart Research Center, and by grants from the National Institute on Alchohol Abuse and Alcoholism (NIAAA) and National Institute on Drug Abuse (NIDA) (DA07262 to P.J.K.), the NIDA (DA107803 to D.K.G.), the Ministero dell'Istruzione dell'Università e della Ricerca (MIUR) (to R.Z.), the NIH (DK-52798 to T.S.S.) and the Sandler Family Supporting Foundation (to T.S.S.).
Ethics declarations
Competing interests
The authors declare no competing financial interests.
Supplementary information
About this article
Cite this article
Scanlan, T., Suchland, K., Hart, M. et al. 3-Iodothyronamine is an endogenous and rapid-acting derivative of thyroid hormone. Nat Med 10, 638–642 (2004). https://doi.org/10.1038/nm1051
Received:

Accepted:

Published:

Issue Date:

DOI: https://doi.org/10.1038/nm1051