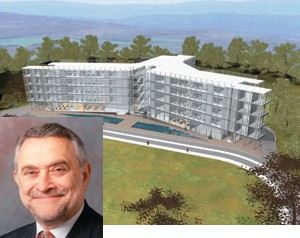 A bitter confrontation between Spain's health ministry and noted researcher Salvador Moncada has left the management of the Spanish National Cardiovascular Center (CNIC) in limbo. The bone of contention: €13,352 that Moncada allegedly spent on travel expenses.
I have to ask permission even to get a pen. Salvador Moncada
Launched in 1999, the €60 million CNIC is expected to house 300 researchers once construction is complete. What distinguishes it—and the Spanish National Cancer Center, led by Mariano Barbacid—from other Spanish institutes is its independent management structure, allowing for innovative collaboration, funding and recruitment.
Moncada, head of the Wolfson Institute for Biomedical Research at University College in London, has been the executive consultant of the institute and was expected to become the director after its completion later this year.
But on 26 May, the Spanish Account Court, which monitors the expenses of ministry-based institutions, alleged that Moncada got "undue payments" for three trips he made to Madrid between January and March 2002. The court ruled that Moncada must return the amount and recommended that he "bury" his practices, including frequent inattendance at institute meetings and stays at luxury hotels in Madrid.
Based on the report, the ministry cancelled Moncada's original contract—which allowed him €1,500 in expenses per day—and faxed him a new version, promising him a salary equal to Barbacid's. On 23 June, after reports of the dispute had appeared in the Spanish media, Moncada sent a letter to Health Minister Elena Salgado, reminding her that his contract allowed for as many trips as necessary. Moncada added that the charge has damaged his "honor and image" and asked the ministry to issue an apology.
Moncada says his troubles began in April 2003 when, shortly before a regional election, the ministry asked him to provide €1.3 million from the institute's budget to fund a healthy life campaign. "It sounded as a sort of corruption," Moncada says. He did not authorize the payment and the campaign was never launched.
In November 2003, the ministry appointed a general manager at the institute. Moncada says the post represents a maneuver by the ministry to take control over the institute. "I have to ask permission even to get a pen," he says.
The ministry declined to respond to Moncada's allegations. But Santiago Cervera-Soto, who held the post until recently, says "Moncada will not ever accept a manager who has not been appointed by himself." Others note that the post of general manager is probably necessary to resolve the current CNIC deficit, estimated at €7 million.
Moncada says he will only continue with the institute if the ministry issues an apology and the post of general manager is eliminated. A spokesman for the ministry says that although Salgado would like to keep Moncada involved in the institute, no apology will be forthcoming. Moncada's original fee was "highly above that of Barbacid," the spokesman says.
The dispute perfectly illustrates the bureaucracy and financial problems that plague Spain's research structure, notes Jordi Petriz, a stem cell researcher at the Barcelona-based Institut d'Investigacions Biomèdiques August Pi I Sunyer. "It's not surprising that scientists abroad are not keen to come to Spain."
Related links
Related links
Related links in Nature Research
Related external links
About this article
Cite this article
Bosch, X. Disputed expenses at heart of Moncada's Spanish spat. Nat Med 10, 763 (2004). https://doi.org/10.1038/nm0804-763a
Published:

Issue Date:

DOI: https://doi.org/10.1038/nm0804-763a