Abstract
Given the associations between chronic inflammation and epithelial cancer1,2 we studied susceptibility to skin carcinogenesis3,4 in mice deficient for the pro-inflammatory cytokine TNF-α (refs. 5,6). TNF-α–/– mice were resistant to development of benign and malignant skin tumors, whether induced by initiation with DMBA and promotion with TPA or by repeated dosing with DMBA. TNF-α–/– mice developed 5–10% the number of tumors developed by wild-type mice during initiation/promotion and 25% of those in wild-type mice after repeated carcinogen treatment. TNF-α could influence tumor and stromal cells during tumor development. The early stages of TPA promotion are characterized by keratinocyte hyperproliferation and inflammation. These were diminished in TNF-α–/– mice. TNF-α was extensively induced in the epidermis, but not the dermis, in TPA-treated wild-type skin, indicating that dermal inflammation is controlled by keratinocyte TNF-α production. Deletion of a TNF-α inducible chemokine also conferred some resistance to skin tumor development. TNF-α has little influence on later stages of carcinogenesis, as tumors in wild-type and TNF-α–/– mice had similar rates of malignant progression. These data provide evidence that a pro-inflammatory cytokine is required for de novo carcinogenesis and that TNF-α is important to the early stages of tumor promotion. Strategies that neutralize TNF-α production may be useful in cancer treatment and prevention.
Access options
Subscribe to Journal
Get full journal access for 1 year
$209.00
only $17.42 per issue
All prices are NET prices.
VAT will be added later in the checkout.
Rent or Buy article
Get time limited or full article access on ReadCube.
from$8.99
All prices are NET prices.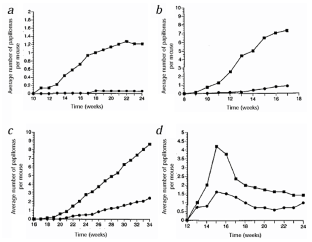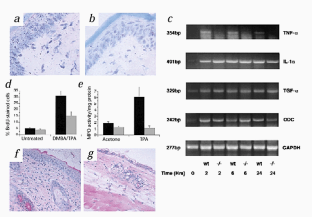 References
1

Correa, P. Human gastric carcinogenesis: a multistep and multifactorial process–First American Cancer Society Award Lecture on Cancer Epidemiology and Prevention. Cancer Res. 52, 6735–6740 (1992).

2

Palli, D. et al. General and cancer specific mortality of a population based cohort of patients with inflammatory bowel disease: the Florence Study. Gut 42, 175–179 ( 1998).

3

Brown, K., and Balmain, A. Transgenic mice and squamous multistage skin carcinogenesis. Cancer Metastasis Rev. 14, 113–124 (1995).

4

Arbeit, J.A. Transgenic models of epidermal neoplasia and multistage carcinogenesis. Cancer Surv. 26, 7–34 ( 1996).

5

Pasparakis, M., Alexopoulou, L., Episkopou, V. & Kollias, G. Immune and inflammatory responses in TNF-α deficient mice: A critical requirement for TNF-α in the formation of primary B cell follicles, follicular dendritic cell networks and germinal centres, and in the maturation of the humoral immune response. J. Exp. Med. 184, 1397–1411 (1996).

6

Pasparakis, M. et al. Peyer's patch organogenesis is intact yet formation of B lymphocyte follicles is defective in peripheral lymphoid organs of mice deficient for tumor necrosis factor and its 55-kDa receptor. Proc. Natl. Acad. Sci. USA 94, 6319–6323 ( 1997).

7

Fischer S.M. et al. Correlation of phorbol ester promotion in the resistant C57BL/6J mouse with sustained hyperplasia but not ornithine decarboxylase or protein kinase C. Cancer Res. 49, 6693– 6699 (1989).

8

Reiners, J.J., Nesnow, S.,& Slaga, T.J. Murine susceptibilty to two-stage skin carcinogenesis is influenced by the agent used for promotion. Carcinogenesis 5, 301–307 (1984).

9

Bradley P.P., Priebat, D.A., Christensen, R.D. & Rothstein, G. Measurement of cutaneous inflammation: Estimation of neutrophil content with an enzyme marker. J. Invest. Dermatol. 78, 206–209 (1982).

10

Lu, B. et al. Abnormalities in monocyte recruitment and cytokine expression in monocyte chemoattractant protein 1-deficient mice. J. Exp. Med. 16, 601–608 ( 1998).

11

Komori, A. et al. Tumor necrosis factor acts as a tumor promoter in BALB/3T3 transformation. Cancer Res. 53, 1982– 1985 (1993).

12

Suganuma, M. et al. A new process of cancer prevention mediated through inhibition of tumor necrosis factor α expression. Cancer Res. 56, 3711–3715 (1996).

13

Robertson, F.K. Ross, M.S., Tober, K.L., Long, B.W. & Oberyszyn, T.M. Inhibition of pro-inflammatory cytokine gene expression and papilloma growth during murine multistage carcinogenesis by pentoxifyline. Carcinogenesis 17, 1719– 1728 (1996).

14

Naylor, MS, Stamp, G.W., Foulkes, W.D., Eccles, D., & Balkwill, F.R. Tumor necrosis factor and its receptors–potential in disease progression. J. Clin. Invest. 91, 2194–2206 ( 1993).

15

Negus, R.P.M., Turner, L., Burke, F. & Balkwill, F.R. Hypoxia down-regulates MCP-1 expression: implications for macrophage distribution in tumors. J. Leucocyte Biol. 63, 758–765 (1998).

16

Malik, S.T.A., Naylor, S., East, N., Oliff, A. & Balkwill, FR. Cells secreting tumor necrosis factor show enhanced metastasis in nude mice. Eur. J. Cancer 26, 1031–1034 (1990).

17

Orosz, P. et al. Promotion of experimental liver metastasis by tumor necrosis factor. Int. J. Cancer 60, 867– 871 (1995).

18

Eggermont, A.M.M. et al. Isolated limb perfusion with high dose tumor necrosis factor-α in combination with interferon-gamma and melphalan for irresectable extremity soft tissue sarcomas: A multicentre trial. J. Clin. Oncol. 14, 2653–2665 (1996).

19

Feldmann, M., Elliott, M.J., Woody, J.N. & Maini, R.N. Anti-tumor necrosis factor-alpha therapy of rheumatoid arthritis. Adv. Immunol. 64, 283–350 (1997).

20

Wilson, A.G. et al. Effects of a polymorphism in the human tumor necrosis factor alpha promoter on transcriptional activation. Proc. Natl. Acad. Sci. USA 94, 3195–3197 ( 1997).

21

Warzocha, K. et al. Genetic polymorphisms in the tumor necrosis factor locus influence non-Hodgkin's lymphoma outcome. Blood 91, 3574–3581 (1998).
Acknowledgements
The authors thank M. Coombs, M. Owen and F. Watt for advice; G. Elia for technical assistance with histopathology; and M. Bradburn for the statistical analysis.
About this article
Cite this article
Moore, R., Owens, D., Stamp, G. et al. Mice deficient in tumor necrosis factor-α are resistant to skin carcinogenesis. Nat Med 5, 828–831 (1999). https://doi.org/10.1038/10552
Received:

Accepted:

Issue Date: