The vaccines may be too expensive and too difficult to administer.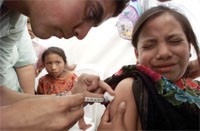 Two rival vaccines to prevent cervical cancer are being launched with great fanfare as a long-awaited solution to a pressing public health problem. But distributing and administering the vaccines in developing countries, which bear much of the global burden of the infection, is likely to be costly and complicated, scientists warn.
Because the vaccine must be given to girls before they are sexually active, convincing parents to vaccinate prepubescent girls against a sexually transmitted infection will be fraught with cultural issues, experts say.
Cervical cancer is the second biggest cause of female cancer mortality worldwide, with 288,000 deaths annually. About 510,000 cases are reported each year, 80% of them in developing countries. India alone has one-third of the global burden.
Drug giants GlaxoSmithKline and Merck have both developed vaccines that target the human papilloma virus (HPV), which is linked to three-quarters of the infections. Both vaccines are in large phase 3 trials and are expected to reach the market in two years.
The vaccines carry the L1 capsid protein and need to be given in three doses to generate high levels of neutralizing antibodies. The GlaxoSmithKline vaccine is designed against the two most infectious HPV strains, HPV 16 and 18, and the Merck vaccine against four strains—HPV 16, 18, 6 and 11. Both are safe and have shown efficacy of more than 90% in phase 1 and 2 trials.
But key scientific questions such as the duration and correlates of protection, the effect of the menstrual cycle and the need for a booster vaccine remain answered, cautions John Schiller, a researcher at the US National Cancer Institute.
The vaccines are also expensive to make and difficult to distribute, Schiller says. Administering three injections, maintaining clean, sterilized needles and creating a cold chain for transport to rural areas in resource-poor countries are all likely to pose significant hurdles, Schiller notes.
[A better] vaccine is not really on the horizon now. , John Schiller, National Cancer Institute
Developing countries may have to wait for a second-generation vaccine that is cheaper and easier to administer, protects against more HPV types and that better suits their needs. But "such a vaccine is not really on the horizon now," says Schiller. Alternately, they could make their own cheaper vaccine—which could be difficult with existing patent rights on the technology.
Another significant problem will be getting consent to vaccinate girls. For example, convincing parents in India—where sex education is taboo in most parts—to inject their daughters against a sexually transmitted infection will be impossible, says Bhudev Das, director of the Institute of Cytology and Preventive Oncology in Delhi.
Although a vaccine may be the most promising approach to prevent new infections, in many developing countries, experts say, screening with cheap tests—including visual inspection—continues to be the best hope for prevention and treatment.
About this article
Cite this article
Padma, T. Experts inject reality into cervical cancer prevention schemes. Nat Med 11, 359 (2005). https://doi.org/10.1038/nm0405-359b
Issue Date:

DOI: https://doi.org/10.1038/nm0405-359b