Abstract
Clusterin, also known as apolipoprotein J, is a ubiquitously expressed molecule thought to influence a variety of processes including cell death. In the brain, it accumulates in dying neurons following seizures and hypoxic-ischemic (H-I) injury. Despite this, in vivo evidence that clusterin directly influences cell death is lacking. Following neonatal H-I brain injury in mice (a model of cerebral palsy), there was evidence of apoptotic changes (neuronal caspase-3 activation), as well as accumulation of clusterin in dying neurons. Clusterin-deficient mice had 50% less brain injury following neonatal H-I. Surprisingly, the absence of clusterin had no effect on caspase-3 activation, and clusterin accumulation and caspase-3 activation did not colocalize to the same cells. Studies with cultured cortical neurons demonstrated that exogenous purified astrocyte-secreted clusterin exacerbated oxygen/glucose-deprivation–induced necrotic death. These results indicate that clusterin may be a new therapeutic target to modulate non-caspase-dependent neuronal death following acute brain injury.
Relevant articles
Open Access articles citing this article.
Samuel Eneọjọ Abah

,

Florence Burté

…

Delmiro Fernandez-Reyes

Malaria Journal Open Access 26 April 2020

Abdulaziz Almalik

,

Hicham Benabdelkamel

…

Ali H. Alhasan

Scientific Reports Open Access 05 September 2017

Zhentao Zhang

,

Obiamaka Obianyo

…

Keqiang Ye

Nature Communications Open Access 27 March 2017
Access options
Subscribe to this journal
Receive 12 print issues and online access
$189.00 per year
only $15.75 per issue
Rent or buy this article
Get just this article for as long as you need it
$39.95
Prices may be subject to local taxes which are calculated during checkout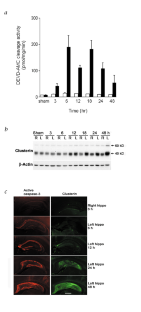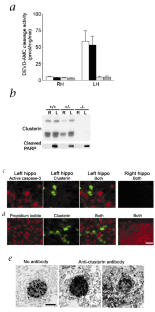 References
Vanucci, R.C. Experimental biology of cerebral hypoxia-ischemia: relation to perinatal brain damage. Pediatr. Res. 27, 317–326 (1990).

Volpe, J.J. Neurology of the Newborn. (W. B. Saunders, Philadelphia, 1995).

Rice, J.E., Vannucci, R.C. & Brierley, J.B. The influence of immaturity on hypoxic-ischemic brain damage in the rat. Ann. Neurol. 9, 131–141 (1981).

Cheng, Y. et al. Caspase inhibitor affords neuroprotection with delayed adminstration in a rat model of neonatal hypoxic-ischemic brain injury. J. Clin. Invest. 101, 1992–1999 (1998).

Pulera, M.R. et al. Apoptosis in a neonatal rat model of cerebral hypoxia-ischemia. Stroke 29, 2622–2629 (1998).

Parsadanian, A.S., Cheng, Y., Keller-Peck, C.R., Holtzman, D.M. & Snider, W.D. Bcl-XL is an anti-apoptotic regulator for postnatal CNS neurons. J. Neurosci. 18, 1009–1019 (1998).

Lendon, C.L. et al. No effect of apolipoprotein E on neuronal cell death due to excitotoxic and apoptotic agents in vitro and neonatal hypoxic ischaemia in vivo. Eur. J. Neurosci. 12, 2235–2242 (2000).

Kissinger, C., Skinner, M.K. & Griswold, M.D. Analysis of Sertoli cell-secreted proteins by 2-dimensional gel electrophoresis. Biol. Reprod. 27, 233–240 (1982).

Blaschuk, O., Burdzy, K. & Fritz, I.B. Purification and characterization of a cell aggregating factor (clusterin), the major glycoprotein in ram rete testis fluid. J. Biol. Chem. 258, 7714–7720 (1983).

May, P.C. & Finch, C.E. Sulfated glycoprotein 2: new relationships of this multifunctional protein to neurodegeneration. Trends Neurol. Sci. 15, 391–396 (1992).

Wilson, M.R. & Easterbrook-Smith, S.B. Clusterin is a secreted mammalian chaperone. Trends Biochem. Sci. 25, 95–98 (2000).

May, P.C. et al. Dynamics of gene expression for a hippocampal glycoprotein elevated in Alzheimer's disease and in response to experimental lesions in rat. Neuron 5, 831–839 (1990).

Dragunow, M. et al. Clusterin accumulates in dying neurons following status epilepticus. Mol. Brain Res. 32, 279–290 (1995).

Walton, M. et al. Induction of clusterin in the immature brain following a hypoxic-ischemic injury. Mol. Brain Res. 39, 137–152 (1996).

Han, B.H. et al. BDNF blocks caspase-3 activation in neonatal hypoxia-ischemia. Neurobiol. Dis. 7, 38–53 (2000).

Pasinetti, G.M., Johnson, S.A., Oda, T., Rozovsky, I. & Finch, C.E. Clusterin (SGP-2): a mulitfunctional glycoprotein with regional expression in astrocytes and neurons of the adult rat brain. J. Comp. Neurol. 339, 387–400 (1994).

McLaughlin, L. et al. Apolipoprotein J/clusterin limits the severity of murine autoimmune myocarditis. J. Clin. Invest. 106, 1105–1113 (2000).

Nakajima, W. et al. Apoptosis has a prolonged role in the neurodegeneration after hypoxia ischemia in the newborn rat. J. Neurosci. 20, 7994–8004 (2000).

Goldberg, M.P. & Choi, D.W. Combined oxygen and glucose deprivation in cortical cell culture: calcium-dependent and calcium-independent mechanisms of neuronal injury. J. Neurosci. 13, 3510–3524 (1993).

LaDu, M.J. et al. Nascent astroctye particles differ from lipoproteins in CSF. J. Neurochem. 70, 2070–2081 (1998).

Pasinetti, G.M. & Finch, C.E. Sulfated glycoprotein-2 (SGP-2) mRNA is expressed in rat striatal astrocytes following ibotenic acid lesions. Neurosci. Lett. 130, 1–4 (1991).

During, M.J. et al. An oral vaccine against NMDAR1 with efficacy in experimental stroke and epilepsy. Science 287, 1453–1460 (2000).

Ghiso, J. et al. The cerebrospinal-fluid form of Alzheimer's amyloid beta is complexed to SP-40,40 (apolipoprotein J), an inhibitor of the complement membrane-attack complex. Biochem. J. 293, 27–30 (1993).

Lambert, M.P. et al. Diffusible, nonfibrillar ligands derived from Aβ1-42 are potent central nervous system neurotoxins. Proc. Natl. Acad. Sci. USA 95, 6448–6453 (1998).

Kounnas, M.Z. et al. Identification of glycoprotein 330 as an endocytic receptor for apolipoprotein J/clusterin. J. Biol. Chem. 270, 13070–13075 (1995).

Kounnas, M.Z., Haudenschild, C.C., Strickland, D.K. & Argraves, W.S. Immunological localization of glycoprotein 330, low density lipoprotein receptor related protein and 39 kDa receptor associated protein in embryonic mouse tissues. In Vivo 8, 343–351 (1994).

Sensibar, J.A. et al. Prevention of cell death induced by tumor necrosis factor α in LNCaP cells by overexpression of sulfated glycoprotein-2 (clusterin). Cancer Res. 55, 2431–2437 (1995).

Humphreys, D., Hochgrebe, T.T., Easterbrook-Smith, S.B., Tenniswood, M.P. & Wilson, M.R. Effects of clusterin overexpression on TNFα- and TGFβ-mediated death of L929 cells. Biochem. 36, 15233–15243 (1997).

Schwochau, G.B., Nath, K.A. & Rosenberg, M.E. Clusterin protects against oxidative stress in vitro through aggregative and nonaggregative properties. Kidney Int. 53, 1647–1653 (1998).

Sintich, S.M. et al. Cytotoxic sensitivity to tumor necrosis factor-α in PC3 and LNCaP prostatic cancer cells is regulated by extracellular levels of SGP-2 (clusterin). Prostate 39, 87–93 (1999).

McDonald, J.W., Silverstein, F.S. & Johnston, M.V. MK-801 protects the neonatal brain from hypoxic-ischemic damage. Eur. J. Pharmacol. 140, 359–361 (1987).

Boggs, L.N. et al. Clusterin (apoJ) protects against in vitro amyloid-β(1-40) neurotoxicity. J. Neurochem. 67, 1324–1327 (1996).

Lakins, J. et al. Clusterin biogenesis is altered during apoptosis in the regressing rat ventral prostate. J. Biol. Chem. 273, 27887–27895 (1998).

Yang, C.-R. et al. Nuclear clusterin/XIP8, an x-ray-induced Ku70-binding protein that signals cell death. Proc. Natl. Acad. Sci. USA 97, 5907–5912 (2000).

Shull, M.M. et al. Targeted disruption of the mouse transforming growth factor-β 1 gene results in multifocal inflammatory disease. Nature 359, 693–699 (1992).

Plummer, K.L., Manning, K.A., Levey, A.I., Rees, H.D. & Uhlrich, D.J. Muscarinic receptor subtypes in the lateral geniculate nucleus: a light and electron microscopic analysis. J. Comp. Neurol. 404, 408–425 (1999).

DeMattos, R.B., Curtiss, L.K. & Williams, D.L. A minimally lipidated form of cell-derived apolipoprotein E exhibits isoform-specific stimulation of neurite outgrowth in the absence of exogenous lipids or lipoproteins. J. Biol. Chem. 273, 4206–4212 (1998).

Dugan, L.L. et al. Mitochondrial production of reactive oxygen species in cortical neurons following exposure to N-methyl-d-aspartate. J. Neurosci. 15, 6377–6388 (1995).
Acknowledgements
We thank M. Parsadanian for technical assistance. This work was supported by NIH grants NS35902, AG11355, and AG05681 to D.M.H.
About this article
Cite this article
Han, B., DeMattos, R., Dugan, L. et al. Clusterin contributes to caspase-3–independent brain injury following neonatal hypoxia-ischemia. Nat Med 7, 338–343 (2001). https://doi.org/10.1038/85487
Received:

Accepted:

Issue Date:

DOI: https://doi.org/10.1038/85487