Access options
Subscribe to Journal
Get full journal access for 1 year
$59.00
only $4.92 per issue
All prices are NET prices.
VAT will be added later in the checkout.
Tax calculation will be finalised during checkout.
Rent or Buy article
Get time limited or full article access on ReadCube.
from$8.99
All prices are NET prices.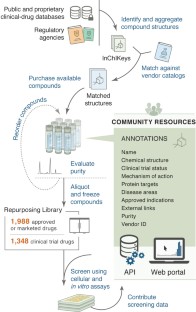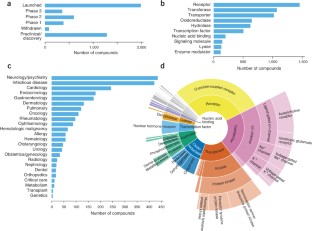 References
1

Nosengo, N. Nature 534, 314–316 (2016).

2

Hay, M., Thomas, D.W., Craighead, J.L., Economides, C. & Rosenthal, J. Nat. Biotechnol. 32, 40–51 (2014).

3

Goldstein, I. et al. N. Engl. J. Med. 338, 1397–1404 (1998).

4

Palumbo, A. et al. Blood 111, 3968–3977 (2008).

5

Lamb, J. et al. Science 313, 1929–1935 (2006).

6

Yu, C. et al. Nat. Biotechnol. 34, 419–423 (2016).

7

Huang, R. et al. Sci. Transl. Med. 3, 80ps16 (2011).

8

Law, V. et al. Nucleic Acids Res. 42, D1091–D1097 (2014).

9

Qin, C. et al. Nucleic Acids Res. 42, D1118–D1123 (2014).

10

Mi, H. et al. Nucleic Acids Res. 33, D284–D288 (2005).

11

Blaxill, Z., Holland-Crimmin, S. & Lifely, R. J. Biomol. Screen. 14, 547–556 (2009).

12

Lawrence, M.S. et al. Nature 505, 495–501 (2014).

13

Heller, S.R., McNaught, A., Pletnev, I., Stein, S. & Tchekhovskoi, D. J. Cheminform. 7, 23 (2015).
Acknowledgements
We thank the members of the Broad Institute Compound Management team for their invaluable assistance. We also thank C. Yu, J. Boehm, N. Tolliday, J. Athanasopoulos, J. Rosains, S. Loranger, and A. Burgin for helpful scientific discussions. This work was supported in part by NIH LINCS Program grants 3U54 HG006093 (T.R.G. and A.S.), U54 HL127366 (T.R.G. and A.S.), and U54 HG008699 (T.R.G. and A.S.). Additional support was provided by the Howard Hughes Medical Institute (T.R.G.), NIH training grant T32 CA009172 (S.M.C.), KL2/Catalyst Medical Research Investigator Training award from Harvard Catalyst/The Harvard Clinical and Translational Science Center (National Center for Research Resources and the National Center for Advancing Translational Sciences, National Institutes of Health) Award KL2 TR001100 (S.M.C.), and the Conquer Cancer Foundation of ASCO Young Investigator Award (S.M.C.).
Ethics declarations
Competing interests
The authors declare no competing financial interests.
Supplementary information
About this article
Cite this article
Corsello, S., Bittker, J., Liu, Z. et al. The Drug Repurposing Hub: a next-generation drug library and information resource. Nat Med 23, 405–408 (2017). https://doi.org/10.1038/nm.4306