In a recent study, Bin Yuan and his colleagues show that the presence of estrogen receptor β (ERβ) phosphorylated at Tyr36 could predict disease-free survival and overall survival in breast cancer and mediates the anti-tumor effects of ERβ (J. Clin. Invest. 124, 3378–3390).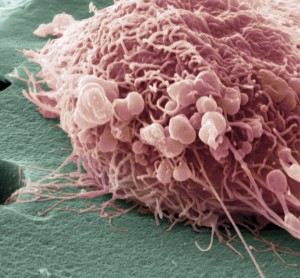 The authors identified EYA2 and c-ABL as the respective phosphatase and kinase that regulate ERβ Y36 phosphorylation and, thus, control its downstream transcriptional activity. Wild-type ERβ significantly reduced the growth of human breast cancer cells and MDA-MB-231 breast cancer xenografts. A phosphomimetic mutant of ERβ could function similarly; however, a mutant that could not be phosphorylated was unable to control growth. Both EYA2 overexpression and c-ABL knockdown enhanced xenograft growth in the presence of wild-type ERβ, but they were unable to affect phosphomemetic mutant-mediated growth suppression.
In human breast cancer, increased phsopho-Y36 staining positively correlated with longer disease-free status and overall survival as well as negatively correlated with tumor size, nodal status, advanced disease stage and increased tumor grade. Staining was more prognostic in stage 2 and 3 breast cancer than in stage 1.
Both EYA2 and c-ABL have additional functions in tumors, but this study suggests that they could be targeted to enhance ERβ-mediated growth suppression and lead to new treatment regimens in the future.
About this article
Cite this article
Simpson, K. Cancer: An estrogen receptor for survival. Nat Med 20, 991 (2014). https://doi.org/10.1038/nm.3693
Published:

Issue Date:

DOI: https://doi.org/10.1038/nm.3693