Abstract
As antibodies to tumor necrosis factor (TNF) suppress immune responses in Crohn's disease by binding to membrane-bound TNF (mTNF), we created a fluorescent antibody for molecular mTNF imaging in this disease. Topical antibody administration in 25 patients with Crohn's disease led to detection of intestinal mTNF+ immune cells during confocal laser endomicroscopy. Patients with high numbers of mTNF+ cells showed significantly higher short-term response rates (92%) at week 12 upon subsequent anti-TNF therapy as compared to patients with low amounts of mTNF+ cells (15%). This clinical response in the former patients was sustained over a follow-up period of 1 year and was associated with mucosal healing observed in follow-up endoscopy. These data indicate that molecular imaging with fluorescent antibodies has the potential to predict therapeutic responses to biological treatment and can be used for personalized medicine in Crohn's disease and autoimmune or inflammatory disorders.
Relevant articles
Open Access articles citing this article.
Anaïs Makos

,

J. H. Kuiper

…

R. Amarasena

Inflammopharmacology Open Access 12 December 2022

Miki Lee

,

Gaoming Li

…

Thomas D. Wang

Scientific Reports Open Access 23 November 2022

Judith A. Stibbe

,

Petra Hoogland

…

Stephan Rogalla

Molecular Imaging and Biology Open Access 28 June 2022
Access options
Subscribe to this journal
Receive 12 print issues and online access
$189.00 per year
only $15.75 per issue
Rent or buy this article
Get just this article for as long as you need it
$39.95
Prices may be subject to local taxes which are calculated during checkout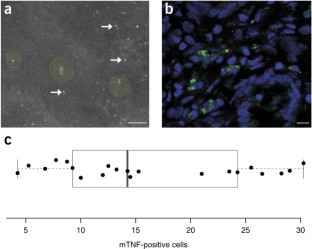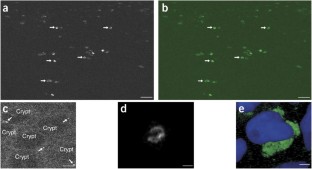 References
Strober, W., Fuss, I. & Mannon, P. The fundamental basis of inflammatory bowel disease. J. Clin. Invest. 117, 514–521 (2007).

Danese, S. New therapies for inflammatory bowel disease: from the bench to the bedside. Gut 61, 918–932 (2012).

Peyrin-Biroulet, L., Loftus, E.V. Jr., Colombel, J.F. & Sandborn, W.J. The natural history of adult Crohn's disease in population-based cohorts. Am. J. Gastroenterol. 105, 289–297 (2010).

Atreya, R. et al. Blockade of interleukin 6 trans signaling suppresses T-cell resistance against apoptosis in chronic intestinal inflammation: evidence in Crohn disease and experimental colitis in vivo. Nat. Med. 6, 583–588 (2000).

Wajant, H., Pfizenmaier, K. & Scheurich, P. Tumor necrosis factor signaling. Cell Death Differ. 10, 45–65 (2003).

Colombel, J.F. et al. Infliximab, azathioprine, or combination therapy for Crohn's disease. N. Engl. J. Med. 362, 1383–1395 (2010).

Evans, A.T. & Lee, S.D. A review and expert opinion of the use of certolizumab for Crohn's disease. Expert Opin. Biol. Ther. 12, 363–370 (2012).

Hanauer, S.B. et al. Human anti-tumor necrosis factor monoclonal antibody (adalimumab) in Crohn's disease: the CLASSIC-I trial. Gastroenterology 130, 323–333, quiz 591 (2006).

Colombel, J.F. et al. Adalimumab safety in global clinical trials of patients with Crohn's disease. Inflamm. Bowel Dis. 15, 1308–1319 (2009).

Vermeire, S., Van Assche, G. & Rutgeerts, P. C-reactive protein as a marker for inflammatory bowel disease. Inflamm. Bowel Dis. 10, 661–665 (2004).

Hlavaty, T. et al. Predictive model for the outcome of infliximab therapy in Crohn's disease based on apoptotic pharmacogenetic index and clinical predictors. Inflamm. Bowel Dis. 13, 372–379 (2007).

Kendall, C. et al. Raman spectroscopy, a potential tool for the objective identification and classification of neoplasia in Barrett's oesophagus. J. Pathol. 200, 602–609 (2003).

Evans, J.A. et al. Identifying intestinal metaplasia at the squamocolumnar junction by using optical coherence tomography. Gastrointest. Endosc. 65, 50–56 (2007).

Qiu, L. et al. Multispectral scanning during endoscopy guides biopsy of dysplasia in Barrett's esophagus. Nat. Med. 16, 603–606 (2010).

Waldner, M.J., Wirtz, S., Neufert, C., Becker, C. & Neurath, M.F. Confocal laser endomicroscopy and narrow-band imaging-aided endoscopy for in vivo imaging of colitis and colon cancer in mice. Nat. Protoc. 6, 1471–1481 (2011).

Kiesslich, R. et al. Chromoscopy-guided endomicroscopy increases the diagnostic yield of intraepithelial neoplasia in ulcerative colitis. Gastroenterology 132, 874–882 (2007).

Hsiung, P.L. et al. Detection of colonic dysplasia in vivo using a targeted heptapeptide and confocal microendoscopy. Nat. Med. 14, 454–458 (2008).

ten Hove, T., van Montfrans, C., Peppelenbosch, M.P. & van Deventer, S.J. Infliximab treatment induces apoptosis of lamina propria T lymphocytes in Crohn's disease. Gut 50, 206–211 (2002).

Atreya, R. et al. Antibodies against tumor necrosis factor (TNF) induce T-cell apoptosis in patients with inflammatory bowel diseases via TNF receptor 2 and intestinal CD14 macrophages. Gastroenterology 141, 2026–2038 (2011).

Kaymakcalan, Z. et al. Comparisons of affinities, avidities, and complement activation of adalimumab, infliximab, and etanercept in binding to soluble and membrane tumor necrosis factor. Clin. Immunol. 131, 308–316 (2009).

Kiesslich, R., Goetz, M., Vieth, M., Galle, P.R. & Neurath, M.F. Technology insight: confocal laser endoscopy for in vivo diagnosis of colorectal cancer. Nat. Clin. Pract. Oncol. 4, 480–490 (2007).

Neurath, M.F. & Travis, S.P. Mucosal healing in inflammatory bowel diseases: a systematic review. Gut 61, 1619–1635 (2012).

Bird-Lieberman, E.L. et al. Molecular imaging using fluorescent lectins permits rapid endoscopic identification of dysplasia in Barrett's esophagus. Nat. Med. 18, 315–321 (2012).

Medarova, Z., Rashkovetsky, L., Pantazopoulos, P. & Moore, A. Multiparametric monitoring of tumor response to chemotherapy by noninvasive imaging. Cancer Res. 69, 1182–1189 (2009).

Monteleone, G., Pallone, F. & MacDonald, T.T. Emerging immunological targets in inflammatory bowel disease. Curr. Opin. Pharmacol. 11, 640–645 (2011).

Kamada, N. et al. Unique CD14 intestinal macrophages contribute to the pathogenesis of Crohn disease via IL-23/IFN-γ axis. J. Clin. Invest. 118, 2269–2280 (2008).

Van den Brande, J.M. et al. Prediction of antitumour necrosis factor clinical efficacy by real-time visualisation of apoptosis in patients with Crohn's disease. Gut 56, 509–517 (2007).

Van den Brande, J.M. et al. Infliximab but not etanercept induces apoptosis in lamina propria T-lymphocytes from patients with Crohn's disease. Gastroenterology 124, 1774–1785 (2003).

Mitoma, H. et al. Infliximab induces potent anti-inflammatory responses by outside-to-inside signals through transmembrane TNF-α. Gastroenterology 128, 376–392 (2005).

Reinisch, W. et al. Adalimumab for induction of clinical remission in moderately to severely active ulcerative colitis: results of a randomised controlled trial. Gut 60, 780–787 (2011).

Broadbridge, V.T., Karapetis, C.S. & Price, T.J. Cetuximab in metastatic colorectal cancer. Expert Rev. Anticancer Ther. 12, 555–565 (2012).

Macedo, L.T., da Costa Lima, A.B. & Sasse, A.D. Addition of bevacizumab to first-line chemotherapy in advanced colorectal cancer: a systematic review and meta-analysis, with emphasis on chemotherapy subgroups. BMC Cancer 12, 89 (2012).

Foersch, S. et al. Molecular imaging of VEGF in gastrointestinal cancer in vivo using confocal laser endomicroscopy. Gut 59, 1046–1055 (2010).

Hueber, W. et al. Effects of AIN457, a fully human antibody to interleukin-17A, on psoriasis, rheumatoid arthritis, and uveitis. Sci. Transl. Med. 2, 52ra72 (2010).

Papp, K.A. et al. Brodalumab, an anti-interleukin-17-receptor antibody for psoriasis. N. Engl. J. Med. 366, 1181–1189 (2012).

Leonardi, C. et al. Anti-interleukin-17 monoclonal antibody ixekizumab in chronic plaque psoriasis. N. Engl. J. Med. 366, 1190–1199 (2012).

Tanaka, T., Narazaki, M. & Kishimoto, T. Anti-interleukin-6 receptor antibody, tocilizumab, for the treatment of autoimmune diseases. FEBS Lett. 585, 3699–3709 (2011).

Rubin, D.T., Panaccione, R., Chao, J. & Robinson, A.M. A practical, evidence-based guide to the use of adalimumab in Crohn's disease. Curr. Med. Res. Opin. 27, 1803–1813 (2011).

Rutgeerts, P. et al. Adalimumab induces and maintains mucosal healing in patients with crohn's disease: data from the EXTEND trial. Gastroenterology 142, 1102–1111. e1102 (2012).

Riley, S.A. et al. Comparison of delayed release 5 aminosalicylic acid (mesalazine) and sulphasalazine in the treatment of mild to moderate ulcerative colitis relapse. Gut 29, 669–674 (1988).
Acknowledgements
We thank I. Zöller-Utz, P. Drummer and G. Göhring-Waldeck for excellent technical support, A. May for monitoring our study and S. Brand and F. Kolligs (University Hospital Munich-Grosshadern) for their contribution to the follow-up endoscopies. We thank the whole team of the Endoscopy Unit of the Medical Clinic 1 of the University Erlangen-Nuremberg, which greatly supported this work. We thank all patients who participated in this study. This research was supported by the German Research Foundation (clinical research unit KFO257) and the Emerging Fields Initiative and the Interdisciplinary Center for Clinical Research of the University Erlangen-Nuremberg, which helped to establish the infrastructure needed to conduct this study. Funds from the German Ministry for Science and Education (BMBF ZooMAP 01KI1003G) were used for intestinal sample preparation. The infrastructure of the presented project was supported by the Ludwig Demling Research Prize of the Deutsche Morbus Crohn/Colitis Ulcerosa Vereinigung (R.A.) and the United European Gastroenterology Federation Research Prize (M.F.N.).
Ethics declarations
Competing interests
R. Atreya holds a professorship at the University of Erlangen-Nuremberg that is supported by a grant from Abbott. M.F.N. or R.A. have served as advisors to MSD, Pentax, Giuliani or Abbott.
Supplementary information
About this article
Cite this article
Atreya, R., Neumann, H., Neufert, C. et al. In vivo imaging using fluorescent antibodies to tumor necrosis factor predicts therapeutic response in Crohn's disease. Nat Med 20, 313–318 (2014). https://doi.org/10.1038/nm.3462
Received:

Accepted:

Published:

Issue Date:

DOI: https://doi.org/10.1038/nm.3462