Abstract
Technologies that enable the rapid detection and localization of bacterial infections in living animals could address an unmet need for infectious disease diagnostics. We describe a molecular imaging approach for the specific, noninvasive detection of S. aureus based on the activity of the S. aureus secreted nuclease, micrococcal nuclease (MN). Several short synthetic oligonucleotides, rendered resistant to mammalian serum nucleases by various chemical modifications and flanked with a fluorophore and quencher, were activated upon degradation by purified MN and in S. aureus culture supernatants. A probe consisting of a pair of deoxythymidines flanked by several 2′-O-methyl–modified nucleotides was activated in culture supernatants of S. aureus but not in culture supernatants of several other pathogenic bacteria. Systemic administration of this probe to mice bearing S. aureus muscle infections resulted in probe activation at the infection sites in an MN-dependent manner. This new bacterial imaging approach has potential clinical applicability for infections with S. aureus and several other medically important pathogens.
Relevant articles
Open Access articles citing this article.
Alien Balian

&

Frank J. Hernandez

Biomarker Research Open Access 22 November 2021

Prabu Periyathambi

,

Alien Balian

…

Frank J. Hernandez

Analytical and Bioanalytical Chemistry Open Access 27 October 2021

Colin W. K. Rosman

,

Henny C. van der Mei

&

Jelmer Sjollema

Scientific Reports Open Access 24 June 2021
Access options
Subscribe to Journal
Get full journal access for 1 year
$79.00
only $6.58 per issue
All prices are NET prices.
VAT will be added later in the checkout.
Tax calculation will be finalised during checkout.
Buy article
Get time limited or full article access on ReadCube.
$32.00
All prices are NET prices.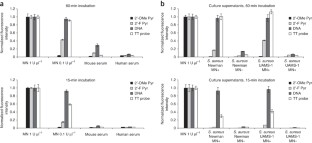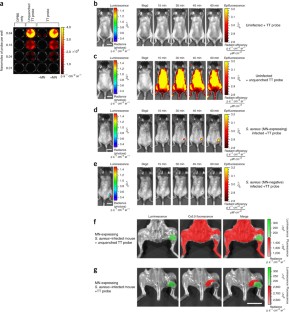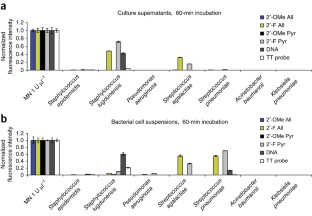 References
Agarwal, V., Chauhan, S. & Gupta, R.K. Pyomyositis. Neuroimaging Clin. N. Am. 21, 975–983 (2011).

Carek, P.J., Dickerson, L.M. & Sack, J.L. Diagnosis and management of osteomyelitis. Am. Fam. Physician 63, 2413–2420 (2001).

Clerc, O., Prod′hom, G., Greub, G., Zanetti, G. & Senn, L. Adult native septic arthritis: a review of 10 years of experience and lessons for empirical antibiotic therapy. J. Antimicrob. Chemother. 66, 1168–1173 (2011).

Hatzenbuehler, J. & Pulling, T.J. Diagnosis and management of osteomyelitis. Am. Fam. Physician 84, 1027–1033 (2011).

Hope-Roberts, M., Wainwright, M. & Horobin, R.W. Real-time imaging of bacteria in living mice using a fluorescent dye. Biotech. Histochem. 86, 104–107 (2011).

Leevy, W.M. et al. Optical imaging of bacterial infection in living mice using a fluorescent near-infrared molecular probe. J. Am. Chem. Soc. 128, 16476–16477 (2006).

Leevy, W.M. et al. Noninvasive optical imaging of Staphylococcus aureus bacterial infection in living mice using a bis-dipicolylamine-Zinc(ii) affinity group conjugated to a near-infrared fluorophore. Bioconjug. Chem. 19, 686–692 (2008).

Ning, X. et al. Maltodextrin-based imaging probes detect bacteria in vivo with high sensitivity and specificity. Nat. Mater. 10, 602–607 (2011).

Panizzi, P. et al. In vivo detection of Staphylococcus aureus endocarditis by targeting pathogen-specific prothrombin activation. Nat. Med. 17, 1142–1146 (2011).

White, A.G. et al. Optical imaging of bacterial infection in living mice using deep-red fluorescent squaraine rotaxane probes. Bioconjug. Chem. 21, 1297–1304 (2010).

Kong, Y. et al. Imaging tuberculosis with endogenous β-lactamase reporter enzyme fluorescence in live mice. Proc. Natl. Acad. Sci. USA 107, 12239–12244 (2010).

Yang, W. Nucleases: diversity of structure, function and mechanism. Q. Rev. Biophys. 44, 1–93 (2011).

Kelemen, B.R. et al. Hypersensitive substrate for ribonucleases. Nucleic Acids Res. 27, 3696–3701 (1999).

Elias, D.R., Thorek, D.L., Chen, A.K., Czupryna, J. & Tsourkas, A. In vivo imaging of cancer biomarkers using activatable molecular probes. Cancer Biomark. 4, 287–305 (2008).

Hernandez, F.J. et al. Degradation of nuclease-stabilized RNA oligonucleotides in Mycoplasma-contaminated cell culture media. Nucleic Acid Ther. 22, 58–68 (2012).

Arnone, A. et al. The extracellular nuclease of Staphylococcus aureus: structures of the native enzyme and an enzyme-inhibitor complex at 4 A resolution. Proc. Natl. Acad. Sci. USA 64, 420–427 (1969).

Cuatrecasas, P., Fuchs, S. & Anfinsen, C.B. Catalytic properties and specificity of the extracellular nuclease of Staphylococcus aureus. J. Biol. Chem. 242, 1541–1547 (1967).

Cunningham, L., Catlin, B.W. & Privatdegarilhe, M. A deoxyribonuclease of Micrococcus pyogenes. J. Am. Chem. Soc. 78, 4642–4645 (1956).

Boerlin, P., Kuhnert, P., Hussy, D. & Schaellibaum, M. Methods for identification of Staphylococcus aureus isolates in cases of bovine mastitis. J. Clin. Microbiol. 41, 767–771 (2003).

Behlke, M.A. Chemical modification of siRNAs for in vivo use. Oligonucleotides 18, 305–319 (2008).

Vester, B. & Wengel, J. LNA (locked nucleic acid): high-affinity targeting of complementary RNA and DNA. Biochemistry 43, 13233–13241 (2004).

Pochon, F. & Privat De Garilhe, M. Bull. Soc. Chim. Biol. (Paris) [Structure of oligonucleotides liberated by the action of desoxyribonuclease on Staphylococcus pyogenes] 42, 795–815 (1960).

Kiedrowski, M.R. et al. Nuclease modulates biofilm formation in community-associated methicillin-resistant Staphylococcus aureus. PLoS ONE 6, e26714 (2011).

Beenken, K.E. et al. Epistatic relationships between sarA and agr in Staphylococcus aureus biofilm formation. PLoS ONE 5, e10790 (2010).

Weissleder, R. & Ntziachristos, V. Shedding light onto live molecular targets. Nat. Med. 9, 123–128 (2003).

Contag, C.H. et al. Photonic detection of bacterial pathogens in living hosts. Mol. Microbiol. 18, 593–603 (1995).

Francis, K.P. et al. Monitoring bioluminescent Staphylococcus aureus infections in living mice using a novel luxABCDE construct. Infect. Immun. 68, 3594–3600 (2000).

Xiong, Y.Q. et al. Real-time in vivo bioluminescent imaging for evaluating the efficacy of antibiotics in a rat Staphylococcus aureus endocarditis model. Antimicrob. Agents Chemother. 49, 380–387 (2005).

Beenken, K.E., Spencer, H., Griffin, L.M. & Smeltzer, M.S. Impact of extracellular nuclease production on the biofilm phenotype of Staphylococcus aureus under in vitro and in vivo conditions. Infect. Immun. 80, 1634–1638 (2012).

de Marie, S. Difficult-to-treat infections. Intensive Care Med. 16 (suppl. 3), S239–S242 (1990).

Wu, P.I. & Edelman, E.R. Structural biomechanics modulate intramuscular distribution of locally delivered drugs. J. Biomech. 41, 2884–2891 (2008).

Ferreira, B.T., Benchetrit, L.C., De Castro, A.C., Batista, T.G. & Barrucand, L. Extracellular deoxyribonucleases of streptococci: a comparison of their occurrence and levels of production among β-hemolytic strains of various serological groups. Zentralbl. Bakteriol. 277, 493–503 (1992).

Ferrieri, P., Gray, E.D. & Wannamaker, L.W. Biochemical and immunological characterization of the extracellular nucleases of group B streptococci. J. Exp. Med. 151, 56–68 (1980).

Moon, A.F. et al. Structural insights into catalytic and substrate binding mechanisms of the strategic EndA nuclease from Streptococcus pneumoniae. Nucleic Acids Res. 39, 2943–2953 (2011).

Marshall, M.V., Draney, D., Sevick-Muraca, E.M. & Olive, D.M. Single-dose intravenous toxicity study of IRDye 800CW in Sprague-Dawley rats. Mol. Imaging Biol. 12, 583–594 (2010).

Kobayashi, H., Longmire, M.R., Ogawa, M. & Choyke, P.L. Rational chemical design of the next generation of molecular imaging probes based on physics and biology: mixing modalities, colors and signals. Chem. Soc. Rev. 40, 4626–4648 (2011).

Matsui, A. et al. Real-time, near-infrared, fluorescence-guided identification of the ureters using methylene blue. Surgery 148, 78–86 (2010).

Rasmussen, J.C. et al. Human lymphatic architecture and dynamic transport imaged using near-infrared fluorescence. Transl. Oncol. 3, 362–372 (2010).

Sevick-Muraca, E.M. Translation of near-infrared fluorescence imaging technologies: emerging clinical applications. Annu. Rev. Med. 63, 217–231 (2012).

Novick, R.P. Genetic systems in staphylococci. Methods Enzymol. 204, 587–636 (1991).

Stoltz, D.A. et al. Cystic fibrosis pigs develop lung disease and exhibit defective bacterial eradication at birth. Sci. Transl. Med. 2, 29ra31 (2010).
Acknowledgements
Research reported in this publication was supported by the National Institute of Allergy and Infectious Diseases of the US National Institutes of Health under award numbers AI083211 (A.R.H.) and AI101391 (J.O.M. II). The content is solely the responsibility of the authors and does not necessarily represent the official views of the US National Institutes of Health. F.J.H. was supported by a postdoctoral fellowship from the American Heart Association. The authors thank J. Kavanaugh for technical assistance with bacterial cultures and R. Schmidt and J. Widness for sharing a Sysmex XT-200i Automated Hematology Analyzer.
Ethics declarations
Competing interests
F.J.H., L.H., M.A.B., A.R.H. and J.O.M. II are inventors on a patent application submitted to the United States Patent and Trademark Office that covers the detection of bacterial nucleases with oligonucleotide probes. M.A.B., L.H. and K.M.P. are employed by Integrated DNA Technologies (IDT), which offers oligonucleotides for sale similar to some of the compounds described in the manuscript. IDT is not a publicly traded company, and these authors do not personally own any shares or equity in IDT.
Supplementary information
Supplementary Figures 1–11 and Supplementary Tables 1 and 2 (PDF 6244 kb)
About this article
Cite this article
Hernandez, F., Huang, L., Olson, M. et al. Noninvasive imaging of Staphylococcus aureus infections with a nuclease-activated probe. Nat Med 20, 301–306 (2014). https://doi.org/10.1038/nm.3460
Received:

Accepted:

Published:

Issue Date:

DOI: https://doi.org/10.1038/nm.3460