A signaling cascade is activated in podocytes to induce survival and cope with stress during advanced glomerular disease, a new study shows. The findings may also explain why the immunosuppressor sirolimus, an inhibitor of this pathway, can cause proteinuria in a subset of patients with chronic kidney disease (pages 1288–1296).
Access options
Subscribe to Journal
Get full journal access for 1 year
$79.00
only $6.58 per issue
All prices are NET prices.
VAT will be added later in the checkout.
Tax calculation will be finalised during checkout.
Buy article
Get time limited or full article access on ReadCube.
$32.00
All prices are NET prices.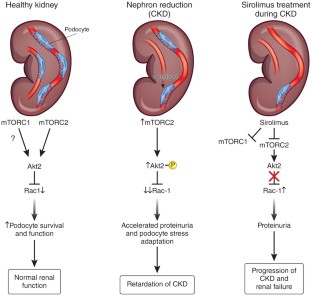 References
Reiser, J. & Sever, S. Annu. Rev. Med. 64, 357–366 (2013).

Canaud, G. et al. Nat. Med. 19, 1288–1296 (2013).

Wei, C. et al. Nat. Med. 14, 55–63 (2008).

Nagase, M. & Fujita, T. Nat. Rev. Nephrol. 9, 86–98 (2013).

Sarbassov, D.D. et al. Mol. Cell 22, 159–168 (2006).

Laplante, M. & Sabatini, D.M. Cell 149, 274–293 (2012).

Huber, T.B. et al. Mol. Cell Biol. 23, 4917–4928 (2003).

Nozaki, S. et al. Cell Signal. 25, 1361–1371 (2013).

Diekmann, F. et al. Transplant. Rev. (Orlando) 26, 27–29 (2012).

Gödel, M. et al. J. Clin. Invest. 121, 2197–2209 (2011).

Kistler, A.D. et al. Kidney Int. 81, 1053–1055 (2012).

Yaddanapudi, S. et al. J. Clin. Invest. 121, 3965–3980 (2011).
Ethics declarations
Competing interests
J.R. is an inventor on issued and pending patents on new mechanisms and technologies for proteinuric kidney diseases. He stands to gain royalties from the commercialization of these technologies.
About this article
Cite this article
Reiser, J. Akt2 relaxes podocytes in chronic kidney disease. Nat Med 19, 1212–1213 (2013). https://doi.org/10.1038/nm.3357
Published:

Issue Date:

DOI: https://doi.org/10.1038/nm.3357