A new mechanism regulating pathological angiogenesis has been identified that involves the activation of ataxia-telangiectasia mutated (Atm) kinase in response to reactive oxygen species. Importantly, this Atm-dependent pathway is specifically activated in pathological, but not in normal, angiogenesis, suggesting that it could be therapeutically targeted in diseases associated with pathological angiogenesis (pages 1208–1216).
Access options
Subscribe to Journal
Get full journal access for 1 year
$79.00
only $6.58 per issue
All prices are NET prices.
VAT will be added later in the checkout.
Tax calculation will be finalised during checkout.
Buy article
Get time limited or full article access on ReadCube.
$32.00
All prices are NET prices.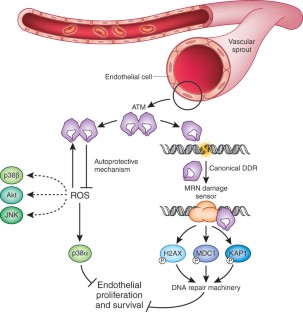 References
Ebos, J.M. & Kerbel, R.S. Nat. Rev. Clin. Oncol. 8, 210–221 (2011).

Guo, Z., Kozlov, S., Lavin, M.F., Person, M.D. & Paull, T.T. Science 330, 517–521 (2010).

Lavin, M.F. Nat. Rev. Mol. Cell Biol. 9, 759–769 (2008).

Meyn, M.S. Cancer Res. 55, 5991–6001 (1995).

Barzilai, A., Rotman, G. & Shiloh, Y. DNA Repair (Amst.) 1, 3–25 (2002).

Reichenbach, J. et al. Clin. Exp. Immunol. 117, 535–539 (1999).

Barlow, C. et al. Proc. Natl. Acad. Sci. USA 96, 9915–9919 (1999).

Perry, J.J. & Tainer, J.A. Sci. Signal. 4, pe18 (2011).

Ito, K. et al. J. Immunol. 178, 103–110 (2007).

Okuno, Y., Nakamura-Ishizu, A., Otsu, K., Suda, T. & Kubota, Y. Nat. Med. 18, 1208–1216 (2012).

Ditch, S. & Paull, T.T. Trends Biochem. Sci. 37, 15 (2012).
Ethics declarations
Competing interests
The authors declare no competing financial interests.
About this article
Cite this article
Kerr, B., Byzova, T. The dark side of the oxidative force in angiogenesis. Nat Med 18, 1184–1185 (2012). https://doi.org/10.1038/nm.2881
Published:

Issue Date:

DOI: https://doi.org/10.1038/nm.2881
This article is cited by
Young-Woong Kim
Xiaoxia Z. West
Tatiana V. Byzova

Journal of Molecular Medicine (2013)