Bariatric surgery to treat obesity can also be effective against type 2 diabetes, but it is unclear how such surgical procedures improve glucose metabolism. A new study in rats suggests that nutrient sensing in the jejunum contributes to the antidiabetic effects of duodenal-jejeunal bypass (pages 950–955).
Access options
Subscribe to Journal
Get full journal access for 1 year
$209.00
only $17.42 per issue
All prices are NET prices.
VAT will be added later in the checkout.
Rent or Buy article
Get time limited or full article access on ReadCube.
from$8.99
All prices are NET prices.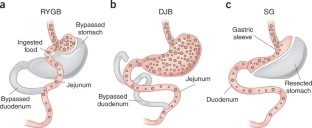 References
1

Mingrone, G. et al. N. Engl. J. Med. 366, 1577–1585 (2012).

2

Schauer, P.R. et al. N. Engl. J. Med. 366, 1567–1576 (2012).

3

Breen, D.M. et al. Nat. Med. 18, 950–955 (2012).

4

Cheung, G.W., Kokorovic, A. & Lam, T.K. Cell. Mol. Life Sci. 66, 3023–3027 (2009).

5

Strader, A.D., Clausen, T.R., Goodin, S.Z. & Wendt, D. Obes. Surg. 19, 96–104 (2009).

6

de Luis, D. et al. Am. J. Surg. published online, 10.1016/j.amjsurg.2011.07.020 (16 February 2012).

7

Kindel, T.L., Yoder, S.M., Seeley, R.J., D'Alessio, D.A. & Tso, P. J. Gastrointest. Surg. 13, 1762–1772 (2009).

8

Stefater, M.A. et al. Gastroenterology 138, 2426–2436 (2010).

9

Kindel, T.L. et al. Obesity (Silver Spring) 19, 380–387 (2011).
Ethics declarations
Competing interests
The authors declare no competing financial interests.
About this article
Cite this article
Sarruf, D., Bonner-Weir, S. & Schwartz, M. New clues to bariatric surgery's benefits. Nat Med 18, 860–861 (2012). https://doi.org/10.1038/nm.2801